DIN AMBASSADOR & CONTRIBUTOR



CLAIRE KING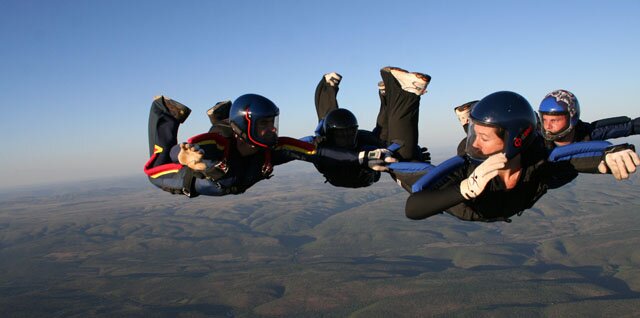 ARTICLES

> Effective Flight - The Mechanics of Movement in Freefall
---
> Dubai Skies: The Dubai Parachuting Championship and Gulf Cup
---
> Why We Jump
EVENTS

> SASL Season III (October 2011)
---
> 16 way sequential invitationals (November 2011)
---
> 8-way skills camp (October 2011)
---
> SASL Formation skydiving school (every Tuesday night)
---
> Malaysia FS tunnel camp (Feb 2012)
PERSONAL PROFILE

NAME: Claire King
---

ALIAS: Boss Claire
---

DATE OF BIRTH: 26 March 1976
---

HEIGHT: 1.72 m
---

FAVORITE FOOD: Macaroni & Cheese
---

FAVOURITE MOVIE: DonŐt have the attention span for complete movies. No Kung Fu, Westerns or Horrors though... not even a little
---

WHERE ARE YOU FROM: Born in Durban, grew up in Grahamstown
---

CURRENT RESIDENCE: Edenvale
---

A QUOTE YOU LIVE BY:
Harden up, Cupcake
---

OTHER HOBBIES:
Formation skydiving, judging, reading, writing, food, coaching
PROFESSIONAL PROFILE

CATEGORY: inALTITUDE:Skydiving
---

WHEN DID YOU START?
2001
---

CAREER HIGHLIGHTS:
First dive exit, first 4-way competition, first jump over the Palm Jumeirah. Seeing anyone I have coached on a podium for the first time.
---

WHAT EQUIPMENT DO YOU USE?
Vortex II, Hurricane 135, Decelerator 150
---

SPONSORS?
I wish
---

YOUR PROUDEST ACHIEVEMENT
Still working on it!
---

CAREERS INBETWEEN
IT Business Analyst
---

WEBSITE LINKS
www.skyleague.co.za