Words: Catherine Hartley | Photos: Liesl King
Horse racing in South Africa has long been seen as the enclave of English aristocracy and business tycoons; however, the face of racing is set for change.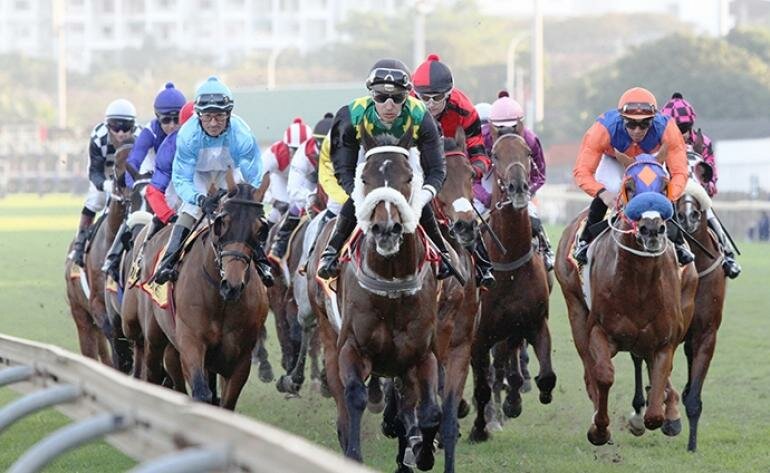 Ignited by the recent win of S'manga Khumalo in the Vodacom Durban July, making him the first black jockey to win this prestigious race, horse racing is heralding a new era! As poster boy for many young, ambitious people, seeking the thrills, glamour and fun associated with this exciting lifestyle experience, S'manga embodies a new, proudly South African image for racing.
Young, hip, successful, and charming, but from humble beginnings and no background in horses, his sheer grit and hard work have brought him to this pinnacle in his career, paving the way for a new order! His milestone victory has placed horse racing in the spotlight, also highlighting the fact that it does not necessarily require a family history, privileged upbringing or massive investment to, to participate and be successful in an incredible lifestyle experience.
Special attraction
No other sport blends the power of Formula 1 and the strength, grace, and beauty of ballet, while combining the athleticism of a human with that of an animal. A thoroughbred racehorse is a fine combination of genetic potential, physical conformation and a touch of mystery (that X factor that makes one stand out above others), but one can never forget that inside that great creature beats a heart, not a machine!
I challenge anyone to stand at the rail near the finish of a race and not be moved by the strength and majesty of the horses, while the earth shakes beneath your feet and the thunder of their hooves pounds in your heart! Many die-hard, regular racing fans have been brought to tears by less and when the first horse across the line is yours, there is simply no way to describe it. A recent comment from one of racing's leading lights almost sums it up: "Race horses can turn big men into little boys!"
Huge potential
Emotional, exciting, and a sport it may be, but South African horse racing is a multi-billion Rand industry with great potential for international trade. This is highlighted by the successes of many of our horses racing in Dubai, Hong Kong, the UK, and US, and going on to compete and breed across the globe.
Not only have our horses competed with great success internationally but our trainers and jockeys have also excelled. The South African Jockey Academy has produced some top riders who have and do compete internationally. These include former champion jockey in SA and the UK, Michael (Muis) Roberts and Dougie Whyte, who rides in Hong Kong and has just won his 13th Hong Kong Jockey's Championship!
Durban July Winner S'manga Khumalo was a product of the SA Jockey Academy, having been approached at his school in Durban because he was short, but with no prior knowledge of horses or riding!
World stage
Champion trainer Mike De Kock has built a successful campaign base overseas, with a focus on the Dubai Racing Carnival, which culminates in the 10 Million US Dollar Dubai World Cup. While there are a number of South African trainers permanently based in Hong Kong and Australia and competing successfully on the world stage, Mike de Kock has been a flag bearer for South African horse racing due to the number of successes at, what is, the world's richest race day. Over the years, he has won many of the races on the night, but the main one (the Dubai World Cup) has eluded him thus far, although he came nail-bitingly close with Lizard's Desire, a South African bred horse that was beaten by the narrowest of margins in 2010. They then did go on to win the 2010 Singapore Airlines Cup in Kranji later that year.
Mike de Kock now offers an opportunity for local trainers and owners to send horses to race with him in Newmarket, in the UK, from where they can more easily campaign across the globe. Just this year, they have runners in the UK, and The Apache ran in the Arlington Million, in Chicago, on 17 August. He won the race, but was disqualified due to bumping into the second placed horse, whose trainer and jockey objected to the interference.
Notable South African-bred horses currently campaigning abroad are Soft Falling Rain, The Apache, and Shea Shea. Shea Shea won the Al Quoz Sprint on Dubai World Cup night and as Belgian jockey Christophe Soumillon came into the winner's enclosure, it was a very moving moment for all South African fans as he carried the SA flag high above his head!
Challenges faced
Frustratingly, these great moments do not come easily! The biggest challenge faced by South Africans racing in international competition and the trade and export of horses is the African Horse Sickness virus. This life-threatening virus is carried by the Culicoides midge and is endemic to most parts of Africa, where the midge moves with the seasons, moving south as temperatures and rainfall increase and retreating when it is dryer and colder. The Culicoides midge becomes, becomes a vector for the virus when it feeds on an infected equid (zebra, donkey, horse). It can then transmit the virus when it subsequently bites another horse.
South Africa has a locally produced vaccination that horses are required to have annually, but they can still be susceptible, depending on their susceptibility and the serotype involved. There is also a great fear internationally of the virus being transmitted to unvaccinated horse populations in other countries, despite the fact that an individual can only be a carrier of the virus while incubating the disease or actually sick.
Thus, severe restrictions have been placed on us for export, with horses usually being quarantined in Cape Town for six weeks in what is known as the 'free-zone'. This area is denoted free of the virus and movement of horses into this zone from the rest of the country is strictly monitored by the State Vet, with full health and vaccination records required. However, any suspected virus activity in the area can result in a movement ban being placed for up to two years or when the European Union is satisfied that the SA Veterinary Services has met the guarantees described in the protocol.
We are subjected to this throttling movement restriction despite the fact that South Africa has never exported the African Horse Sickness virus and the 100% safety record of the Kenilworth Quarantine Station, with more than 1,000 horses having been exported since 1997.
This means that the current champions waiting to travel to Dubai for the January to March 2014 Dubai Racing Carnival, have to spend three months in quarantine in Mauritius and another month in the UK before arriving in Dubai. These horses include Durban July winner Heavy Metal, L'Ormarins Queen's Plate winner and twice Horse of the Year, Variety Club, and upcoming star Vercingetorix, who was sold at the National Yearling Sales by one of the Western Cape Grooms co-operatives, an initiative supported by the Department of Trade and Industry for encouraging co-operative enterprises in all of the country's industries as a means of economic empowerment
Despite the arduous journey for our local horses, they still compete and win against some of the best in the world, a tribute to South Africa's talents.
A lifestyle experience
There are no guarantees in racing and a horse that no one expects to do well can become a champion. Owning a racehorse should probably not be seen as an investment, but rather as a lifestyle experience that combines pure athletic power with incredible grace and nobility, along with elegance, fun, and a great networking opportunity with like-minded people. There really is no thrill quite like it!
Sometimes one can be incredibly lucky to be involved in a horse like JJ the Jet Plane, bought for R75,000 and who went on to win over R12 million in stakes locally and abroad. He was brought home to South Africa and has retired in the beautiful KwaZulu-Natal Midlands.
If you just take Heavy Metal as an example, he cost R200,000 and his total training for the past three years is around R360,000 and more. He has made over R3.5 million. Who knows what lies in store for him and his connections, as he embarks on his international campaign early next year.
A bright future
What we do know is that the South African horse racing industry may be relatively small compared to the UK, USA, and Australia, but it packs a huge punch in terms of talent and the ability of our horsemen and horses! From the breeding farms, to racetracks and training facilities, the contribution to employment, education, the GDP, and foreign investment and trade is great and with improved export protocols, the growth potential is vast.
Sharing the passion
Many people may have dreamt of owning a racehorse, but either do not know how to get started or have the necessary capital to own a horse independently. As a multi-faceted business focusing on promoting and marketing all aspects of the sport of horse racing, Imagine Racing aims to encourage awareness and share the passion of racehorse ownership. Imagine Racing's role is to guide each owner's racing experience every step of the way and ensures that all the administration is taken care of, while providing a personal service, regular communication, and inclusion in all aspects of the horses' careers.
dinFO:
For more information on horse racing in South Africa, vist www.racingsouthafrica.co.za.
Alternatively, visit Imagine Racing on www.imagineracing.co.za