Posted: December 18, 2013
Words: Alan Hobson │ Photos & Videos: Angler & Antelope
If you think back to hundreds of years ago when the Karoo was a huge marshland and mammal-like reptiles roamed freely, it is not inconceivable to imagine that there might have been mermaids. With the environment evolving and habitats changing, species have had to adapt, or have they?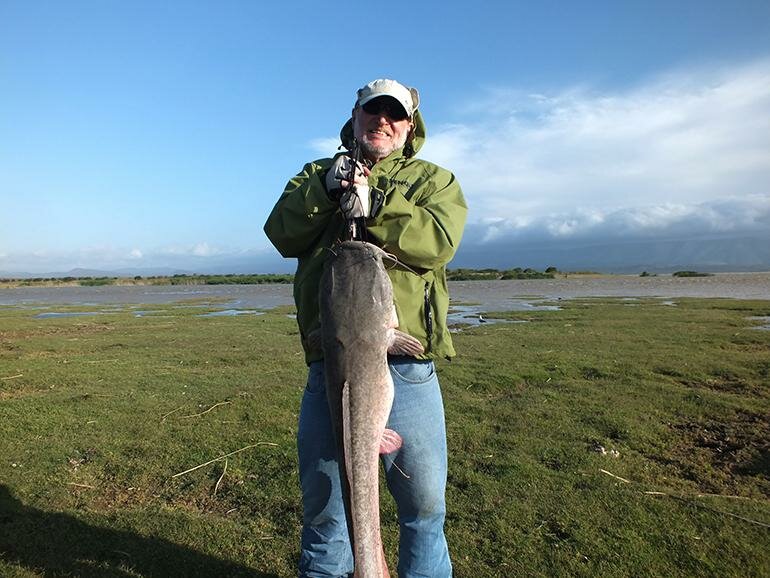 Clarias gariepinus, the African sharptooth catfish, also commonly known as barbel, is an eel-like fish and one of the most resilient fresh water fish species known to man. This species is able to crawl across dry ground to another body of water when one pool dries up, and can survive for long periods in shallow mud between rainy seasons. It feeds on either living or dead animal matter. And with a slender body, four pairs of barbels (a slender, whisker-like tactile organ near the mouth), and large accessory breathing organs, you could be forgiven for thinking it resembles a mermaid - until you see its flat, ugly head. Having sacrificed their good looks for the propensity to survive literally anywhere, one can find them throughout the entire country, in any water system. They grow enormous, thus are a sought-after recreational species and make good table fare, comparable to fresh-water kingklip.
My fishing friends and I affectionately call them mermaids, more specifically 'Darlington mermaids', as the Darlington Dam, now an integral part of the Addo Elephant National Park, provides the ideal residence to hundreds of them. Several river basins feed into the Darlington Dam, including the Sundays River from the Graaff-Reinet area, the Voël and Holsloot Rivers from the Pearston area, and the Schoenmakers River from Somerset East (which receives its water from the Orange and Fish River canal systems). As a result, Darlington Dam is an ideal catchment area for food funnelling from these river basins.
On arrival, one is overwhelmed by the size of the dam, some 35-square kilometres of Rooibos-tea coloured water. Parking on the grassy flood plains, you can only get within 100 metres of the water. The anticipation is strange to say the least when you look at the tea-coloured water, perplexed as to where you would start to fly fish in this giant teacup. It is not long before you doubt your eyes, as the splashing sounds of jumping fish quickly draws your attention to an abundance of fish activity; it is not what you expect. Besides barbel, this huge expanse of water also hosts several fresh-water fish species, like monster carp, yellowfish, moggel, Orange River mudfish, eels, tilapia, and surprisingly mullet. These mullet have adapted to fresh water and grow in excess of 10 kilogrammes. The shriek of a tern or gull makes you shake your head in disbelief, as you feel as if you are at the beach, perhaps the Karoo Beach? However, reality kicks in as you focus on a goliath heron stalking small fish or frogs in the shallows of the grass.
We quickly walked down to the edge of the water to get a closer look at what the activity was all about. In the shallows, what looked like submerged logs washed up on the banks were actually monster carp scrounging through the grass of the flood plain. Feeding with half their bodies sticking out of the water, and exposed to all the predatory birds in the area, they were very skittish and scuttled for cover in the deeper water when they heard our footsteps. This was confirmed by a serious outcry from the resident fish eagles objecting to our arrival in their territory.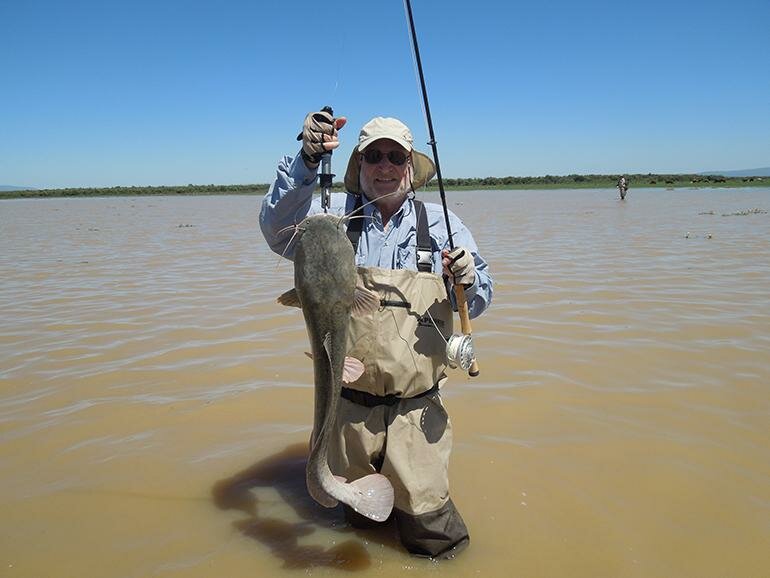 On closer inspection of all the activity in the water, we noticed barbel moving around, coming up for gulps of fresh air and then feeding ferociously on the debris washed out of the confluence of the rivers and into the dam. I joked to my friends that the Darlington mermaids were trying to entice them into the depths of piscatorial desire. While speculating about mermaid fantasies, we rushed back to the vehicle to set-up our tackle.
Only one problem though, we had brought knives to a gunfight. Our quarry was just too big for our #5wt rods. Nothing less than a #7wt would do. A #9wt would be advisable, preferably with at least 100 metres of backing. Bring your big game, as these things are brutes.
We set-up a floating line with a 12-lb tippet and searched our fly boxes for the brightest, furriest fly we could find. Even more so than carp, barbels have a sixth sense of your presence. As you try to move closer to them, they simply keep moving away from you, keeping their distance. The secret is to find a spot, if possible, where there is a drop off or a weed bank and position yourself within easy casting distance. Then stand still and wait. Remember, these mermaids are promiscuous, but curious. They will move closer after a while and if you are lucky, they will come and inspect you and then bump you, usually when you are focussed on the flamingos in the distance. We call this the Darlington break dance because you get such a fright that you literally jump out of your waders and walk on the water, which is very funny as long as it is your fishing buddy and not you.
When scanning the water in front of you and the mermaid comes up to breathe (and winks at you), or gulps something that has been washed down the river, you present your fly to the rise, not delicately, but deliberately allowing your fly to slap the water. Now watch in amazement as the barbel literally jumps all over the fly and grabs it with great gusto. However, their long whiskers and four pairs of barbels allow them to be super selective as to what they consume. This means they can expel the fly as quickly as they mouth it, resulting in hook ups being quite tricky. Often after you have struck to set the hook, the fish is on and then it's off. The fact that they have a bony mouth doesn't help either.
Sight fishing for barbel in dirty brown water sounds about as far-fetched as Darlington mermaids and Rooibos tea in the Karoo, but it is about as much fun as you can have with your clothes on.
Until next year, I wish you all a festive Christmas and New Year.
dinFO
Suggested reading on barbel: Visit www.fosaf.co.za for venues and accommodation, or read the book sold by Fosaf called Favoured flies, volume 2, pages 116 to 138, which focuses on targeting barbel.
Suggested barbel fishing venues: Barbel are prolific throughout the country in fresh-water systems and are specifically targeted in big dams like the Vaal Dam, Gariep Dam, etc, as well as rivers, such as the Vaal, Orange, Umzimkulu, Fish, etc.
Suggested gear when fishing for barbel: It is advisable to have a boga grip, as barbel are very big to net. The boga grip allows the angler to grip the fish in the mouth, unhook and weigh it before releasing it, without having to touch the fish.