Words: Eulogy van Dyk | Photos: Greg Beadle and Johan Theron | Videos: Courtesy of Ride2Nowhere
Time is running out and we are counting down the days to the third edition of the Ride2Now, a three-day mountain bike stage race based in the beautiful town of McGregor, from 12 to 14 September 2014. This is the perfect race for racing snakes and weekend warriors to meet and compete for fun.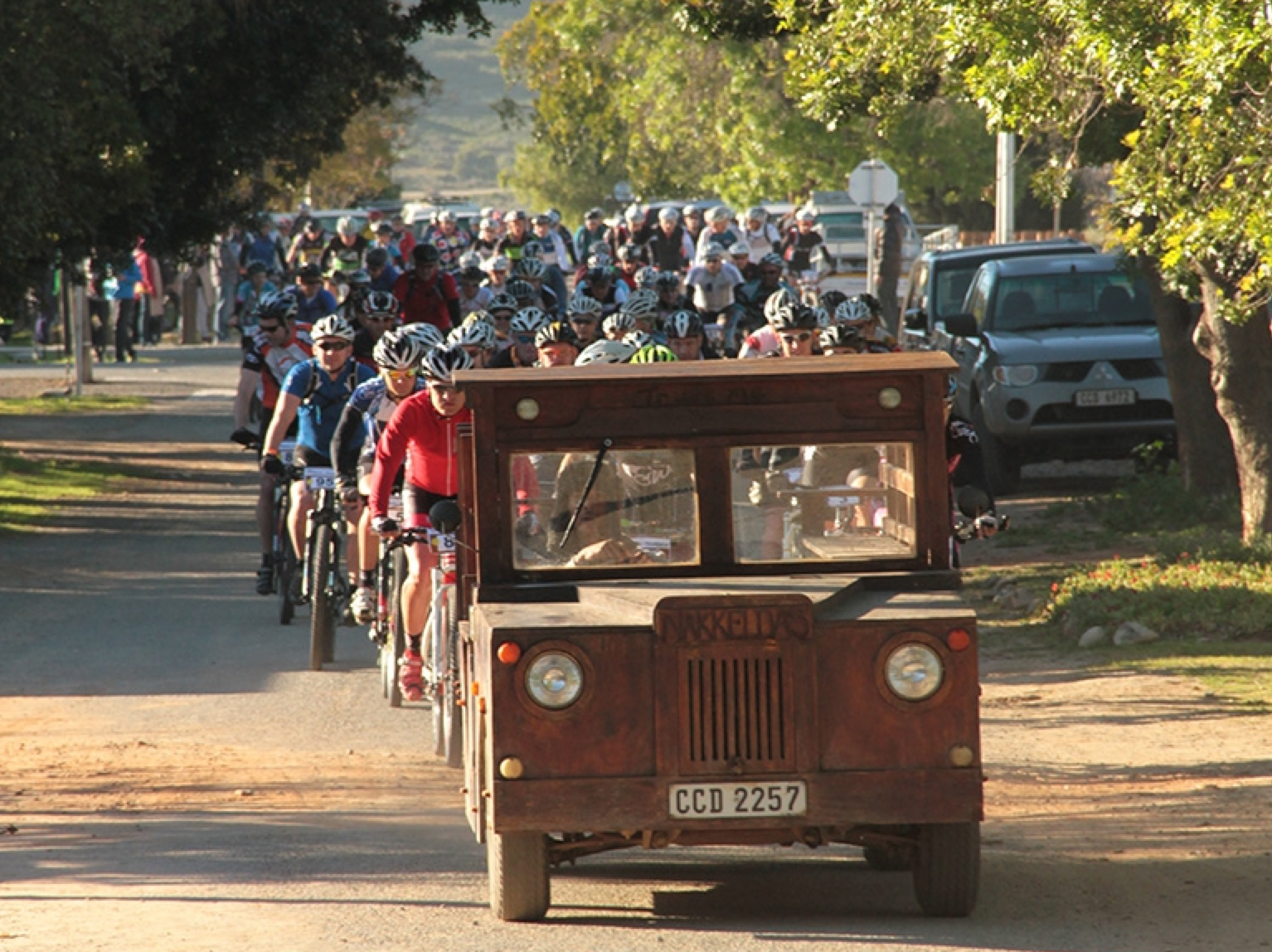 The official lead vehicle. Photo credit: Greg Beadle and Johan Theron.
Entries close on 12 August 2014 and with limited time left to enter you'd better hurry as the number of riders entering the event is capped at 250.
The race adopted its name from the main road of the town, the Road to Nowhere, which literally leads into the mountains and to a dead end; basically to nowhere. The Ride2Nowhere aims to retain the integrity and pureness of a classic mountain bike race with an adventurous and exciting route that is surrounded by breathtaking landscape. September is also flower season in the Langeberg region, so riders can expect a colourful picture all around. Watch this two-minute video to find out more!
What riders expect at this year's event:
• Three days of MTB bliss.
• An awesome MTB route. Watch this video to find out what the 'Route General' says.
• Long (60 km per day) and short (40 km per day) options.
• Same start and finish daily.
• FutureLife Breakfast Zone, lunch and dinner.
• Free daily bike wash, brought to you by Motorex.
• Free Cadence Nutrition pre- and post ride.
• Amazing Pick n Pay water points en route.
• A glass of Lord's Wines in the evenings.
• NEW prize category - Lord's Wines Legend, win a bottle of wine every week for a year.
• Relaxed atmosphere at the race village and between riders.
• Local hospitality and entertainment.
• Bike maintenance packages and post-race massages.
• Bike transfers offered from Gauteng and KZN.
• Limited entries to ensure no congestions en route.
What supporters and families can expect at this year's event:
• Daily Pilates classes at the race venue.
• Town tours on a hop-on-hop-off basis.
• Local produce market.
• Kids MTB short course and informal MTB skills' lesson.
• Jumping castles, clowns and face painting.
• Kids' day care services (book beforehand).
• Supporter meal package (book beforehand).
• Local hospitality and entertainment.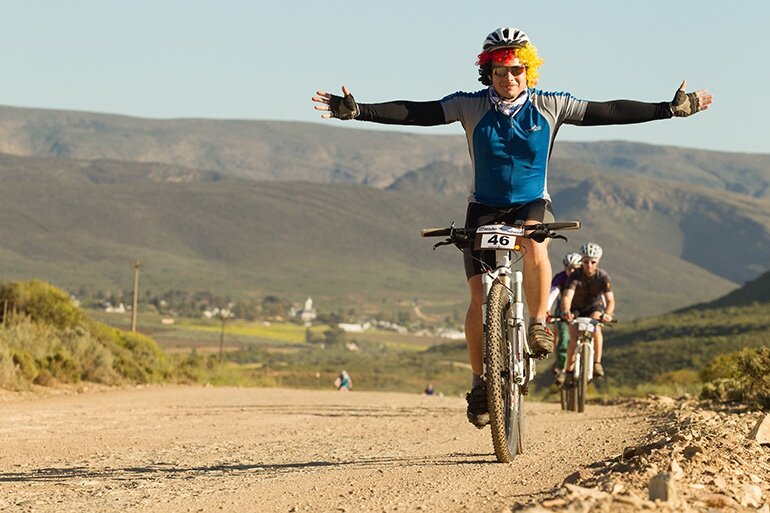 We welcome you with open arms. Photo credit: Greg Beadle and Johan Theron.
With the event taking place in mid September, it's the perfect race to dust of the cobwebs after the winter months or keep you motivated to keep those legs turning during the colder season.
SO Come and experience a relaxed, friendly and authentic country vibe with local hospitality and entertainment, AS WELL AS spectacular mountain biking routes in the McGregor valley you've never been able to ride before.
What the riders have to say about the event?
Rory van Zyl, editor of Crank Cycling News: "I love the R2N for many reasons, but mostly because of the fantastic route, friendly crew and hospitality of McGregor. It's an amazing weekend away with friends and family with some great bike riding thrown in."
Fourie Kotze, mountain biker extraordinaire, five-time ABSA Cape Epic finisher and winner of the Ride2Nowhere mixed category in 2013: "The Ride2Nowhere is one of the best stage races in the country and without doubt, the one with the best vibe. Quality organization, yummy food and wine and cleverly balanced routes make this an absolute must-do event."
Hans de Ridder, avid mountain biker, blogger (of my journey to mountain biking and lifestyle change), example for all our 'bigger' (Buffalo) cyclists of what can be done: "The R2N is the perfect race for our normal riders that love mountain biking, socializing, spending time with like-minded individuals and friends. A 'no pressure' race where time does not matter and caters for riders of all capabilities. The friendly and festive atmosphere with the involvement of the community makes this event a 'won't-miss-it race' on my mountain biking calendar."
Marleen Lourens, mountain bike lover and mother of three. Competed in and completed most stage races in the Western Cape: "There are so many stage races to choose from but the R2N manages to distinguish itself. The date of the race is perfect; just in time to help you get fit again after the hibernating winter! For your entry fee you get spoilt with special merchandise, superb routes and scenery, new friendships, on route-conversations and out-of-this-world food (and wine!). I will be returning yearly to enjoy the hospitality of the R2N-crew and McGregor town."
More information
For more information visit www.ride2nowhere.co.za