Words: Duane Stacey & Dale Barrow | Photos: Lauren Barrow & Kim Konings
After a fantastic introductory week to Namibia, exploring the chasms of the Fish River Canyon, the splendid hiking and mountain bike trails in Aus, and the petrified dunes of the Namib, we were beginning to feel at home in this country steeped in geological wonder. The staff at each Gondwana lodge had also welcomed us as if we were family and enlightened us on what was on offer at their facility and surrounding regions.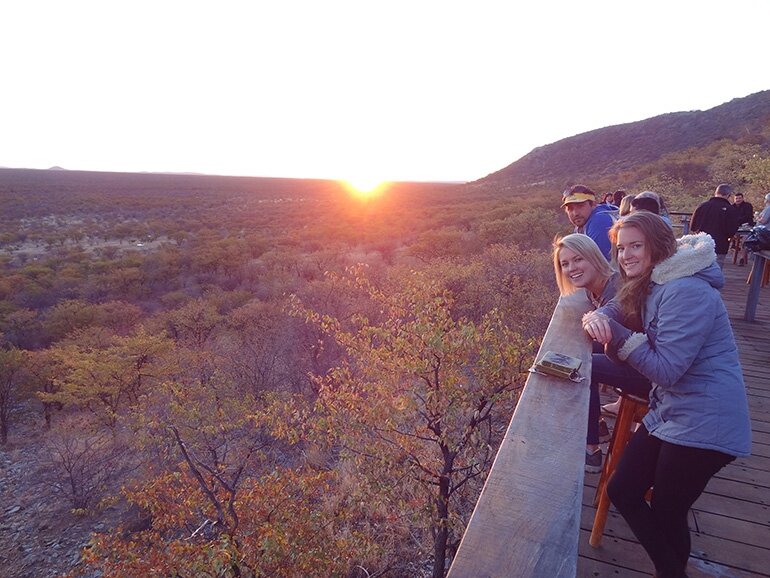 When booking holiday accommodation on the internet it can be a bit hit and miss. For us, though, it was wonderful to have the assurance that after many hours on the road we would be treated to the same level of excellent Gondwana hospitality at each of our last three stops.
DAMARA MOPANE LODGE
Having spent the day negotiating some of Namibia's lesser-known dirt roads, we arrived at Damara Mopane Lodge. This lodge offered a much-needed opportunity for some rest and relaxation.
Each chalet has its own vegetable garden, which attracted a vibrant bird life. An array of mopane trees grew scattered between a 9-hole putt-putt course and a luxurious swimming pool. Just a short walk away was a sizable sundowner deck built into the hill and overlooking a water hole, which drew the likes of kudu, springbok and porcupines. Once the sun had set, the deck, removed from the lights of the lodge, presented a magnificent hideaway from which to enjoy the beauty of the star show above.
Within 100 km of the lodge lies Twyfelfontein, which became Namibia's first UNESCO World Heritage Site in 2007. It contains about 2,000 rock engravings and paintings created by the San and Damara people, as part of their rituals, while they were still the majority population in the region. If you can tug yourself away from the peace and quiet of the lodge, it is a place well worth a visit to discover the diverse history of this region.
ETOSHA SAFARI LODGE
Just 9 km from Anderson Gate and Etosha National Park's most famous waterhole, Okaukuejo, lies this gem of a lodge. With a deck, pools and chalets all looking towards the park you get a real feel for one of Africa's top game reserves.
On our first day and just as we entered park a male elephant, en route to his morning mud bath at Okaukuejo, crossed the road right in front of our vehicle. He was the first of many wild animals that we observed. Namibia is very dry during the winter months, so the waterholes were alive with the activity of wildlife filing in and out as they shared this precious resource.
The lodge offers full and half-day game drives and it was from the back of their nine-seater vehicle that we experienced one of the highlights of our trip. A pride of 13 lions (two lionesses, a large male and ten cubs) assumed their position at the top of the food chain and dominated a local waterhole. It was incredible to watch the other animals back away to a respectful distance as these kings of Africa relaxed by their pool.
Then all of a sudden the peace was disturbed by a jovial family of warthogs trotting towards the waterhole, oblivious to the impending danger that lay in wait. Being at a significant height disadvantage, the warthogs' view was blocked by the waving grass and not even the taller and skittish game had alerted them to what lay ahead. From their lounging, bloodied forms, it was obvious that the lionesses had recently eaten. The cubs, however, had different ideas as they readied themselves to launch into a lunch-time snack or at least an adolescent hunting lesson. In their enthusiasm, one of the cubs pounced early and in a squealing frenzy of dust, the family of warthogs put on the brakes and quickly scurried away to safety.
With that the pride headed off to find some afternoon shade, allowing all the parched herbivores to return to the water. Rhino, elephants, jackal and a magnificent leopard were all part of the sightings for the day. As the sun set on our safari, a journey of giraffes escorted us to the gate, beckoning our trek back south.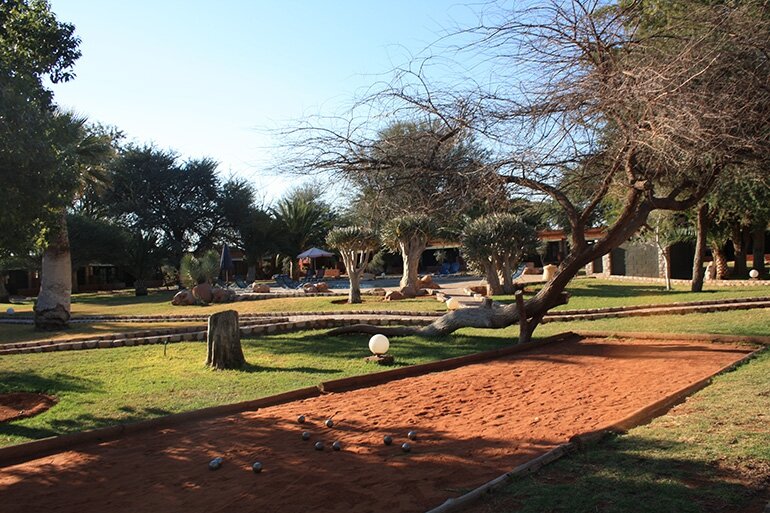 An oasis, Kalahari Anib Lodge.
KALAHARI ANIB LODGE
We arrived at our final destination, Kalahari Anib Lodge, in time to witness another glorious sunset. The unfamiliar chill in the Kalahari air reminded us of the journey home that lay ahead, as we'd heard news of an extreme cold front about to hit Cape Town. What a treat it was to spend the next few nights in the comfort of this lodge instead! Built on 10,000 hectares, we enjoyed a final sundowner drive through the park. The evening offered up wildebeest, kudu, giraffe, zebra and rare sightings of a juvenile Marshall eagle and pygmy falcon. This park has a bright future as the vision is to continue to reintroduce animals that once roamed these vast and wild plains.
Sitting on top of the dunes we sipped our drinks and reminisced over the past 12 days. Our last Gondwana-style dinner was waiting for us when we got back to the lodge, and nostalgia set in as we wondered when we would ever eat like this again. The festivities around the fire and bar had begun to die down when one last bit of excitement reminded us that we were not yet home. A porcupine had made its way into the kitchen in search of a spare morsel, but was disturbed by those locking up and came scuttling out to the hair-raising amusement of all the guests.
This was our first time in Namibia and (having not travelled to Namibia before) it had only taken a 12-day trip to make us fall in love with the country. From its natural beauty and magnificent sunsets to the majestic wildlife and tranquillity of the still evenings, it is certainly a place we will explore further.
The Gondwana Collection of lodges added greatly to the value of our experience and comes highly recommended if you seek the heart and soul of a true Namibian experience.
Travel tips:
Visa: If you own a South African passport a visa is not required for tourism purposes.
Water: Whilst you need to be careful about water you source in Namibia, all the lodges in the article had drinkable tap water.
Park fees: These are standard throughout Namibia and vary depending on your nationality. South Africans pay R60 per person and R10 for the vehicle.
Gondwana card: Anyone with a permanent or temporary residence permit for an SADC (Southern African Development Communities) country may apply for a Gondwana card at a cost of R100*, which entitles the holder to a 40% discount on accommodation and a 25% discount on dinners or activities booked through the lodge.
Book ahead: Whilst booking is not essential, it is advisable and all Gondwana Collection lodges and campsites can be booked online at www.gondwana-collection.com. They also have some suggested routes to help you plan your stay.
* Price correct at time of publication