Words & Photo: Wild Bird Trust
This amazing footage from our work in the Okavango Delta was filmed and produced by Zach Vincent for the popular nature show 50/50 in South Africa. The 2013 Okavango Expedition was our most gruelling ever, but recorded more wildlife and bird sightings than any previous expedition.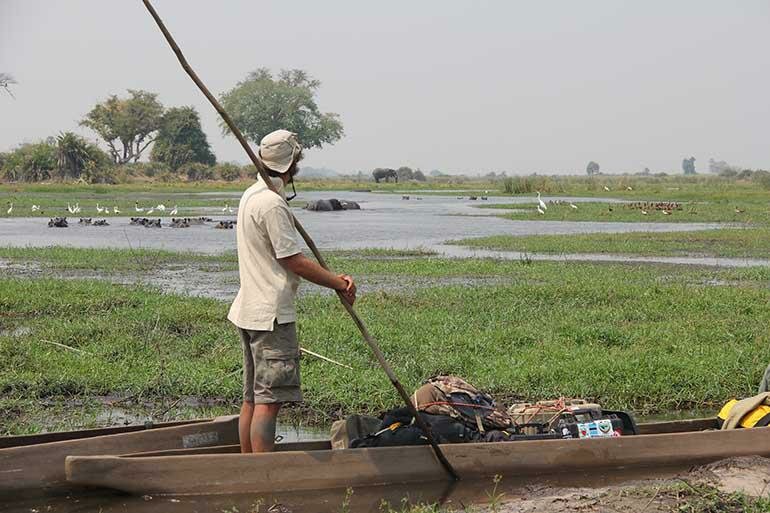 After four years of exploration we had hit the jackpot! Thousands upon thousands of wetland birds and more wildlife than I have seen anywhere in Africa. More encounters with dangerous wildlife than any expedition I have ever been on. This expedition was raw, wild Africa and the videos capture this enlivening, vibrant and intoxicating energy.
Both Part 1 & 2 are not to missed! Watch from about 8 minutes in Part 2 to see a mind-blowing encounter with a 5-metre-long crocodile hellbent on eating John Hilton (Commercial Director: Wild Bird Trust)... Wow!
Please also go to intotheokavango.org for a unique view into our world on expedition. This collaboration between Jer Thorp and I is an effort to represent rich data from a research expedition into one of the remotest locations on earth LIVE online for the world to see… We had a transponder updating our location live everyday and, at the end of each day, we would upload all bird sightings, comments, photos, and sounds from the day. We even had data from temperature loggers and heart rate monitors uploaded live each day.
Please consider donating to the Wild Bird Trust to help us grow our various conservation projects.
We depend on donations at this time of year to fund new, exciting projects and react to emergency situations.
Go to: http://www.wildbirdtrust.com/donations/