Words: Shawn van Zyl ǀ Photos: Various photographer
You have seen it in movies and on YouTube, scenes of men and woman moving effortlessly, as if defying the laws of gravity using only their bodies and with the precision and skill of a super hero or ninja. But these men and woman are not special, they are ordinary people like you and me, who practice the discipline of parkour.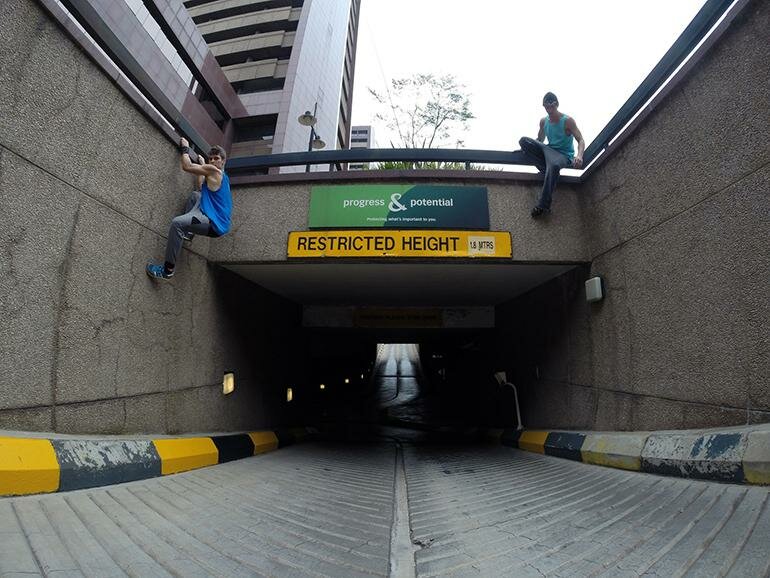 Photo credit: Shawn van Zyl
It all started in the late 1980s, early 1990s in a small French town called Lisses. A group of school friends would hang out after school and play, pretending that they were super heroes. They would try to run up walls, climb trees, jump from ledge to ledge and vault over anything that was in their path. It was an activity that these teenagers could get lost in, with the only limit being their own imagination. But after a few years, these young friends began to master the various manoeuvres and catch the public's attention, who were witnesses to these skillful action runs never before seen in real life. They had started something and once the first videos from this small community went viral, it spread very quickly across the planet.
Fast forward several years and what had started out as a game of the imagination between friends had evolved into a new way of moving from a to b, of viewing exercise, and more importantly, it was a whole new way of life for future practitioners of parkour.
Parkour has now evolved into an art form where the goal is to unite the mind and body in a process of moving from one point to another as efficiently, smoothly, silently, and quickly as possible. Training in parkour allows people to assess obstacles on an individual basis and decide on the best way of getting around them, based on the obstacle, the physical abilities of the practitioner and the situation. It involves using your entire body, not excluding your imagination, for creativity. Practitioners will lift, climb, crawl, jump, balance, and vault their way across any landscape and perfect such movements over time to result in complete body and mind control. "It is all about expanding our physical freedom and awareness within our natural environment. Where others see obstacles or barriers, we learn to see challenges and opportunities," says Dyllon Davidson, co-founder of the Concrete Foundation Parkour Academy in Sandton, Johannesburg.
Perhaps the biggest reason why parkour took off so quickly internationally is because absolutely anyone can do it, no matter your age, gender or fitness and strength levels. And all you need to get started is an environment to move through. It is advisable to start learning from an experienced practitioner, as mistakes in parkour can be hard lessons to learn. Learning from an instructor is always the best and safest route, as this will ensure that past lessons are passed on from one traceur (a practitioner of parkour) to the next without the bumps and bruises.
Photo credit: Shawn van Zyl
A typical parkour class at the Concrete Foundation would include a good, healthy warm up, followed by some basic parkour preparation, such as safe roles, and how to jump efficiently. Students would then into a more challenging area, where they would either jump from one object to another, or be taught how to move over rocks, walls or fences. The class is concluded with a conditioning set because you need to be physically fit to do parkour. The whole idea behind the class to is give each student a holistic view on the art form, whilst allowing them to think for themselves and move the way they feel comfortable.
In South Africa, there is a governing body called Parkour South Africa that acts as a sort of hub for all teams to communicate through, and there is Parkour South Africa's preferred academy Concrete Foundation Parkour Academy, which is based in Sandton. The Concrete Foundation was started seven years ago by some of the very first practitioners of parkour in the country. This team of athletes went on to make careers for themselves in the film industry by performing stunts for television shows like Strike Back and movies such as Mad Max 4 and Chronicles. "We started the academy because we wanted to share this gift that we had, and spread the news that parkour is a safe discipline that promotes a natural and healthy lifestyle. Our goal was, and still is, to get as many people training and build as many facilities around the country as possible for teenagers and adults to enjoy," says Dyllon.
There's plenty of fun to be had in the wonderful world of parkour. It is an innovative and enjoyable way to get active and change your relationship with your body and the space around you. Why jog on the streets, for example, when you can navigate an obstacle course of your own devising through public spaces? So join us and give it a try.
Did you know?
• Modern parkour is said to be founded by David Belle and Sébastien Foucan, who are ambassadors of the techniques and have pushed it into films and video games.
• The term 'traceur' is derived from the French word 'tracer', which is slang for 'to go fast'. 'Traceuse' is a term used to describe a female parkour enthusiast.
• Parkour has no set movements or tricks, but is up to the individual and focuses instead on swift movement with minimum injury.
• Parkour is not just about jumping and climbing. One of the key factors in success is learning 'spatial awareness' – knowing how far you can leap, judging distances and gaps.
• Parkour is considered to be an extreme sport and is part of the US X-Games, an annual extreme sports event.
If you are interested in starting parkour and would like to find out if there is a club in your area, visit www.parkour.co.za
There are classes held at George Lea Sandton Sports Park, in Sandton, every Tuesday and Thursday from 5 p.m. until 7 p.m. All you need is a bottle of water and some training clothes and the rest is taken care of. The first session is free. For more information about the classes and the Concrete Foundation Parkour Academy, visit www.concretefoundation.co.za