Words: Olivia Jones Communications | Photo: Nick Ferreira
Sunday, October 6, saw the inaugural Urban Descent race take place on Alan Paton Road, Glenwood in extremely windy conditions. Over 70 riders took to the streets competing in 5 divisions which were held throughout the day on a route that spanned over one kilometre in length. Speeds of over 66km/h were reached by top riders coming down the route while taking on bends, chicanes and a wet surface at times.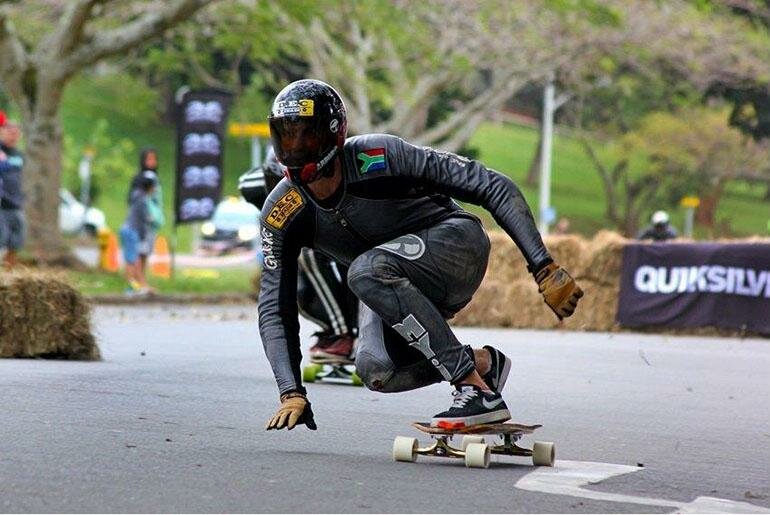 Winning the open men's division was Jason Brown from Port Elizabeth. Brown was a clear standout from the morning qualifying rounds but was closely followed in the final race by several riders that all had potential to win the race. "It was such a great event, I wasn't sure if I was even coming to Durban to ride the event but now I am really glad I did, the competition has been awesome despite a heavy headwind. I will be back next year for sure to compete," said a very excited Brown after receiving his trophy, prizes and R3 500 first place cheque. Brown edged out Stephen Hayes (Durban) and Capetonian Ricki Allardice who finished second and third, respectively.
Other division winners included Odin Kerkhof of Glenwood (boys under 10 years), David Beare of Morningside (boys 14 years and younger), Mike Davies of Hillcrest (boys aged 15 – 18 years old) and Cindy Kritzinger of Glenwood (open ladies). Other awards went to Sadie Burger of Glenwood for her distressing bail which saw her coming off her board at full speed and skidding across the tar surface for over five metres. The crowd applauded her efforts when she returned to the event awards ceremony after being whisked away by the event medical team. Another award went to Troy O'Sullivan for his superb racing throughout the day, O'Sullivan unfortunately came unstuck in the final race and placed fourth overall in the open men's division.
The event boasted a total prize value of over R40 000 as well as R5 000 in cash. Sponsors of the event included Quiksilver, Gunslinger Longboards, GoPro, Red Bull, DC Shoes, Roxy, Blue Dolphin Resort, Glenwood Village Music, Corner Café, Nev The Barber, Quattro, Longboard Warehouse and Sportsmans Warehouse.
Event organisers Quiksilver and Gunslinger Longboards were very happy with the race on the day and announced that the event will be back on the calendar - bigger and better in 2014. More information and photos can be found on the event website: www.quiksilver.co.za/urbandescent. For those who couldn't make the event, catch it on Boardriders TV on SuperSport 8 on Thursday October 24 to watch all of the highlights.
Final Results:
Open Mens:
1. Jason Brown (Port Elizabeth)
2. Stephen Hayes (Durban)
3. Ricki Allardice (Cape Town)
Junior Boys 1:
1. David Beare (Morningside)
2. Sebastian Rich (Morningside)
3. Matt Uppink (Mt Edgecombe)
Junior Boys 2:
1. Mike Davies (Durban)
2. Cameron Dubbe (Glenwood)
3. Seth Pretorius (Glenwood)
Open Ladies:
1. Cindy Kritzinger (Glenwood)
2. Caylee Thomas (Glenwood)
3. Sadie Burger (Glenwood)
Boys Under 10:
1. Odin Kerkhof (Glenwood)
2. Levi Ballard (Glenwood)