Words: Gary Bannatyne│Photos: Various
So let me tell you about a little mountain in Africa called Kilimanjaro …
Janine phoned me very soon after the Ironman in April and asked if I was keen to climb Kilimanjaro in August. These were my two options:
1. Say no, and hang up the phone. I know Janine and there is always a trick!
2. Say yes, and move onto the next topic of conversation, pretending that we just casually decided to climb to the highest point in Africa.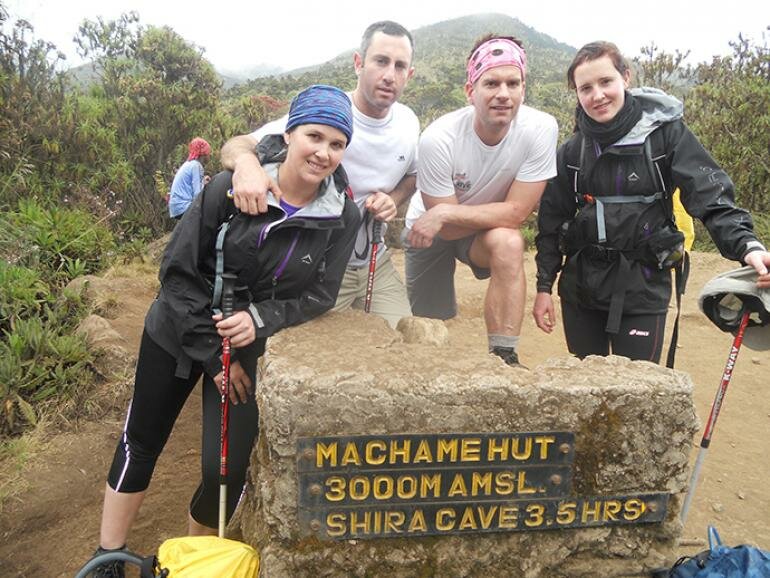 I chose option two for the same reason I chose to do Ironman in April. Why on earth not? Although I am not going to win first prize for my contributions to the less fortunate, it did help the decision knowing we were going to do it all for a great cause.
But now I was faced with a dilemma. Normally I use my winter very wisely to pick up a couple extra kilogrammes that I tend to lose in the summer from training, and now I was being asked to climb up a mountain in the middle of Africa, in the winter, for a total of six days. So the choice was clear. I was all in, but very casually so.
So here is a list of concerns floating around my head prior to the event, and for those that know me, these are very serious things:
1. DIRT - One of the first things you realise is that there are not going to be showers for me to clean my frame for six days.
2. DUST - Even worse than conventional dirt because you don't get a choice. By not touching dirty things, you can avoid dirt. But dust, that stuff takes over.
3. JANINE - Having to spend six days talking to the same person, trying my best not to provoke emotional responses. Not possible really.
4. COLD - Bloemfontein in the winter is the coldest place I have ever been to. I couldn't handle it and now there was a chance I was going to be walking head first into potential -15 degree cold.
5. CAMPING - I regard myself as a nature lover and quite resourceful, but when it comes to camping, I just don't know my way around. Changing on my back. Practically sleeping in my kit bag. And again, dirt in the tent.
6. MOSQUITOES - I am petrified of those little buggers carrying that disease. I really think that my skin is thinner than the average human being and before I arrive in a malaria area, I am sure that the mozzie community has a conference to discuss my arrival and how they are going to attempt to extract as much of my blood through their faces as possible. And lastly and most absurdly…
7. MALARIA TABLETS - I'm not a big fan of any sort of pills or medication, I never have been, but malaria tablets are very high on the list of things I would never like to put into my mouth.
So I know that I might have been overly concerned, but there was an element of not really taking the time to worry about these concerns and rather just assuming everything would work out. In the build up to the event, Llewellyn (Welly) and Chanelle were convinced to join the team by Janine, which was a fantastic idea in hindsight. She probably convinced them over a couple of beers or so. I think we made some of our best decisions that way.
One of the biggest tasks when embarking on something like this is all the gear that you have to consider. The tour group is very specific in what you need for the particular conditions that we were going to throw ourselves into. So prior to us leaving, Janine had all her gear purchased, ready, and packed (mostly brand new stuff). Fortunately, we were able to borrow some of the important gear from the Watson family, which helped Jan and me so much. Chanelle and Welly had a different approach. Chanelle went to the shops and, in one day, bought every possible item that she could get her hands on. Welly just went out and bought boots.
We were all packed and ready to go, except Welly - just very smart, empty bags. He had boots and we were going to hire some gear from the hotel. All was going according to plan until our flight to Nairobi got cancelled. It turned out the airport burnt down. Very inconsiderate. Janine almost cried, but didn't. So we were put up in a hotel in Boksburg - Welly and I shed a couple of man tears. I think it was a sign. After a night in Boksburg you are pretty much ready for anything.
From South Africa to Nairobi, and then on to Tanzania, where we landed at Kilimanjaro International Airport in the middle of the night to some guy holding up a board that said 'Janine'.
I had no idea where we were headed, but one thing you know for sure is that you are in Africa. I asked our taxi driver where the mountain beast was and he just pointed to some random direction in the dark. You are constantly anxious to see your opposition.
We arrived at our hotel and then applied enough mozzi spray to give that particular room at the hotel a 10-year all clear.
So here our trips starts …
You are allowed two bags. One bag that you will keep on your back at all times and another main bag with everything in (15 kg) that will be taken up this mountain by a goat, or on an ox or something, or that's at least what I thought. That isn't the case at all.
We arrived at the Machame Gate, in the Kilimanjaro Nature Reserve, to a team of 17 porters that were assigned to the four of us! We couldn't believe it. We had three porters each to carry all our gear, three guides, a toilet porter, and a cook. It was hard to come to terms, in the beginning, with the fact that here you are trying to achieve something extraordinary, but you are assisted by so many people who carry all your crap up on their heads. That being said, you then realise that having a team that size is very important and necessary. Those porters are hardcore!
I could chat for hours about all the little details that made this trip very special, but here are some considerations.
Each day you hike on average for about seven hours. To acclimatise, you 'walk high but sleep low', which is odd at first but critical to your health. The first three days are taxing on your body, but not something that you couldn't grit your teeth and get done. On the days when you have to walk downhill, it is as taxing on your body, if not more, than going up. Especially hard on Welly because he is made of glass.
The landscape changes incredibly as you go up and down, but by day three, you start to see it become quite arid. I can completely understand why other life forms decided to get the hell out of there.
Day four is when the experience started becoming a real thing. It was becoming harder to breath. Some people from the other groups were falling over and vomiting from altitude sickness. We were forcing water down our throats and the food that we were being served was starting to get to us. So much so that we couldn't stomach it! Fortunately, with the help of my pre-made snack packs (award winning and massive), I was able to get food down my gullet. The rest of the team was very jealous of my packs. We oddly had a team fizzer everyday!
So day four went something like this. Leave early morning on the most dangerous part of the climb. Four hours later, we stopped for lunch in the freezing cold, in some random place, and ate deep-fried chicken. We then hiked again for another three hours to base camp. Arrived in the cold and the mist in the late afternoon. Tried our best to clean up, but it was too cold to take gear and clothing off comfortably. Had dinner, which we couldn't eat, but the Milo was fantastic. Netchi (our lead guide) briefed us for our summit adventure, but I couldn't help thinking that he was sugar coating what we were about to embark on. He did have a more serious than normal look on his face, which put things into perspective. So we got all dressed up, then climbed into our tents for a hour-and-a-half sleep, so we could leave at 11:30 p.m. in the cold and the dark.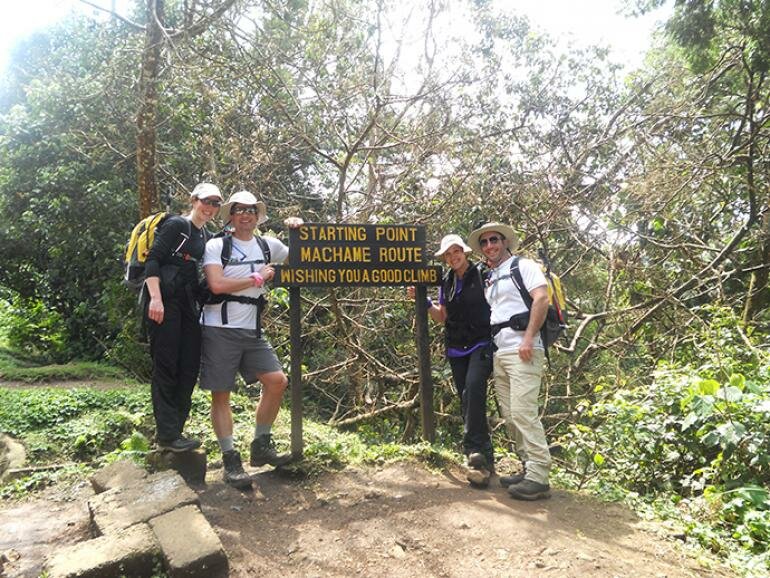 Let me stop at this point and tell you about some of the highlights of my trip:
1. The views - You have never seen something so stunning as that mountain while you are walking up and down it.
2. The gas - Dried fruit was taking its toll on us boys and eventually we had to swop tents as I think our tent was going to explode if it was exposed to flame. The girls say that they weren't affected. Of course they weren't.
3. The emotional thing - We were having this incredible philosophical conversation on our walk up to Lava Tower one day when I might have provoked Janine (was probably Welly's fault) a little too much and we had a sneaky breakdown on the mountain. We laughed about it once we got to our overnight base camp and realised that we had bigger things to be concerned about - the cold.
4. The register - Every day when you arrive at your camp, you have to sign in and we each took a turn to sign under different professions. Strip pole cleaners, butchers, insect collectors, and so on. It's the little things.
5. Netchi the funny man - Our lead guide would always talk in the local language (Swahili) and everyone around him would have a fat laugh. We soon realised they weren't laughing about us (we assume), but we would have loved to know what he was saying.
6. My snack pack - South Africans will always be united by biltong. South African medics should carry extra packs of biltong just to be safe.
7. The cooler box - I can, without a doubt let you know that 'cooler' has nothing to do with trending or fancier. This was the box that our toilet porter carried up the mountain, which had a toilet seat on top of it, that we had to use every day. So basically, we had to poo in a cooler box! And the reason it is on my list of highlights is because it was one of the worst things I had to do on the mountain.
8. The crying - Now Chanelle doesn't cry because she is related to Chuck Norris, and Janine doesn't normally cry (that's what we thought). But sitting in our tent in the freezing cold, watching our waiter Jeff walk in with some more vegetable sauce while expecting macaroni and cheese was priceless. Janine cried and laughed, but mainly cried. We laughed and Welly offered some cuddles, but for the main part we just laughed.
9. Walking on the moon - At one point during our summit walk, the moon was full and massive and as we got higher, it felt like we were walking above the moon. No photo would ever translate.
10. Africa's second highest mountain - Mount Meru is Africa's second highest mountain and you can see it most of the time while you are on Kili. Only when you are on the top do you realise the size of Kili because you find yourself looking down at Meru.
Look out for the rest of my story about our little adventures next week, when I continue to tell you about this incredible experience and how our breath was literally taken away. •