Words: George Louw ǀ Photos: George Louw & Jake Weston
I think for most people that have conquered the highest peak in Africa, Kilimanjaro, and still possess the urge to go higher, Aconcagua is probably the next mountain on the bucket list. At a height of 6,962m above mean sea level (amsl), Aconcagua is the highest mountain on the South American continent and the highest mountain outside of the Himalayan mountain range. It is situated just inside the western border of Argentina with Chile and forms part of the Andes mountain range, the world's longest continental mountain range.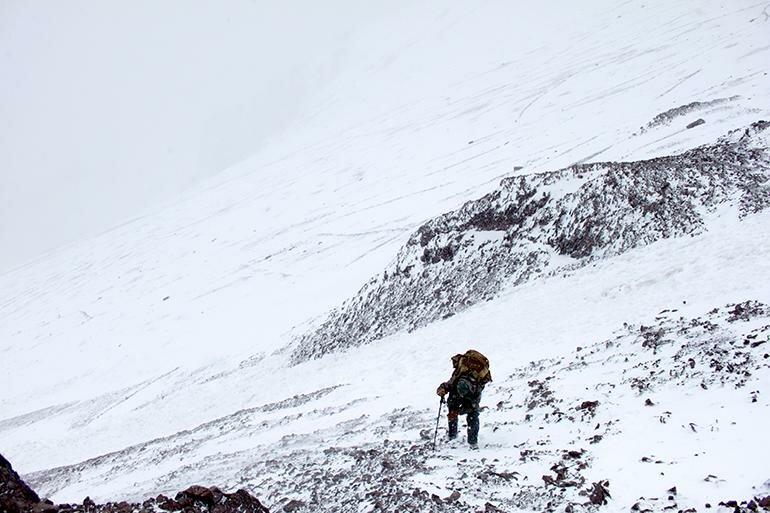 Photo credit: George Louw
Each adventure holds specific objectives and personal goals that constitute why we do these things. My main goal was to reach the summit of Aconcagua without guided support. One of the advantages of an unguided climb is that decision-making is solely in your own hands.
This objective inspired months of planning, preparation and training, and plenty of time to grow a beard that could capture enough snow and ice for the summit photo.
The Aconcagua climbing season starts in mid-November with the peak season ranging from 15 December to 31 January. To avoid a lot of people, I decided to plan my trip starting beginning December. The disadvantage of an earlier start is that the weather can still be unfavorable, with high winds and very low temperatures affecting conditions at the summit and some of the high camps.
I left Johannesburg on 1 December with an overweight duffel bag, a beard that has absorbed half my face and the two Spanish words I knew, hola (hello) and si (yes). But confident nonetheless. I landed in Mendoza after what felt like a week of connecting flights to find that no one speaks English and that my two Spanish words might not get me far. Combining my Spanish literacy and hand gestures that would have made Thamsanqa Jantjie (the controversial sign language interpreter  who used incorrect sign language at the memorial service for Nelson Mandela) proud, I got accommodation, food and stove fuel for my trip, my climbing permit and a bus ticket for the ride to the mountain.
I left for the mountain on 3 December, enjoying a scenic four-hour bus journey, with multiple stops, through the Andes Mountains. My stop was at Los Penitentes, a small and cozy looking ski resort, and where I met up with Lanko Altas Montañas, the mule service company I hired to transport some of my gear up to base camp. I quickly sorted out my gear, separating what I would carry up to base camp from the items that the mule would haul up. I tried to keep my load less than
20 kg and the mule's less than 30 kg. I met up with a number of degenerated British climbers that had an unsuccessful summit bid, due to high winds and very low temperatures. This naturally fuelled my anxiousness, making me re-visit the months of planning and preparations in my mind.
On 4 December I was dropped at the park's entrance (2,980 m amsl), where I started the slow slog up the Horcones Valley of Aconcagua following the Normal Route to Confluencia (3,400 m amsl), my first overnight stop. It was a beautifully warm and clear day, but a relentless, strong headwind was blowing that saw me completing the day's hike in approximately three hours. At these lower camps, it is compulsory to check in at the medical tent, where your vitals, such as blood oxygen levels and heart rate, are monitored. Mine seemed to be fine, with the doctor recommending that I drink a lot of water to stay well hydrated.
The next day I completed an acclimatisation hike up the glaciated valley to Plaza Francia (4,100 m amsl), which is situated right beneath the south face of Aconcagua. It was overcast, windy and a cold day, but also the day I met another solo climber that really impressed me. Not so much for the immense speed he was hiking at, but the fact that he was only wearing a T-shirt on a day that I saw myself experimenting with my winter wardrobe. We spent some time talking, doing manly things like comparing gear, gauging each other's experience levels and relieving each other from taking selfies. Apparently this was his first proper hike and when I enquired about his strategy for climbing Aconcagua, his response was a simple, "I don't really have a strategy. It's just a mountain, so I'll just walk up it and see how it goes. If I get sick, I'll come down." I instantly liked Jake, valued his outlook on life, his approach to challenges and his love for whiskey.
The next day I started my hike to base camp (Plaza de Mulas) early, as it was a long day with a gradual ascent to 4,370 m amsl. Again, a strong headwind was tormenting me, kicking up dust and contributing to an arduous seven-hour effort. The conditions didn't faze Jake as he came power-housing past me in his Bob Marley T-shirt, completing the hike in just over five hours. There was a glimpse of the summit with a white plume of snow being blown off the peak, indicating very unfavorable conditions up high.
The atmosphere at base camp was a combination of excitement, for those still going up, and disappointment, for those that had failed to summit. There were not a lot of success stories, with the weather having played foul for a couple of weeks.
Instead of taking a rest day, I decided to do an acclimatisation hike up the Cerro Bonete, at 5,003 m amsl, which is situated to the west of base camp. This gave me a great view of the surroundings and a better perspective of the days to come.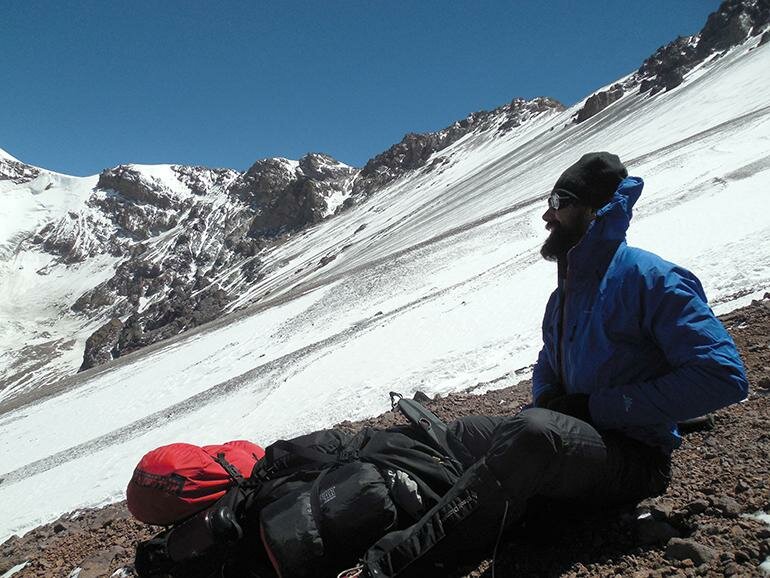 Photo credit: Jake Weston
On 8 December, Jake and I did out first carry up to Camp Canada, at 5,050 m amsl. We decided to team up, but made it clear that whenever one of us took longer to acclimatise, the other person would continue on their own.
The day was a total whiteout, with high winds and thick snow making conditions very difficult. I was in my element though, as these are the conditions I have read about in books but never experienced in real life. I was able to wear my snow goggles, double plastic boots and I got a fair amount of snow and ice stuck to my beard. Jake was labouring under a 30 kg pack, carrying enough supplies to last him his entire permit stay of 20 days. We dropped our gear and returned to base camp for the night.
The next day (9 December), we moved the rest of our gear and supplies up to Camp Canada. This procedure of carrying gear and food to higher camps and then moving camp the following day was repeated for Camp Nido de Condores (5,570 m amsl). This is the optimum manner in which to acclimatise sufficiently while gaining altitude.
We received a weather forecast stating that Friday, 13 December would be a perfect weather window, with low winds and bearable temperatures expected. But for our schedule, this was a day too soon and meant that we had to move all our gear and food up to Camp Colera (6,000 m amsl) without acclimatising properly. But we both felt fine and decided to do it 'Alpine style' by sharing a tent and fuel, and taking only the necessary food and equipment for a summit attempt.
We spent a long, cold and sleepless night at Camp Colera, waiting in anticipation for the 03:30 alarm. As soon as it buzzed, we were up, got our gear on, boiled water for a quick breakfast and some tea and by 4 a.m., we started the ascent. It was -19 degrees, but a beautiful still and clear morning. The going was slow, having to fight for every breath and mentally resist the pain of our oxygen depleted muscles. Both my feet went numb and at one point I had to take my boots off and rub the life back into them. It didn't work that well, so I kept going, reasoning that if I can still wiggle my toes I should be fine. On our final approach to the summit we got engulfed by dense clouds, reducing the visibility to a few metres and pushing our determination to the limits.
At approximately 2 p.m., and after ten hours of suffering, we reached the highest point on the South American continent. We were broken, but happy. Although we were not entertained by a beautiful view of the surroundings, we both had personal accomplishments fulfilled. Mine was to have snow and ice in my beard, and Jake enjoyed a sip of his favorite whiskey.
The descent was challenging due to the lack of visibility, our bodies fatigued and Jake showing symptoms of moderate altitude sickness. He had no energy and found it hard to stay upright. After countless falls, I roped him to myself and with the assistance of another climber, we got him to Camp Colera safely after a six-hour descent. We were very lucky with the weather window we had, as conditions deteriorated again after that.
Although Aconcagua is not a technically difficult mountain, the weather and altitude have claimed its casualties and turned countless climbers back in their tracks. But still, in the words of my fellow adventurer, "It's just a mountain" and anyone can walk up it and see how it goes.