The Rally Dakar left Argentina yesterday and for the first time in the race's history entered Bolivia. It was Joan Barreda who took the honours in the Salta-Uyuni stage, giving Honda TEAM HRC the fourth victory in 7 days of racing. Hélder Rodrigues finished in seventh place and Laia Sanz twelfth.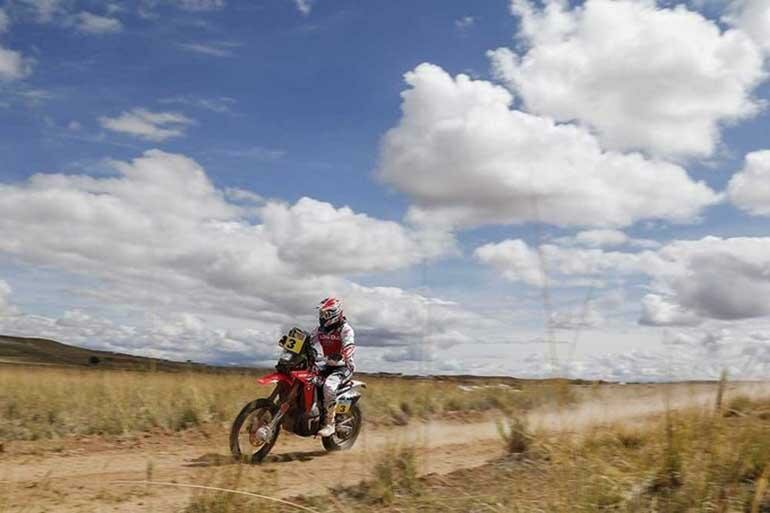 Week two of the Rally Dakar got underway this morning from the Argentine city of Salta, in the northern region, heading towards Bolivia, for the first part of the special. Nevertheless, the meteorological conditions were such that the start had to be moved 103 km further up the course to the site of the way-point.
Joan Barreda started at a cracking pace, clocking up the best times in both parts of the the special before arriving home with a 4.03 minute deficit over Marc Coma, the stage runner-up and overall leader.
A fine performance too from Hélder Rodrigues in the seventh stage on the Honda CRF450 RALLY, who holds on to eighth overall place. The team's third rider Javier Pizzolito, made a significant improvement in this stage, always up among the top twenty riders, arriving in Uyuni in 18th, where the riders will be without mechanical assistance, as this is the first part of the race's second marathon stage.
It was also a day of success for the team supported by TEAM HRC with the new Honda CRF450 RALLY machine. Laia Sanz goes from strength to strength and today recorded some excellent times on the stopwatch. She crossed the line in twelfth place. Her Honda Argentina Rally Team colleague, Pablo González put in a steady performance too.