The 46th running of the legendary Roof of Africa event was held again in the breathtaking mountain kingdom of Lesotho from 14 to 16 November 2013. Tougher than the previous years, or even the toughest Roof so far? 'Tight, compact and in your face' is all that route director Justin Harris had to comment on this year's Roof of Africa event, referred to as 'the mother of hard enduro'.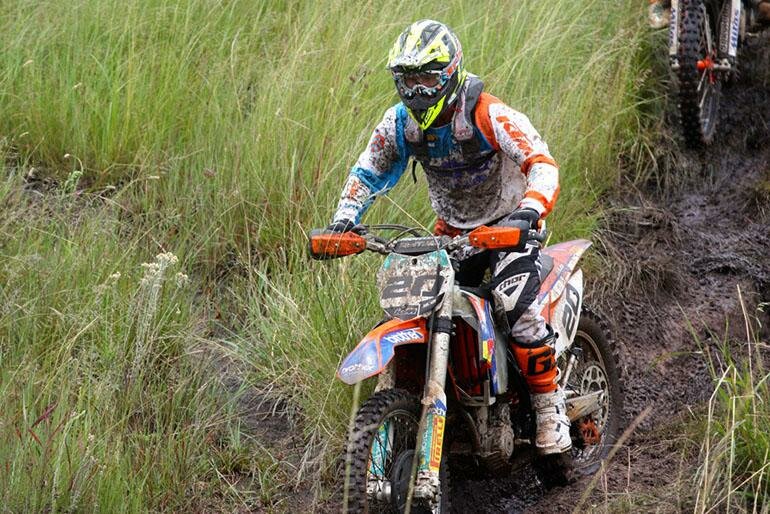 The South African National Off Road Championship got underway on 1 February just outside Bronkhorstspruit, North of Pretoria. The route was approximately 30 kilometres long and each rider had the opportunity to ride the loop three times with only their best lap having to count.
With all the heavy rain in the area, it was plain to see that the track would worsen as the hours passed by so most of the top riders posted their best times in their first outing.
Full Time motocrosser and now for 2014, full time Off road racer, Ross Branch set a blistering time of 34min 30.77sec on board his KTM 450 XC-F taking the pole position by 26 seconds over second place for the first round of the Championship. Championship stalwart Louwrens Mahoney had a good day out in the tough conditions on the big 500 XC-W setting the fourth fastest time for the day. Coming off a big injury sustained in 2013, Louwrens rode wisely to ensure he was close to the sharp end.
Brother KTM's Louw Schmidt showed some great early season speed and crossed the timing points in tenth spot overall and first in the 200cc class giving the 2013 OR4 Champion a good position for Round one. Teammate Juan 'Bollie' van Rooyen secured 11th spot overall and first in the Senior class on board his KTM 300 XC-W, just behind Schmidt. Jonathan van Wyk rode a solid session to bring it home in 13th spot while Tyron Miller took it easy in then muddy and wet conditions to get himself a starting spot just outside the top 15 with 17th on the grid for the next round.
The first Round of the National Off Road Championship will be held in Wolmaransstad in the North West on 8 March.