Words: Sam Bradley│Photos: Interlaken Tourism
My fascination with Interlaken began in 2004. It was my first year out of school and I had been thoroughly enjoying a gap year in England when I decided to finish it off with a ten-day holiday in Switzerland. It turned out to be one of the best decisions I ever made.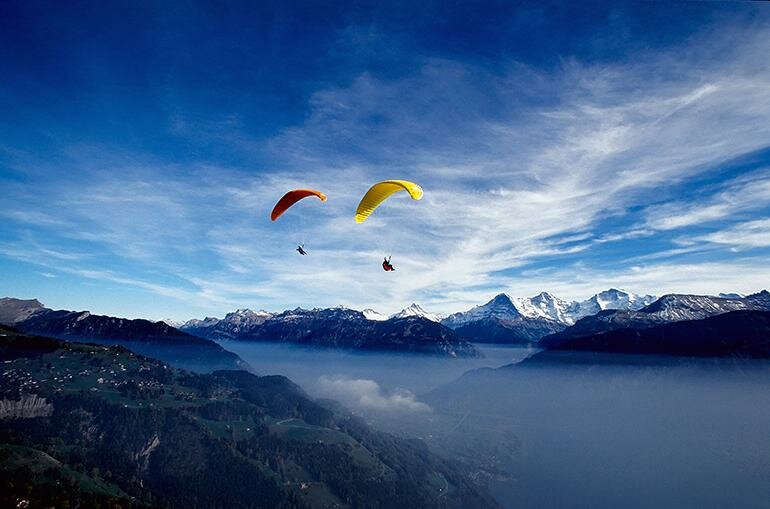 Photo credit: Interlaken Tourism
The beauty of the place bowled me over, while the skiing and snowboarding had me completely hooked from the first day. Not to mention that as a kid from Africa I was absolutely gobsmacked by how safe and clean and punctual the country was – it seemed to run on a level of efficiency beyond comprehension. As I was leaving, I was told that Switzerland was even more stunning in summer, which only strengthened my resolve to get back as soon as possible.
Due to mundane tasks like studying, working and everyday life, it would be seven long years before I finally returned. Arriving on a beautiful summer's day, the first thing I was told was that I should come back in the winter to see the area at its most beautiful. I concluded that the locals were onto a very clever marketing ploy, to ensure a steady return of visitors. Regardless of the tactics used, it was good to be back!
Interlaken claims to be the adventure capital of Switzerland, and it certainly lives up to the hype. The town has a different feel to the rest of Switzerland, which is instantly noticeable. As I arrived, I could see about 15 paragliders drifting across the sky and landing in the town square. In addition, there are more tourists in Interlaken, so it's the one place where English is more widely spoken than Swiss-German. I only had a short stay planned, so time was of the essence. I quickly dumped my bags at the backpackers and went straight to Outdoor Interlaken, the adventure company that would be showing me around (and hopefully keeping me alive) for the duration of my trip.
First up was funyaking, similar to white-water rafting except in a smaller boat. I had visions of peacefully floating down a gentle stream with a cooldrink in one hand and birds singing sweetly in the treetops. How wrong I was. I started to realise my mistake when we stopped next to a river that flowed straight off the mighty Eiger Mountain. While it's true that the rapids aren't as big as others I've seen, they definitely are as testing. All it took was a few waves of icy water in our boat and we were wide awake, which was definitely a good thing as just about every rapid had us hanging on for dear life. It's just the sort of activity to make you feel exhilarated, refreshed and totally alive, and we loved every minute of it! Once we'd got through the steeper rapids, we came to a gentle part of the river that floated us serenely through the town and into the lake. No sooner had we reached the shore than it was time for lunch and a chance to swop stories and boast about our exploits on the river.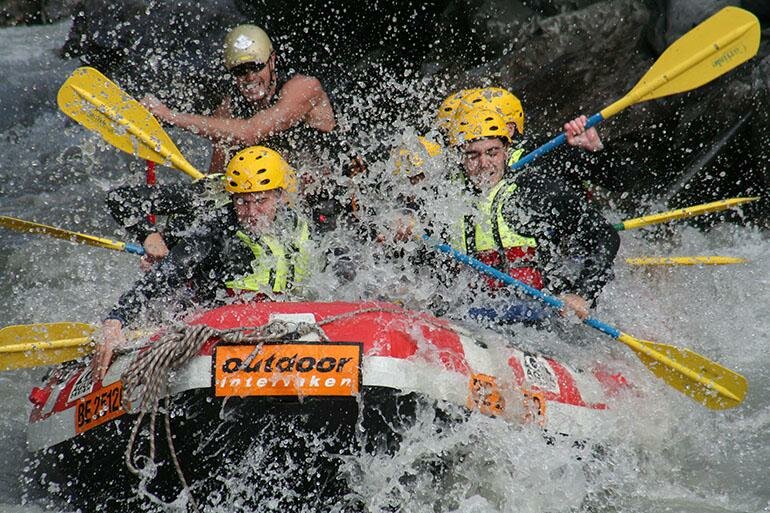 Photo credit: Interlaken Tourism
One thing that Interlaken does have in common with the rest of the country is its stunning beauty. Nestled between the lakes of Thun and Brienz (which is where the town gets its name), it feels like a village in a magical faraway land, which is exactly what it is. The majestic snow-capped mountains of the Eiger, Moench and Jungfrau towering over the area only add to the feeling.
Next on the agenda was canyoning, commonly known as kloofing or gorging in South Africa. Once again, we found ourselves at the top of a river, although this time the boat had been swopped for some rope as our mode of transport. The basic idea is to get down the river in the most adventurous way possible. This involved jumping, sliding, swimming and even abseiling down a waterfall as we slowly made our way downstream. Doing an activity like this requires expert guides, and the team at Outdoor Interlaken are just that.
They kept the nervous ones among us relaxed with jokes and stories and they were completely professional in keeping all of us safe and happy throughout the adventure. Best of all, they all wore waterproof cameras throughout the trip so that we could purchase videos of our exploits at the end.
Living adventurer Bear Grylls' lifestyle is a great way to build up a good appetite. Restaurants are a dime a dozen in this tourist haven, but most of them aren't memorable enough to write home about. At the risk of spoiling one of the town's best kept secrets, there is one little restaurant I have to mention simply because it was so typically Swiss that I instantly fell in love with it. Tucked away in the side streets and away from the city centre lies Restaurant Laterne, and I could tell as soon as I entered that I was the only foreigner in the building, which only increased its charm.
Luckily, my meal had been pre-booked, as the language barrier was to prove pretty impenetrable. Before long, I had an entire cheese fondue placed in front of me, with endless servings of salads and potato bakes and meat dishes following after one another until I was begging for mercy. The cliché that there's always room for pudding proved true, as I couldn't resist a delicious orange sherbet cream dish to finish it all off.
The setting was beautiful, the atmosphere was relaxed and the food was magnificent. All in all the perfect way to end a perfect stay in Interlaken.
More information
Travel tips
• Flights: Emirates and SAA fly from Johannesburg to Zurich, with a stopover.
• Must-pack items: A camera with lots of spare batteries and extra money (our little South African rands come off second best to the Swiss franc by a long way).
• Language: Interlaken is situated in the German speaking part of Switzerland. In addition to the German language, many locals speak English and French as well.
• Tipping: Service charge is included in prices of hotels, restaurants, hairdressers and taxis. For extraordinary quality of service small tips are certainly well appreciated.
• Drinkable water: Around 76 fountains in and around Interlaken, as well as hotels and other accommodation, are signed with the drinkable water badge. The badge shows that the water is drinkable directly from the tap.
• VAT: There is a Value Added Tax of 3.8% on accommodation and breakfast, and 8% on meals and beverages.