Words: Lisa de Speville | Photo: Fred Richardson
The Jo'burg orienteering clubs have posted a challenge and incentive to the running community. They'll give R200 to any newcomers participating in 'Adventure Navigation Urban Series' event who complete the men's course in less than 25 minutes or the women's course in less than 30 minutes.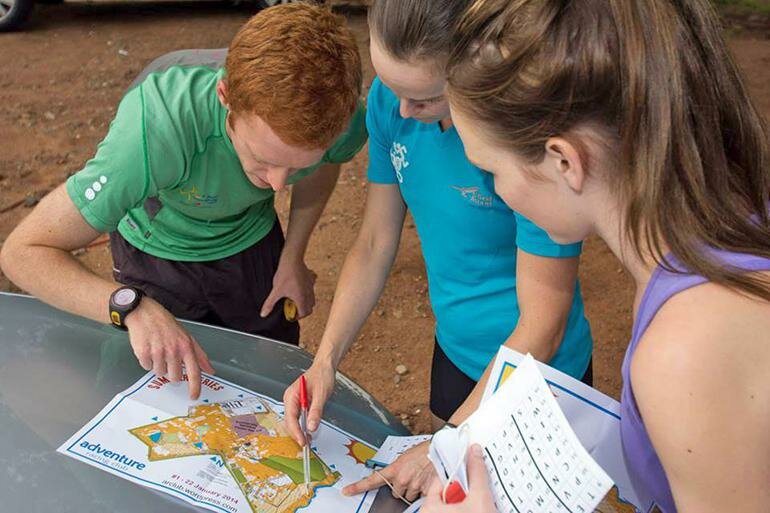 The new 'Adventure Navigation Urban Series' runs from February though to early June. These urban venues range from school properties to parks, campuses, a golf course and even the Joburg Zoo. The terrain is generally even and runnable, which makes for fast-paced running.
Affectionately nicknamed 'cunning running', orienteering is a navigation sport where participants receive a map at the start. A course is marked on the map by pink, numbered circles, connected by lines. Runners complete the course by visiting the checkpoints (called 'controls') in sequential number order. At each control, runners 'punch' a timing card to verify that they have been to the correct control for their course. Runners choose their own routes between controls, which are marked by a brightly coloured orange-and-white flags. The fastest runner wins.
The men's and women's courses are between three- to four-kilometres in distance as measured by the best route option available.
"We thought we'd put out this challenge to the running community because there's running and there's running," says Richard Lund. An orienteer, he heads up marketing for the South African Orienteering Federation (SAOF).
"This is a stimulating and captivating sport; it's about so much more than just running because navigation and route choice are thrown into the mix. We've found that more and more runners are looking for that something different and many are moving over to trail running. Orienteering is trail running taken up another notch, especially at our winter events which are held on more rugged terrain."
At the first Urban Series event, held at Jeppe Boys, the men's course (best route) measured three kilometres and the course was won by Michael Crone in 15:22. The women's course (best route) measured 2.75 kilometres and it was won by Stephanie Courtnage in 19:01.
"We think our money is safe," says Lund, "but we'd like to be proved wrong."
This challenge is open only to newcomers. At registration they'll be briefed on how orienteering works, what the map looks like, how to 'punch' in at the controls and what to look for. They only get one chance on the course. All runners completing the men's and women's courses under the times specified will receive R200.00. The two-kilometre novice course is not included in this challenge.
Day | Date | Location
Sunday | 2 Feb | Jeppe Boys High
Sunday | 9 Feb | Jo'burg Zoo
Sunday | 23 Feb | Wits Education Campus
Saturday | 9 March | Golden Harvest Park
Sunday | 22 March | Houghton Golf Estate
Sunday | 6 April | Venue TBC
Sunday | 4 May | Venue TBC
Sunday | 18 May | Heronbridge College
Sunday | 8 June | Fort Klapperkop
For more information on the sport of orienteering as well as details for these Urban Series events, please visit www.orienteering.co.za.