Words & Photos: Chris Hitchcock
A triathlon is a triathlon, is a triathlon. Except that it isn't. In the same way that a fish isn't a dolphin and the 100 metre sprint isn't a marathon, not all triathlons are the same. All triathlons have a swim, bike and run section, as advertised, and all of them run those disciplines in the same order. The difference, obviously, is in the distances involved.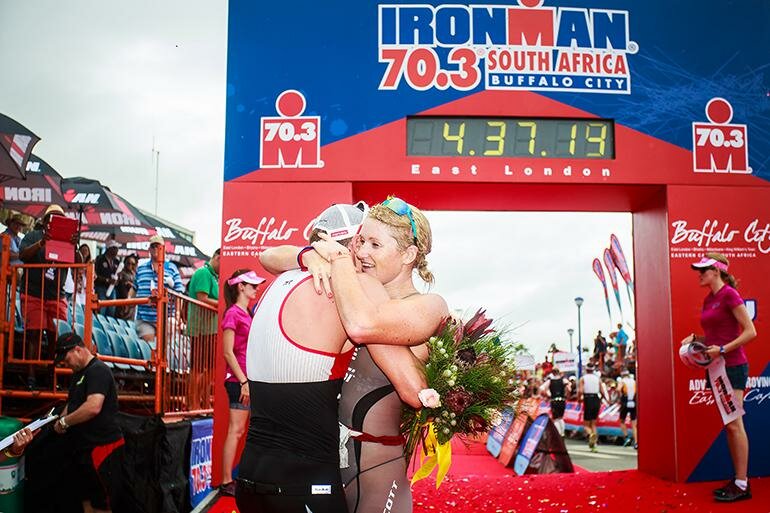 Photo credit: Chris Hitchcock
Starting at sprint distance, they get progressively longer (Olympic distance), until at the extreme end is the longest event of them all, the Ironman, which with a 3.8 km swim, 180 km cycle and a run of 42 km, is a beast of an event to conquer.
Sitting firmly between the shorter races and Ironman distance event is what was originally known as the Half Ironman, but is now branded as Ironman 70.3. (70.3 refers to the sum of the distance in miles of all three disciplines). In the past, Ironman and Ironman 70.3 were often compared with each other, and fanatical proponents of the longer event loudly proclaimed to anybody who would listen that the 70.3 race wasn't a proper distance. But that really wasn't true. It was simply a figment of someone's testosterone fuelled ego, a case of mine is bigger than yours, so it must be better.
The 70.3 has blossomed into a unique discipline of its own, with specialist training and professional athletes who dedicate their entire lives to the race. Events are held all over the world and the top racers, both male and female, travel the globe earning a living (often a meagre one) competing against each other.
In South Africa, the Ironman 70.3 event is held every year in late January, in East London (Buffalo City), in the Eastern Cape. The 2014 race saw a glittering array of top 70.3 athletes assembled on our shores. World champions, ex-world champions and stars of the future were all here to battle it out. Topping the list was three-time winner of the South African Ironman 70.3 and former world champion in the distance, Britain's Jodie Swallow.
The top male contender and favourite to win, James Cunnama, is a local boy and being Jodie Swallow's boyfriend, he was also the crowd's emotional favourite. Everyone loves a fairy tale. The trouble is, he has never won an event on South African soil, despite coming very close, and this year he was hoping to get the monkey off his back. James wasn't going to have it handed to him on a plate though, and he would have to work really hard to beat some of the best in the world who were here to beat, not help him.
Race day dawned to what couldn't have been better weather. There was no wind to speak of, the sea was a calm 17 degrees Celsius and the skies were cloudy, which would help keep the temperatures down.
At 6:45 a.m. the Pro racers left in the first of the start waves. Marko Albert (EST) was first out of the water in 23 minutes and 39 seconds, with Will Clarke (GBR) and Faris Al-Sultan (GER) breathing down his neck and only lagging by a couple of seconds. In his first race as a professional, South African Olympic distance proponent Rudolf Naude was also in this leading group. In the second bunch out of the water, Romain Guillaume, Andreas Giglmayr (AUT) and James Cunnama (RSA) were getting ready for a ding-dong battle of note.
Clark was first out of T1 on the bike after a blistering transition, but was soon passed on the road by Guillaume, who had taken off like a homesick angel in an effort to cement a solid lead going into the run. After only 12 km, ex-Ironman World Champion Faris Al-Sultan also passed Clarke to take over second spot. But it was back in the pack where war was starting to break out. Six or seven of the top guys were busy destroying each other in an effort to catch the leaders.
Local boys Cunnama, Kyle Buckingham, Matt Trautman and Stuart Marais were giving no quarter to Bert Jammaer of Belgium, and Brazilian Igor Amorelli. Trautman was first to break away and hit half-way in third place, in an attempt to reel in the two front runners. However, after the turnaround the cyclists were riding directly into a headwind and Cunnama put the hammer down to power past Trautman into third.
Into T2, Guillaume was leading by a massive 2:11, with Germany's Al-Sultan, then Cunnama and Trautman over a minute behind. This left the little matter of a 21 km half marathon run to decide the race.
Guillaume continued to hold his first place, but Al-Sultan was slowly slipping back into fourth, allowing Cunnama and Clarke to take over second and third. Guillaume must have known he was in trouble when he looked over his shoulder and saw the Brit and Safa charging into view. With only 4 km to go, Cunnama finally took the lead from Guillaume and very shortly afterwards Clarke moved into second. The two leaders were neck and neck and almost sprinting, and there was still 1.5 km to go.
It was shaping up to be a monster battle on the red carpet, but Cunnama put in a last kick to move into a lead he wouldn't lose. Clarke never gave up, but ultimately he had to concede 23 seconds to Cunnama on the line.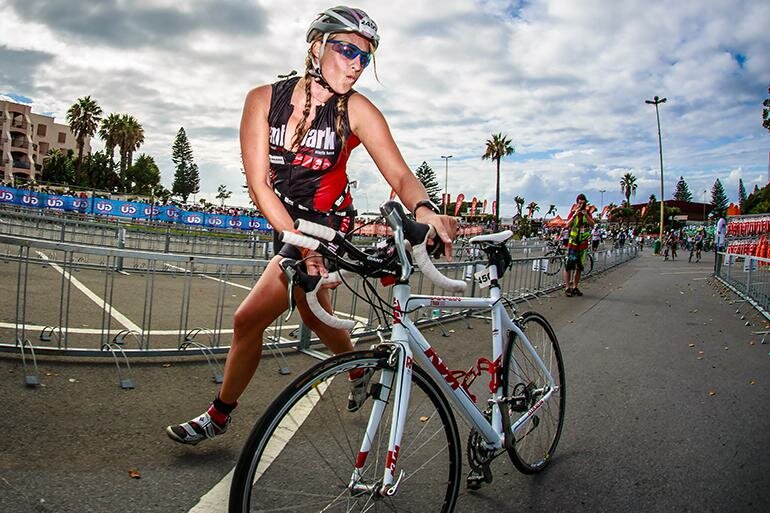 Photo credit: Chris Hitchcock
But what of the women's race? They were still out on the course and deserving of our full attention, so eyes down and keep reading please.
Swallow, the three-time winner of this race was doing her usual thing. Beating the course and her competitors into submission. To start with, she was the first woman, and fourth overall, to exit the water. In other words, she destroyed most of the Pro men in the swim. Astonishing. Having 47 seconds shaved off her time in the swim certainly wasn't what Lucie Reed (CZE) was hoping for.
Poland's Maria Czes'nik and Simone Braendli of Switzerland found themselves 2 minutes further back and must have been devastated.
Lucie Reed is made of sterner stuff though and renowned for her bike power, and she was giving it her all. At the turnaround she was still 70 seconds back, but now Czes'nik and Braendli had been joined by Susie Hignett (GBR), although the three of them were making no progress on the leaders. It was at Hallway that Swallow made her move, putting herself two more minutes ahead of the chase group by the time she got off the bike to head onto the run course.
It was now just a two-horse race, but in the real world there is no athlete on earth who was going to catch Swallow, and despite her best efforts Reed was never going to take the win. She knew it, we knew it, game over.
At the line, Swallow took her fourth consecutive Ironman 70.3 South Africa title in 04:37:00, a massive 3 minutes and 47 seconds ahead of second-placed Lucie Reed. Simone Braendli took third in 04:42:39.
The result meant that the fairy-tale script had finally been written. Cunnama and Swallow. Boyfriend and girlfriend. Together on the podium.
To read it, it seems trite, but to have been there and witnessed the pain and raw emotion of the moment is to have understood just what it takes for these two young athletes to live, train and race 70.3 all day, every day. It certainly put a tear in this romantic's eye, and I'm supposed to be an impartial observer.
More information
Visit www.ironman703.co.za
Results
Top 10 men
1. James Cunnama (RSA) - 04:05:00
2. Will Clarke (GBR) - 04:05:23
3. Romain Guillaume (FRA) - 04:06:23
4. Stuart Marais (RSA) - 04:06:37
5. Igor Amorelli (BRA) - 04:07:57
6. Faris Al-Sultan (GER) - 04:08:41
7. Bert Jammaer (BEL) - 04:10:56
8. Johannes Moldan (GER) - 04:12:37
9. Kyle Buckingham (RSA) - 04:13:41 1
10. Marko Albert (EST) 04:13:55
Top 10 women
1. Jodie Swallow (GBR) 04:37:00
2. Lucie Reed (CZE) 04:40:48
3. Simone Braendli (SUI) 04:42:39
4. Camilla Lindholm (SWE) 04:48:14
5. Jeannie Collogne (FRA) 04:51:08
6. Maria Czes'nik (POL) 04:51:51
7. Lynette Van Der Merwe (RSA) 05:00:00
8. Jeanni Seymour (RSA) 05:01:08
9. Edith Niederfriniger (ITA) 05:02:24
10. Claire Horner (RSA) 05:09:35