Words: Julie Pughe-Parry | Photo: Chris Hitchcock
The 2014 IRONMAN 70.3 South Africa event in Buffalo City was filled with excitement from beginning to end with James Cunnama and Jodie Swallow coming up trumps on Sunday 26 January 2014.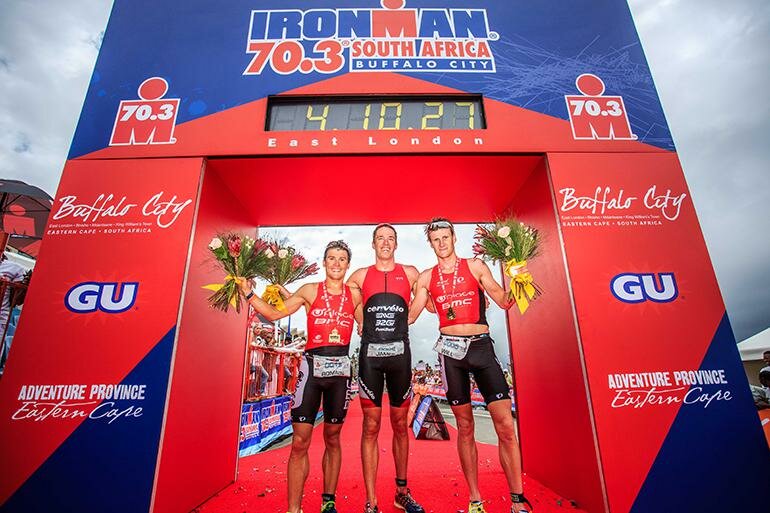 The speculated fairy-tale ending came to be when South African James Cunnama and girlfriend Jodie Swallow (GBR) managed to snag a double victory with Cunnama finishing in 04:05:00 and Swallow in 04:37:00.
Cunnama claims maiden title on African soil
Conditions were near perfect for a sea swim with calm waters and 17 degrees Celsius. The PRO's charged into the water this morning at 6:45am. As predicted, first to exit the water was Marko Albert (EST) in 23 minutes and 39 seconds but had Will Clarke (GBR) and Faris Al-Sultan (GEL) seconds behind. Young South African, Rudolf Naude was also out of the water with the early pace-setters. A second group emerged consisting of Romain Guillaume, Andreas Giglmayr (AUT) and local favourite, James Cunnama (RSA)
Clarke passed Albert running up to T1 and with a quick transition the Briton was first onto the bike. Clarke's slim lead was short-lived as he was overtaken by Guillaume (FRA). Before hitting 15km, Al-Sultan made his way into second place and made a charge towards Guillhaume while Clarke slipped back into the chase pack. Guillhaume, clearly aiming to create a gap on the bike, attempted to push and managed to separate himself from the bunch with only Al-Sultan staying within touching distance.
Behind the leading pair was a chase pack of seven athletes comprising of Clarke, Cunnama, Bert Jammaer (BEL), Stuart Marais (RSA), Igor Amorelli (BRA), and professional debutants Kyle Buckingham (RSA) and Matt Trautman (RSA). With the front two more than a minute ahead some real action was taking place in the pack. For the best part of the first half of the bike, Trautman put in some hard yards and passed the 45km turnaround point in third place. Only a few seconds separated positions three to nine in this finely balanced sub plot. On the back end, Cunnama shifted through the positions to move into second place but had to do some hard work all the way until T2.
Meanwhile Guillaume was first into T2 with a bike split of 02:25:24, a full 2 minutes and 11 seconds ahead of Al-Sultan. The two South Africans Cunnama and Trautman followed Al-Sultan just over a minute later in a group with Jammaer, Amorelli, Stuart Marais (RSA) and Clarke. The much lauded Kyle Buckingham seemed to be unable to keep up and lost some time on the bike before T2.
Guillaume and Al-Sultan continued their battle for top spot with the Frenchman still holding on. Before the 10km mark the race became very interesting as Al-Sultan slipped to fourth place while Cunnama and Clarke trailed closely behind Guillaume with a 28 second gap between each of them. The race was finely poised with all four athletes known to be strong runners. Guillaume maintained his lead but was being chased down hard by Cunnama and Clarke; his lead now only down to eight seconds with Clarke a further 21 seconds behind Cunnama. With 4km to go, Cunnama passed Guillaume taking the lead for the first time in the race. Clarke then moved into second place and with 1.5km to go the two were shoulder to shoulder. A sprint finish looked to be on the cards but Cunnama's final charge saw him move into an outright lead, one which he would hold until the finish.
Ultimately it was James Cunnama who grabbed first place and finally get his first win on African soil much to the delight of the local crowd was pleased to see a South African as the winner for the first time since Raynard Tissink in 2009. Cunnama came in with a time of 04:05:00 with Clarke finishing 23 seconds later in 04:05:23. Guillaume who led for most of the race made it across the finish line at 04:06:23, taking third place.
Four in a row for Swallow
Swallow did what she does best and lead from the front. The former world champion was the first woman and fourth overall to exit the water after 23 minutes and 51 seconds giving her a commanding early lead. Lucie Reed (CZE) was the second lady to exit the water 47 seconds later with Poland's Maria Cze'snik and Simone Braendli (SUI) a further 2 minutes behind.
After leaving T1, Swallow took off far ahead of the chasing athletes amassing an early lead. Despite the early advantage, Reed kept Swallow honest by managing to make up some time heading towards the 45km turnaround point. By this point Reed trailed by only a minute and 10 seconds which meant that Swallow had to continually work hard. There was a gap of more than 5 minutes between Reed and the chase pack of Czes'nik, Braendli and Susie Hignett (GBR). Swallow pushed hard to widened the gap between herself and Reed and managed to enter T1 with a 3 minute lead. Czes'nik dropped to seventh position at this point while Braendli moved into third position nearly a further 6 minutes back.
With Swallow and Reed battling for number one the race was far from a formality with Reed keeping up the pressure. Swallow showed her class though to stretch her lead by a minute and secure the top spot. Braendli had a strong run starting the run with a nine minute deficit eventually ending 6 and a half minutes behind. Hignett, who started the run in fourth place didn't finish after pulling out before the 10km mark. The top three ladies held onto their positions for the duration of the run.
Greeted at the finish line by Cunnama, Swallow claimed her fourth consecutive IRONMAN 70.3 South Africa title in a time of 04:37:00, 3 minute 47 seconds ahead of second placed Lucie Reed. Reed managed to push Swallow closer than anyone in any of the past three years which made for an exciting contest and a strong race from the Czech. Simone Braendli rounded off the top three finishing in a time of 04:42:39.
Men's Provisional Top 10 (PRO)
1. James Cunnama (RSA) 04:05:00
2. Will Clarke (GBR) 04:05:23
3. Romain Guillaume (FRA) 04:06:23
4. Stuart Marais (RSA) 04:06:37
5. Igor Amorelli (BRA) 04:07:57
6. Faris Al-Sultan (GER) 04:08:41
7. Bert Jammaer (BEL) 04:10:56
8. Johannes Moldan (GER) 04:12:37
9. Kyle Buckingham (RSA) 04:13:41
10 Marko Albert (EST) 04:13:55
Women's Provisional Top 10 (PRO)
1. Jodie Swallow (GBR) 04:37:00
2. Lucie Reed (CZE) 04:40:48
3. Simone Braendli (SUI) 04:42:39
4. Camilla Lindholm (SWE) 04:48:14
5. Jeannie Collogne (FRA) 04:51:08
6. Maria Czes'nik (POL) 04:51:51
7. Lynette Van Der Merwe (RSA) 05:00:00
8. Jeanni Seymour (RSA) 05:01:08
9. Edith Niederfriniger (ITA) 05:02:24
10. Claire Horner (RSA) 05:09:35