Words & Photos: Sean Fraenkel
10 lessons learnt from credit card touring in England. "The adventure is the not getting there, it is the on-the-way. It is not the expected; it is the surprise." Stephen Graham.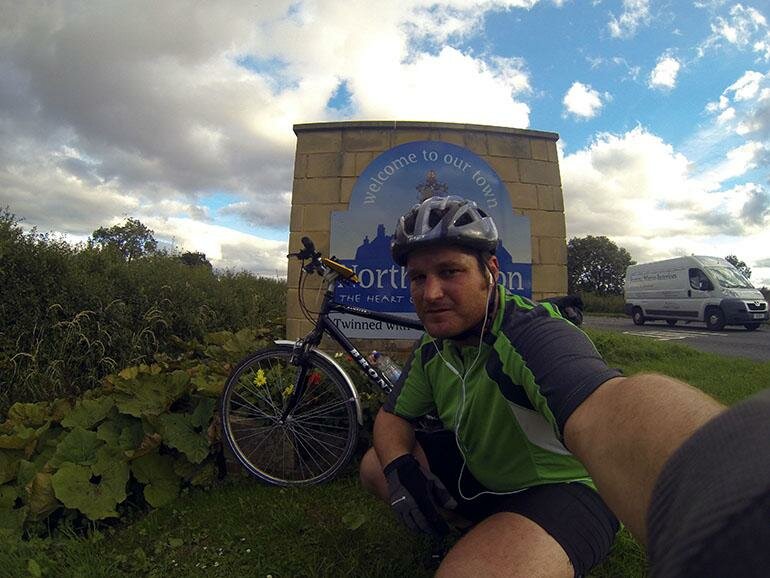 Planning your next cycle-touring trip? Discussing maps, miles, and your motivation? Don't! Leave some things to chance and you will experience more than you bargained for.
Sometimes, not preparing for a cycle tour leads to an adventure in itself. I recently had to go to the UK for a short course related to my work. Due to the nature of the flight schedule, I had a couple of days to kill before and after the two-day course. As my plane literally touched down in Manchester, I decided to rent a bicycle and cycle to Middlesbrough and back.
Armed with no gear or any sort of planning, I frantically buzzed around Manchester, making hasty purchases so that I could be on the road the following morning. In hindsight, I wouldn't change a thing: I suffered from technical problems and the cold, had a run in with the police, and met interesting people during my impromptu, mini expedition.
1. Travel light - As small towns and villages are close together, you can travel with relatively little gear. There is always a spot to stay for the night just around the corner where your credit card will be accepted.
2. Public transport - The Brits really have nothing to complain about when it comes to public transport. As soon as I realised that I was running out of time, I bolted to the nearest train station. Not once did I have to wait more than an hour. Most trains allow bicycles on for free, but booking your bike online in advance is essential if you are on a tight schedule because only a certain amount of bicycles are allowed on a train. If all the allocated slots for two-wheeled transport are taken, you have to wait for the next one with available space.
3. Accommodation ON A budget - I checked in at YHA (Youth Hostel Association) at Potato Wharf, in Manchester, upon arrival in the UK. Besides meeting like-minded individuals, you're better off at a B&B. YHA charges around £18 for a dorm bed and £40 for your own room. Internet, breakfast, soap, and towels cost extra. A B&B can set you back £25 all-inclusive, and you get a room to yourself.
I had to use a sheet as a towel (courtesy of the empty bunk in my room), as I didn't have my own. If YHA is too tight to give me a towel, then I'm too tight to spend £5 on renting one. The best deal at YHA was being able to leave the bulk of my gear in a locker for more than a week for only £3.
4. SIM card - Make sure it's compatible for your device. I ended up buying two because I needed my tablet for navigation and my first one would only work in a 3G phone. Most restaurants and shops have free Wi-Fi, but you will need a SIM card for the open road.
5. Trusty steed - Eventually, I got hold of a bike shop that would rent me a bicycle with panniers for eight to ten days. Make sure you check the rented bike out thoroughly. I only realised 10 km into my tour that I couldn't adjust the seat post, as the seat-clamp bolt was stripped. This resulted in me having to pedal with my knees around my chin for the first two days.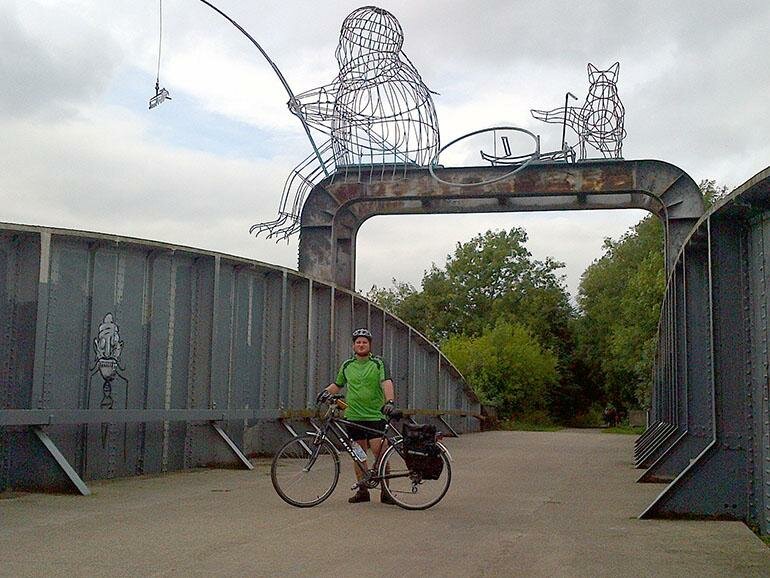 6. Bicycle tools - I purchased a multi tool from the same shop, which proved useless. I buckled my wheel badly the first day, and the rear wheel was of the bolted variety, so I had no way of removing it. The spoke keys didn't fit either. My solution was to disconnect the rear brakes and bend the mud flap to prevent continual rubbing on the tyre. The mud flap was held in place with good old cable ties, which the bike shop gave me for free. Moral of the story: revert to point four - check you bike thoroughly and make sure your tools fit.
7. Cycle clothes - Nearly every local I chatted to commented, "Fine weather for cycling isn't it?" As I come from South Africa, I was slightly confused, as the sun was hidden away by ever-present clouds, a 20 km/h head wind, and pretty cold weather overall. Luckily, I bought a waterproof windbreaker, which helped keep out the chill. Some leg warmers would've been a nice extra.
8. Improvise - Fortunately, I had a waterproof pouch and tablet car mount in my luggage. After removing the suction cup and taping the mounting bracket to my bicycle stem, I had a nifty holder for my electronic device. Using Google Maps, I plotted a route to Middlesbrough. All I had to do now was pedal following the blue line on the screen.
9. Know the local laws - Pedalling down the M62 at a leisurely pace, I waved at the friendly traffic hooting encouragement (or so I thought) as they sped by. Pretty soon, a police vehicle pulled me off the road. In the country less than 24 hours and I was already in trouble with the local constabulary. "Honestly Officer, I had no idea I wasn't allowed to cycle on the freeway. Wasn't my fault, the blue line on my screen said go this way. Anyway, in South Africa you have cattle crossing the N1 and don't get me started on mini bus taxis!"
Unimpressed and adding insult to injury, I had to cycle in front of the patrol car until the next off-ramp. I cranked it like a man possessed, doubling my speed from four to eight kilometres an hour. I did warn the officers that I hadn't been on a bicycle in six months, but sadly, they refused to let me slipstream behind them.
After a couple of kilometres, my off-ramp appeared like the misty, pearly gates of heaven, or it could have been the lack of oxygen to my brain and the tunnel vision I was experiencing at the time.
I felt rather paranoid after my close encounter with the authoritative kind and had to consider a road sign later on that read: 'Drivers of large or slow moving vehicles must phone and get permission to cross'. Now, I'm large and slow moving, so I was in trouble on both counts. Luckily, the road was quiet, so I snuck across the bridge quickly and no one was the wiser.
10. Local knowledge is key - I am truly grateful for that buckled wheel. Honest! On day two, as I was wobbling along and came upon a steep hill, I saw another cyclist pushing his bike up the tough incline. I hopped off my metallic steed and pushed along beside him. Vernon was doing the coast to coast, a very popular ride in the UK, which starts on the west coast and finishes on the eastern shore (or vice versa).
Vernon and I took a break in a quaint little English village, complete with cobbled streets and busy coffee shops, where he fixed my rear wheel to near 100% working condition.
Now, I prefer the term 'horizontally challenged', but my new friend's euphemism for being on the rotund side of the spectrum was that 'I am too short for my weight'. Enjoying pockets of sun while sitting on a park bench, we discussed our height-to-weight ratio and loaded up on calories (probably more than we needed) for the miles ahead.
Vernon would be my tour guide for the rest of the trip through Facebook. His local knowledge, allowed me to enjoy some really great English countryside and discover the UK cycling network: miles and miles of paved arteries across Britain, exclusively for cyclists, hikers or runners.
For information on:
Booking your bike on a train - www.nationalrail.co.uk
The YHA - www.yha.org.uk
SIM card compatibility - www.three.co.uk
Renting a bike - www.bicycleboutiquemcr.co.uk
Britain's cycling network - www.sustrans.org.uk
For more travel news, follow Sean on Twitter: @SeanFraenkel.
Got an idea for an adventure? Post it here: http://seanfraenkel.com/microadventure/