Words & Photo: Full Stop Communications
Multiple junior road and track champion Monique Gerber has demonstrated a blistering return to form ahead of the South African road cycling championships in Durban this week.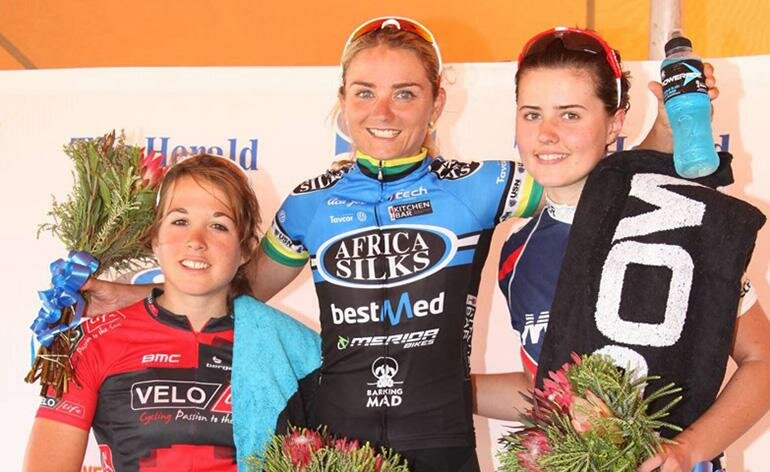 Port Elizabeth-based Gerber, who won the African junior road title in December, finished just a split-second behind cycling legend Anriette Schoeman at The Herald VW Cycle Tour last Sunday.
The Bestmed-ASG pro said her hometown podium result in the 106km national classic had given her renewed confidence going into the national competition.
"I'm still a junior so, according to UCI rules, I have to use junior gears when participating in these events against the elite ladies.
"This makes it extremely difficult to match the top-end sprint speed of the best elite women in the country; so I'm very happy with my performance."
She said the fact that she had felt comfortable on the climbs had further served to bolster her mental readiness for the champs.
"I probably have the best form of my life at the moment," said the 17-year-old, who will compete in both the road and time-trial events.
"Doing The Herald tour so close to my first event was a bit of a risk, but I should be okay for the time-trial on Thursday and by Sunday, when we do the road race, I should be fully recovered and hit top form again."
Gerber said it would be a battle of the giants when she faced off against continental mountain bike champion Bianca Haw.
"We've never raced against each other as Bianca was previously more into mountain biking, finishing 10th at the world junior champs and recently winning the continental title.
"So yes, this week it will be the African mountain bike champ versus the African road race champ."
She said her team-mate, Michelle Benson, was also looking very strong and improving all the time.
"There are several other up and coming junior ladies who will be very competitive and this is positive for the future of women's cycling in South Africa."
Gerber said donning the continental champion's jersey late last year had capped off a welcome return to form after a difficult 2013 season.
"I went through a terrible slump during the first half of the year as a first-year junior. I basically went from hero to zero within two weeks and did not perform well again for several months."
She said she was still unsure as to the reasons for her poor performance back then.
"It was depressing to say the least, so I'm extremely grateful to be healthy and competitive again."
Gerber won her first SA U16 title as a precocious 12-year-old and effectively became the junior road and time-trial champion two years later when the U16 and junior races were combined.
She last raced on the KwaZulu-Natal nationals course in 2012, when she defended her title by an eight-minute margin following a solo breakaway.
She finished third in the national road race last year.
The Grade 12 learner was signed to her first pro team – the now defunct Nashua ladies' outfit – by Owen Botha in 2010.
After a short stint with Team bizhub, which also folded in 2012, Gerber joined the Bestmed-NMMU club.
Botha was on hand once again to enlist her for Bestmed-ASG after her continental victory.
"The university supported me during the last couple of years so I was reluctant to just drop them and sign with a new sponsor for 2014."
Gerber said the two teams then got together and agreed to form a partnership to accommodate her.
"I feel very honoured and am extremely grateful and excited about the opportunity. The fact that Bestmed-ASG and the Madibaz have gone through all this effort does put me under a bit of pressure to perform but they've been most supportive."
She said she was looking forward to racing events like the Bestmed Tour de Boland alongside her younger sister Anja, who is also part of the pro squad.
Both sisters are home-schooled, which leaves little time for socialising with friends and family.
"Anja is two years ahead of her school grade and is doing matric with me this year, so the fact the we are able to train and study together helps a lot.
"We are best friends and support each other in everything we do."
Gerber hopes that a solid performance at the nationals will make her a strong contender for the SA team to attend the junior road world championships in Spain in September.