Words: Newsport Media | Photo: Cherie Vale
Leading bicycle manufacturer, Specialized, is proud to welcome the Complete Cyclist Bryanston as Johannesburg's very first Specialized Elite Store. The official store launch took place on Wednesday, 29 January 2014.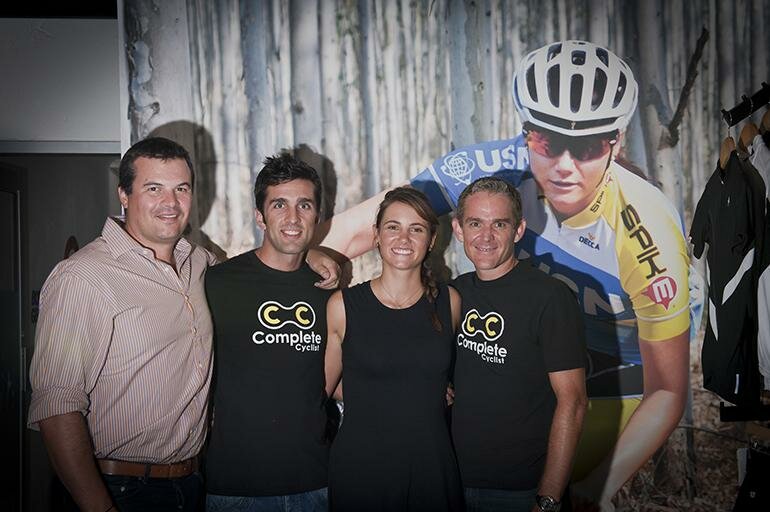 According to Peet le Roux, the retail services manager of Specialized Bicycles Africa, Complete Cyclist Bryanston has become a super active and important shop for the cycling community of Johannesburg. "As with our other shops, the market really made this decision for us. Complete Cyclist Bryanston has been with Specialized for a number of years and has become one of our most important shops. It is situated in a very active cycling community with lots of organised rides and clubs. This very active shop will now be able to support its riders even better than before. With a new service centre, a dedicated Body Geometry Fit studio and a complete overhaul of the retail floor, this shop can now grow to become an even bigger hub for cyclist in Johannesburg".
"We have a well organised corporate identity that has been developed over the 40 years of Specialized history," continues Le Roux. "Our dedicated retail services team educates our dealers and staff on the ground on visual merchandising, our products and general retail aspects. Our local retail services team works closely together with their global colleagues, to ensure we are always on top of the retail game and well informed of any CI developments. Thus, the global retail messages can reach our dealers directly through our local team and therefore we are able to keep our high standards and help our dealers to create the Specialized vibe. All Specialized dealer staff also attend product, merchandising and Body Geometry Fit classes held annually at our headquarters in Stellenbosch. These classes are hosted by our global SBCU (Specialized Bicycle Components University) program and are vital to achieve the standards of our premium brand".
"In 2012 Complete Cyclist Bryanston and Complete Cyclist Houtbay became authorized Specialized dealers in South Africa. This in itself placed Specialized as the core brand in our stores," says Scott McKenzie, Founder of Complete Cyclist. "For 2013 the decision was made to elevate the level of our Bryanston store to a Specialized Elite Store. This make-over would call for a full revamp of the store, adding extra space to ensure a better shopping experience in a better retail environment. Now in 2014 we are ready to officially launch this new image to the public, hence the event on the 29th of January. The Complete Cyclist Bryanston store falls into a major cycling area in Gauteng with a great mix of family type customers and very competitive cyclists".
"Our target market is a wide range of customers, from competitive athletes to recreational cyclists", says Mike Hewan, Partner and Manager of Complete Cyclist Bryanston. "We are about the lifestyle of the sport and we want to cater for anyone who is looking for top quality products, backed up by top levels of service. Some services on offer, will include a wide range of new bicycles from beginner to top of the line in each category, apparel, nutrition, a fully equipped service centre with highly qualified mechanics and top quality tools, a fully equipped Body Geometry Fit Centre – authorized and trained by Specialized, shop rides for customers, technical talks and workshops (seasonal and on occasion). The industry is changing and it feels amazing to have built our shop as a brand. Now we are looking forward to grow even further together with the best brand in the business, Specialized".
Prominent Specialized athletes and ambassadors include: XTERRA legends Conrad Stoltz and Dan Hugo, Olympic Triathlete Richard Murray, Dakar rally winner Giniel De Villiers and former Springbok rugby players Corne Krige and Tiaan Strauss.
Store information
Physical Address: 5 Main Road, Bryanston, Johannesburg, South Africa
Trading Hours: Monday – Thursday, from 08:30 - 17:00
Friday, from 08:00 – 17:30
Saturday, from 09:00 – 13:00
Sunday's and Public Holidays, closed
Contact: 086 111 6230 / / www.complete-cyclist.com
Follow us on Twitter: @completecyclist / @SpecializedZA
Like our FaceBook pages: Complete Cyclist / Specialized Bicycles South Africa
For information on Specialized South Africa Retail Services contact Peet le Roux via email