Words & Photo: Jackie Lange
Five of eight invited top international cycling teams have confirmed they will be taking part in the 2014 Mzansi Tour powered by Cathsseta, South Africa's premier stage road race, in April. They will take on the cream of the South African and African talent when the five-stage Mzansi Tour takes place from April 8-12. This will be the second running of the Mzansi Tour powered by Cathsseta, THE South African Pro Cycle Tour after its successful debut last year, beginning in Mpumulanga and ending in front of packed crowds at Montecasino in Johannesburg.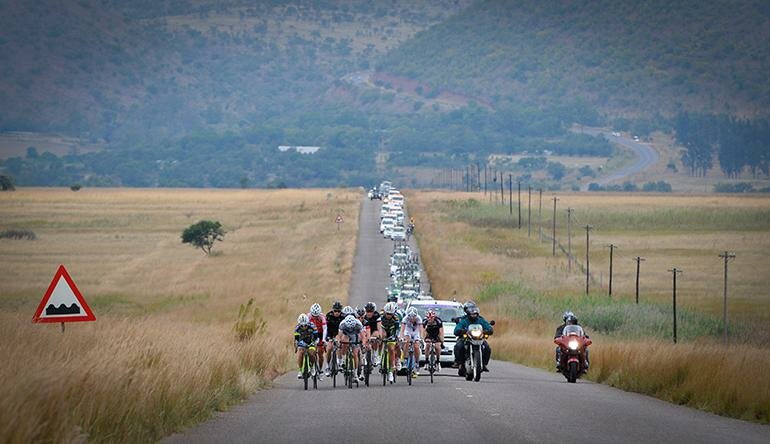 The Mzansi Tour, which takes its name from isiZulu for "south" and is the colloquial name for South Africa, is sanctioned by the International Cycling Union. It was begun to fill the need for South African riders to have a premier stage race in their own country. With Gabon and Rwanda putting on successful stage races, the event was deemed a matter of pride and necessity for the development of the sport in South Africa, widely regarded as the strongest cycling nation on the continent.
 "The plan is to develop the race into a World Tour event," said Jenni Green, Echelon Events Director who, along with Ettiene Retief, Jackie Lange, Mthunzi Mdwaba, Malcolm Lange & Tanya Harford, the team at Echelon Events, organise the tour. "The race is currently a 2.2 rated tour by the UCI, but the long-term plan is to get it on to the UCI's World Tour calendar to give South African and African riders the opportunity to take on the best on the planet. If you look at what African riders did last year in the Tour de France – with Daryl Impey wearing yellow and Chris Froome winning it – this continent is the next big thing in cycling." 
The Mzansi Tour will, much like the Tour de France, have a new route each year, with the official announcement expected next month on February 11. The 2014 Mzansi Tour will begin in Bloemfontein and once again end in Johannesburg, at Constitution Hill . Last year the race was won by Robbie Hunter, South Africa's most successful cyclist on the European circuit and the first to win a stage of the Tour de France. Hunter, who rode for Garmin-Sharp, the World Tour team, has retired from professional cycling, and is now with his former team as a manager. He had been impressed with the organisation of the Mzansi Tour and believed it could become the top race in Africa. The race has a three-year sponsorship deal with Cathsseta.
The visionary step taken by the CATHSSETA will contribute hugely to catapulting the competitive side of the sport to match the size of the recreational side which is already said to be overtaking golf in its popularity.
"There is no doubt that the transformational elements of the Mzansi Tour will be felt throughout the country through this remarkable investment, said Mthunzi Mdwaba, Echelon Events Director.
 "If we can get our ranking higher each year, and keep the consistency of organisation and performance, then we are confident that the race will continue to grow, and into the World Tour vision we have for it," said Green. "Invites have been sent out, and we already have five of the eight international teams confirmed for the event."