Words & Photos: Nic Bradley 
I arrived in Nepal (on my own) knowing that namaste meant hello. This was the full extent of my local knowledge. I had a hotel booking for one night and apart from that the next month lay before me - free, exciting, and slightly nerve-wracking. However, as I was soon to discover, an open schedule really is the best way to see Nepal.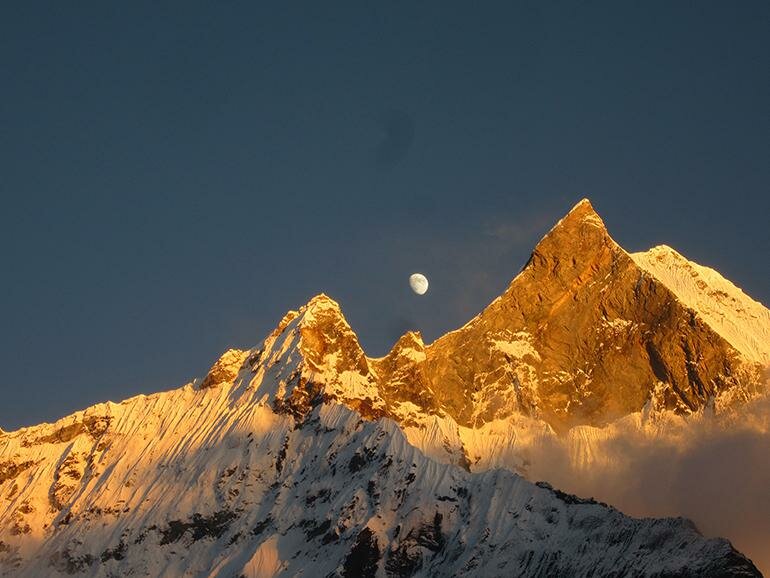 Photo credit: Nic Bradley 
It took two hours to get through customs, but at least I got some interesting travel tips from the more-informed backpackers in the queue. Once through customs, I somehow found my bag in a corner of a room where about 500 other bags had been dumped.
I soon found myself in Thamel, the tourist section in the centre of Kathmandu, which was as good a place as any to have a drink and find my bearings. The bar was a Hebrew place (I later learnt) called OR2K and had an interesting vibe: loads of hippies and dreadlocks, and people sitting on the carpet eating falafels with Coldplay playing in the background.
I stayed in Thamel for the next three days, walking around and seeing the sights. The daily routine was to walk in the general direction of some ancient archaeological magnificence that all tourists 'had to see' (according to Lonely Planet anyway) and then stop off every 20 minutes at a coffee shop, rooftop garden restaurant, or café for breakfast, coffee, beer, and momos (tiny boiled pastry things that taste marvellous).
Connecting with the locals in these tourist areas is challenging because the only ones that speak English are generally trying to sell you something, so in the end I spent most of my time talking to other tourists. There were tons of Israelis, Canadians, and Dutch people. One Israeli told me they went to Nepal after their three years of National Service to learn how to feel again. It looked to me like they were there to drink on a budget, but to each his own.
After talking to enough tourists, I figured out that what people actually come to Nepal for is to trek. So I went shopping, a time-consuming affair as you either have to bargain for everything or pay very steep prices. I eventually managed to get the necessary -10°C sleeping bag and a cheap knock-off backpack. At 7 a.m. the next morning, I hopped on a bus to Pokhara and settled down for the 200 km, six-hour bus ride (R40 a ticket). I spent most of the ride trying to figure out how the driver could possibly think it was safe to overtake other busses around blind corners on a mountain pass.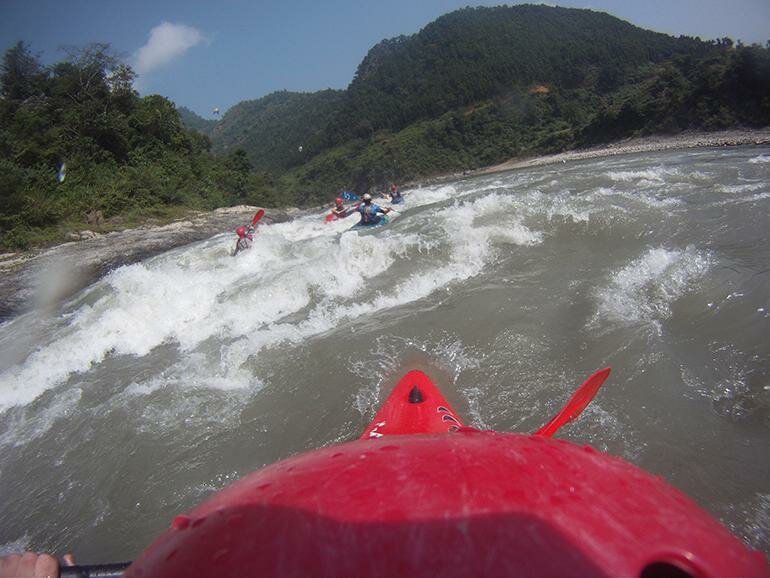 Photo credit: Nic Bradley 
Pokhara is a little tourist town bordering the Phewa Lake and it's absolutely beautiful. You can see some of the highest peaks of the Himalayas from this town.
I almost never got round to the trek because the town is so picturesque.
There are lots of little guesthouses to stay at along the lakeside, with more than enough tourist shops and cafés to keep one entertained. I hired a bike and spent a day driving around, trying to dodge bad drivers and stopping at various places for drinks and snacks. I drove most of the way around the lake, as well as up some high hills that gave way to awesome views of the majestic little town.
To go trekking you need a permit or two, but it takes an hour to get them and then you are off. I chose the Annapurna Base Camp hike because it only takes seven days and walking never was my speciality.
The walk was challenging, as I was arrogant enough to believe that I didn't need a porter or guide. There are a lot of stone staircases that can take hours to climb or descend. If you go without a porter, make sure you pack light (less than 10 kg). Despite my suffering, the trek has to be one of the most beautiful in the world, with stunning waterfalls, rivers, and snow-covered mountain peaks. The trail takes you over swing bridges, as well as through forests, little villages, and tea plantations. The views made it all well worth the effort. At night, I stayed in the tea houses that generally had one or two giant dining room tables around which everyone relaxed, played games, and ate dinner.
All too soon the trek came to an end and after sad goodbyes to the guides and friends I had made on the trip, I made my way back to Kathmandu. The onlything left to do was rush around town buying cheap clothes, board games, swords, knives, and tea before boarding my flight back home.
It is another world and I'll definitely go back - if for nothing else, the momos would be reason enough.
dinFO
Travel tips
• A visa on arrival costs 40 USD for 30 days.
• Accommodation costs anything from 6 USD to 50 USD a night.
• All bars and clubs close at 11 p.m. or 12 p.m. on Fridays. Not the wildest party place.
• Taxis charge a maximum of 5 USD to go anywhere in town.
• Etihad Airways flies from Johannesburg to Kathmandu (Nepal) for about R16,000 return, with a stopover in Abu Dhabi.