Words: Sam Bradley | Photos: Various
Living in Durban but having friends in Cape Town means that arguments about which province is the fairer of the two are a common occurrence.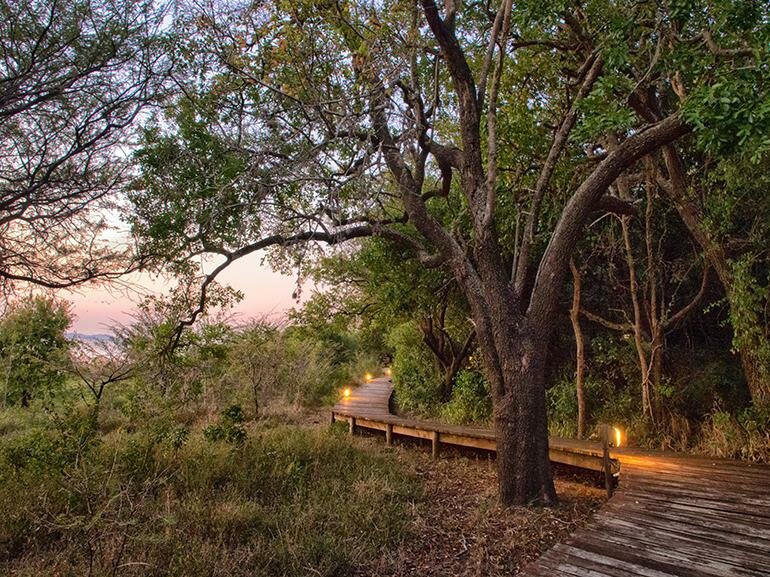 Photo credit: Franz Rabe.
Typical differences of opinion range from something as arbitrary as to which rugby team is better, to something as important as which province has the better tourist activities on offer. A recent trip to Kwazulu-Natal by some of my louder Capetonian friends provided the perfect opportunity to set the record straight. Competitive travelling had just become an official sport, and I couldn't wait to get started.
Deciding on which part of KZN to explore was always going to be a tough choice, but the combination of beaches, game parks, and a reputation for being one of the last truly wild places in South Africa soon had our little car heading for the North Coast. Our destination was Nibela Lake Lodge, a small resort tucked away on the northern shores of Lake St Lucia. Our destination was Nibela Lake Lodge, a small resort tucked away on the northern shores of Lake St Lucia. It is a fairly long drive (290 km from King Shaka Airport), but the tranquillity of staying at a place off the tourist track made the trip well worth it. Within minutes of arriving, we felt as though we had landed in a completely different world: chalets are connected by a treetop walkway, sunlight peeks through the greenery, and monkeys chatter mischievously in the background.
In the evenings, we admired the moonlit views over the lake, and by day we kept ourselves entertained in the swimming pool, trampolining, playing putt-putt, and going for walks along the game and bird trails. According to General Manager Sarel van der Westhuizen, the best time to visit is between May and July, when the temperatures aren't as hot.
A few days of calm serenity in the natural surroundings had us all feeling fresh and relaxed, and it was clear the Durbanites had impressed the Capetonian travellers and got the holiday contest off to a good start.
Sadly, I hadn't realised quite how large Lake St Lucia was, so booking accommodation at one end of the lake and our activities at the other end (in the town of St Lucia) resulted in a few more hours in the car than planned. Arriving in the town of St Lucia, our first adventure was the hippo and croc cruise with Advantage Tours, a wonderfully absorbing two-hour meander up the estuary. The rainy weather (which made our guests from the Cape feel right at home) did nothing to spoil the experience: our guide Sean was fantastic at spotting all manner of birds, reptiles, and mammals, and he shared an encyclopedic knowledge about anything we came across.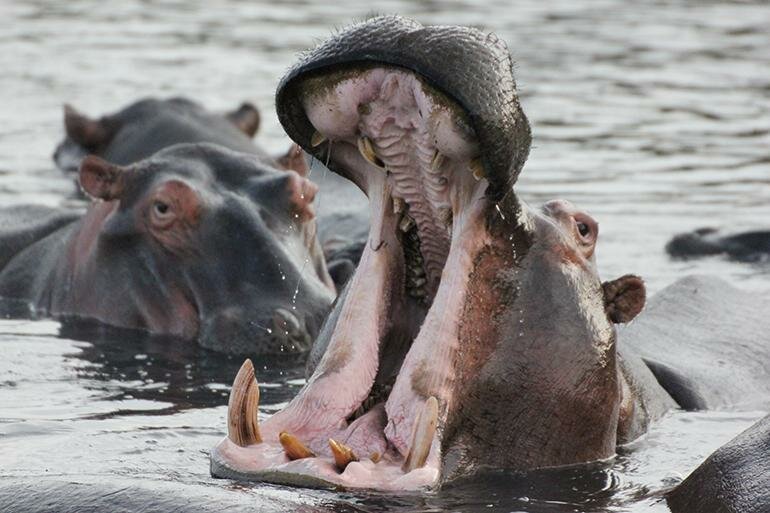 Photo credit: Franz Rabe.
A slight mix-up regarding the meeting time for the next activity meant we weren't the most popular guests on board the whale-watching boat, but once out at sea that was all soon forgotten. Captain Berno and his trusty sidekick TK made a great whale-watching team, and they needed to be on top form to predict where the next whale would surface. At one stage, we had five whales all popping up for air at different spots - to me it all felt like a giant game of random roulette out at sea, but the captain seemed to have a sixth sense to know where to be and when. Seeing and hearing these mighty beasts at close quarters in their own environment is an unforgettable experience, and as Advantage Tours has been legal permit holders for whale watching tours since 1998, they are the ones to contact to book a trip.
Having seen our fair share of water-based animals, we decided it was time to pay some attention to the neglected land animals. To do this, we headed to iSimangiliso Wetland Park, the third largest park in South Africa (boasting over 250 km of coastline) and South Africa's first World Heritage Site. We were visiting Cape Vidal, a beautiful corner of the wetland park right next to the town of St Lucia, which offers a genuine bush and beach experience. Inland are plenty of game species waiting to be discovered (including the elusive leopard), while the beach is great for sun tanning, snorkelling, and picnicking. The lookout point, Mission Rocks, offers fantastic views over the sea and estuary, especially late in the day.
By this stage, our esteemed guests were contemplating packing their bags and relocating to KZN, so we decided to deliver the killer blow and finish off the trip on a special note. The western shore of iSimangiliso Wetland Park is only accessible through a concession, so we decided to treat ourselves to a night game drive with Euro Zulu through the area. Night game drives are unique in that there is an increased chance of seeing nocturnal animals, such as aardvark, porcupine, leopard, and owls. Despite hearing of leopard activity while on our drive, they still managed to avoid us, although we were lucky to see quite a few hippos out grazing on land.
All in all the St Lucia region managed to beat all our expectations and proved to be a fantastic place to catch up with old friends. While driving home, a spur-of-the-moment decision to make these holidays an annual challenge has led to many exciting future trips being planned. The bar has been set: your move
Cape Town.
What you need to know
Nibela Lake Lodge:
www.nibelalodge.co.za
Rates are R560 p.p.p.n., including breakfast and a simple but hearty four-course dinner.
Advantage Tours:
www.advantagetours.co.za
Hippo and croc boat tours are R170 p.p. (2 hours) and whale-watching tours are R900 p.p. (2 to 3 hours).
Euro Zulu Guided Tours & Safaris:
www.eurozulu.com
Night safari drives are R350 p.p. (3 hours).
Cape Vidal:
www.kznwildlife.com
Entry to the reserve is R40 per vehicle and R35 per person, as well as a R5 p.p. concession levy.