Words & Photo: Darryl Curtis
What happened yesterday: It was a slow start for Broadlink KTM's Riaan van Niekerk as he dived into the first of two specials, he soon found his rhythm and placed 12th on the stage just 23 minutes and 29 seconds down putting him in 12th overall. KTM Red Bull Factory rider Marc Coma has taken control of the race, he finished 5th on the stage conceding 11 minutes 26 seconds to his closest rival and stage winner Juan Barreda on the Honda. Helder Rodrigues finished second on the stage and Cyril Despres third. Jordi Viladoms finished 11th on the stage and maintains his 3rd overall.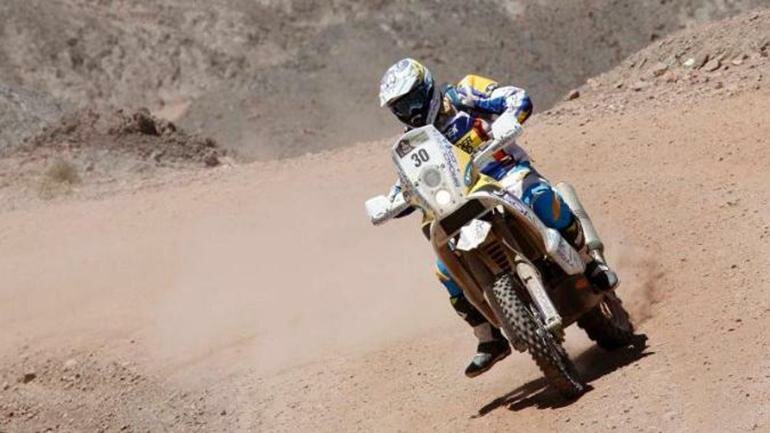 Todays stage: Thursday 16th January: Antofagasta to El Salvador
Liaison section: 144 km Special stage: 605 km
It was a trouble-free day for Broadlink KTM's Riaan van Niekerk. Besides making the finish with some badly dented rims, tell tale signs of a rough stage, it was flat out for the most part, with some 120 km's of sand in the middle of the stage. It was also the longest racing stage of the rally at 605 Km's , which meant that the top riders would spend 7 hours in the saddle. At this stage of the rally, Riaan could not afford to make any navigational errors, so he spent the day making sure that he stuck to the road book and the cap. "It's time for me to up my game now and learn to navigate myself and go faster at the same time, it's really difficult!" Riaan finished 13th on the stage today just 23 minutes and 29 seconds off stage winner KTM Red Bull Factory rider Marc Coma.
Marc now holds a comfortable 52 minute 36 second lead over Honda's Juan Barreda and as he says "it is always difficult to find a good rhythm, to find a compromise between going fast and not taking risk, you have to feel comfortable and not ride like crazy". Jordi Viladoms put in a great effort with a 4th on the stage, fending off the pack of wolves after his 3rd overall position. "so satisfied, it was important to push hard from the beginning to the end, don't lose time and I made it today"
The race is far from over and tomorrow will be a difficult stage, riders will focus now on holding positions, rather than risking crashing out.
Brett Cummings finished 27th today and moves into 29th overall.
Tomorrows stage: Friday 17th January: El Salvador to La Serena
Special stage: 350 km - Liaison section: 349 km
El Salvador is a new site chosen to avoid the usual morning mist that hinders the start of stages from Copiapo. There will be lots of sand on this stage, especially the last part of the special where a string of dunes will have to be crossed, these dunes may be a game changer for some.
Sound Clips : Stage 11
Riaan van Niekerk - http://t.co/6UV7sL3xMi
Marc Coma - http://t.co/NCSJ1XexyV
Jordi Viladoms - http://t.co/IuQ4WebDiK