Words by Malcolm Behrens | Photos by Various Photographers
After years of following the PS Laser racing team at local races, some friends and I decided that the time had come to support the team at the Dakar in Argentina and Chile. The racing team competing consisted of legend Alfie Cox and Jürgen Schroeder in a Nissan, and Daniel Schroeder and Ian Stephenson on KTM 690s.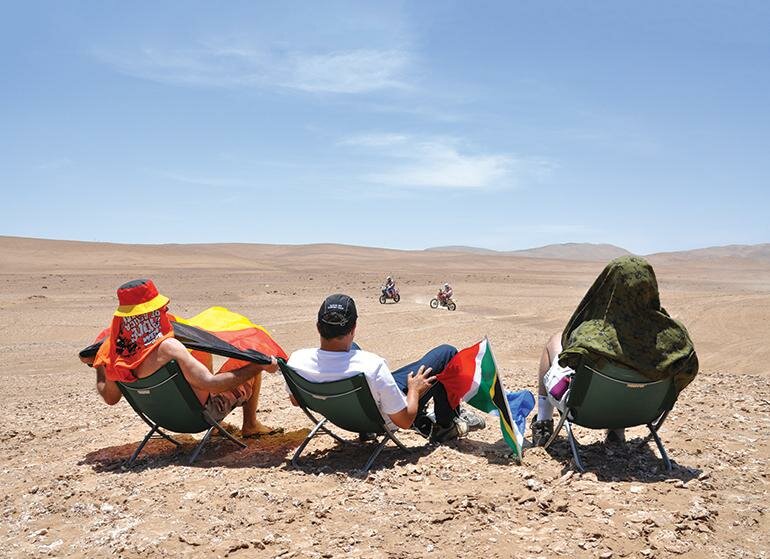 Our original plan was to hire one car to get around in, but by the time we were ready to leave our support team had grown quite considerably and included supporters from South Africa, USA and Germany. We now needed four bikes and three cars for our sizeable group. Patrick and I both opted for a KTM 990, Chris P chose a Honda and Simon was to ride Alfie Cox's 690 Prototype, while Chris H, Henk, Mike, Thomas, Campbell, Dave and Max took the comfortable option in the hired cars. Alfie provided the bikes and kit, with the reassuring words, "All the gear, but no idea." A few training rides later (5,000km) and we were ready.
We touched down in Buenos Aires a few days before the event to do some shopping and finalise a last few remaining details. The scale of this race is amazing and even our small team had a massive eight-wheeler T5 (support truck), a T4 (fast support and race truck) and a massive 4x4 to carry the spares for Ian and Daniel's bikes. Our evenings were spent meeting many of the incredibly friendly and approachable Dakar participants, including most of the work teams. As Alfie is such a Dakar legend, the various work teams continued to seek us out throughout the race to chat and hear about the day's gauntlet runs and Alfie's super star moments.
Day 1: We decided to miss the start to get ahead of the race and watch the first racing section. This turned out to be a good call, as it was still a mad rush to Rio Cuarto.
Day 2: Waking early we headed to a corn field, about 40km outside of town, to watch the first stage. In our excitement to get going, we forgot to pack something to eat and drink, but we did see the bikes and leading cars come whizzing past, and Alfie and Jürgen just miss a corner they were flying around. The SA flags we proudly waved worked like a charm, as both Daniel and Ian gave us a wave as they passed. As each race day is approximately 700km, we left for Recreo. Arriving late that night, we found a very cool hotel in Jesus Maria and checked in. Fortunately everything stays open late at night, so we found something to eat and drink at a local pub and met Tony, the one-legged Harley-Davidson rider with a bike and trailer, who was taking part in his seventh Dakar! What an amazing character!
Day 3: It was another early start as our bike crew headed out to a road crossing to watch the team go through, and they were all doing great. After an exciting day of racing and with the sun setting, we decided it was time to find the rest of our team, who had gone to Cafaytte to stock up on suppliers. Unable to find them at night, we finally admitted failure at 03h30 and ended up sleeping in a friendly local's sheep paddock (not very pleasant!).
Day 4: It was more spectacular racing on this action-packed race stage. Alfie and Jürgen were giving it their all and now in ninth position. When we decided to move on to catch more of the action, we discovered that we were trapped behind a road closure for the day. Unable to get out, we had to wait for the road to open later that afternoon and this meant riding into the night. Despite our misgivings, it proved to be a wonderful ride through winding mountain roads, with awe-inspiring views. Upon reaching the town of Salta we were treated like celebrities, as the huge crowds cheered us on and took loads of pictures of us. We were also waved through red traffic lights by the local police. Now that's what I call local hospitality! We found a lovely hotel in the mountains and spent the evening indulging in fine food and whisky, whilst sharing the day's events.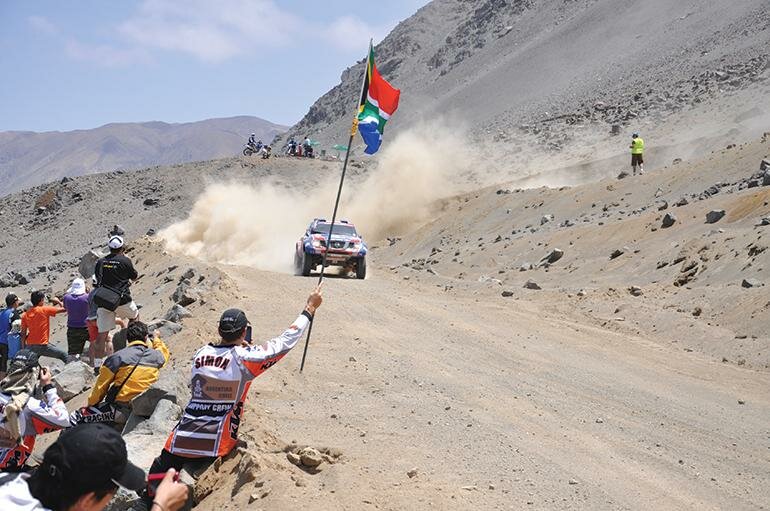 Day 5: We arrived at the Argentinean border post, situated at 4,200 metres, which was (mis)managed by the Argentinean and Chilean officials in the same hall. Scores of people milled around, not sure what documents were required or where to queue, and chaos reigned supreme. Some people actually fainted from the heat and altitude, and the medical staff stationed here had their hands full. Two-hours later we were finally ready to leave, only to have the officials call us back. We queued for another hour, for yet another vehicle stamp, and were then told that our bikes' papers weren't in order! Apparently, the custom's officials in Buenos Aires had not processed the Carne papers properly. Another hour passed while Patrick and Dave sweet-talked the Chilean officials into letting the bikers through. We drove through the most incredible landscape imaginable, which rose up to 4,850 metres (16,000 feet) above sea level. The change in scenery upon entering the Atacama Desert and Salt Flats was startling in its contrast. We were now travelling through the driest region on earth, with some areas having never registered any rainfall in recorded history!
Day 6: We witnessed the most fantastic finish to a stage yet. The competitors had to descend a 2,300-metre sand dune at an outrageous angle, which went directly into the bivouac. It's crazy when you consider that the leading cars do over 200km/h! To give you some indication of how difficult the dune was, Max only managed to make it halfway up on my KTM 990. Some 160km into this stage Alfie and Jürgen hit a rock, damaging the Nissan's rear diff and prop shaft. Deciding it was too risky to continue in two-wheel drive, they waited for the T4 to fit a new back axle. This delay lost them eight hours on the leaders, putting them in 59th position. Daniel, who had also been having problems with his bike, was fast gaining a reputation for buying a new bike in spares each day!
Day 7: Simon, Campbell and I decided to miss the loop to Arica and spend the day relaxing in Iquique. My excuse was a small fall behind a support truck in heavy dust, but Simon and Campbell were the real slackers. The car crew, plus Patrick and Max, now on my bike, continued to Arica. They were not disappointed as Alfie and Jürgen had a great day to finish ninth, rocketing them back into the overall top 20.
Day 8: A much deserved rest day for all consisting of breakfast, shopping and hanging around the bivouac. Unfortunately for Ben Gott, the T5 pilot, he was tasked with an 11 hour, 500km round trip into the desert to recover the PS Laser T4 racing truck. After offloading the container, Ben powered up the 8X8 'power monster' and headed for the dunes with a wicked smile on his dial. His parting comment, "It is not often that I get to throw this monster around in the sand!"
Day 9: Back in Iquique, the team reunited for supper and fines on the promenade. There's a rumor that some of the guys partied until 05h30, but this has been vehemently denied.
Day 10: Leaving the hotel late, with some of the guys nursing serious hangovers, we travelled in convoy to the end of this stage. It was pretty hair raising to watch the competitors race down a winding mountain road to the finish. Alfie was extremely unhappy that race control had cancelled the second stage, as he had hoped to make up a lot of time on the field in the tricky sand. It's not uncommon to cancel or shorten stages during a Dakar to ensure there are sufficient finishers to qualify for the next day's racing, or due to damage to the route. From here we continued along the coastal road to join the bivouac at Antofagasta. The scenery here, where the desert mountains drop down into the Pacific Ocean, was spectacular!
Day 11: Our destination was a resort outside Copiapo, approximately 700km away. This would be our home for two nights, as the racing stage consisted of a loop around Copiapo. The car crew visited the now-famous San Jose Mine, where the miners were stuck for nearly three months. The sad news of the day was Ian's withdrawal from the Dakar, due to a knee injury. He had performed superbly and achieved most of his goals for the Dakar, and earned the utmost respect from all of us!
Day 12: Alfie and Jürgen continued to drive like demons, whittling their position down to the top 10. The highlight of the day was watching the leading VW's make a real race of it, passing each other repeatedly in the last kilometre (not sure if the team manager would approve though). Later we saw the capsule used to recover the miners.
Day 13: This was the marathon stage of the race, crossing the San Francisco Pass. We were told that we'd need fuel for 400km when in actual fact it was 500km, so this led to a few problems. Our route took us along a decent dirt road that ascended to 4,750 metres, and once again the views were stunning. Passing through the Chilean border post was a pleasure, whilst the Argentinean border post was a nightmare. Five long hours later, we headed out across a plateau that included some very difficult soft sand, for me anyway, and we passed many 'Geen Sand' vehicles lying on the ground. One rider was badly hurt and had to be transported out by the Dakar support vehicles. Thankfully the remainder of the ride was on a great tar road, but further fuel problems plagued us. We reached Fiambala late that evening and after dinner and a cold one, we settled in for the night at a campsite that was disgusting. Fortunately we never put up our tents before midnight, so we only saw its sorry state the next morning.
Day 14: As we had lost so much time at the border, there was little chance of catching up to the race so we headed directly to Cordoba. This turned out to be one of the hardest days of riding, a distance of about 750km in extreme heat of 40˚C plus. However, our luxurious hotel suites, boasting jacuzzi baths and multiple flat screen TVs, made it all worthwhile. Bliss!
Day 15: A mix up with one of the hired car's and bikes' booking saw some of the support crew having to go directly to Buenos Aires. The crew in the second hired car was able to follow the race and took in two more stages, including the finish, with some great photographs to show for it.
Day 16: The last day ended with Alfie and Jürgen finishing strongly in 18th position overall, and Daniel completing his first Dakar as the second-youngest finisher ever. We had a celebration dinner at the Waterfront, followed by the Red Bull party.
Day 17: Alfie organised us VIP access to the podium procedures and we enjoyed our moment in the sun, well actually in a thunderstorm as the heavens opened just as the Nissan drove onto the podium. From prize-giving, it was a mad dash back to the hotel to pack, before heading to the airport for our flights home.
Overall, our bikes performed perfectly throughout the trip. Although the 990 was the clear winner because of the huge distances involved, the 690 proved to be very capable and a lot easier to ride in the dirt. The addition of a gel seat is sure to position Alfie Cox's 690 Prototype as a real adventure bike.
It was a privilege having access to the race proceedings and many thanks to Alfie, Jürgen, Ian and Daniel for putting up with us. It's very hard to describe just how tough this race is, and our hats off to all of the participants. Now for next year!