Words: Kyle Gilham | Photo: Anthony Grote
Pietermaritzburg – The buzz of anticipation ahead of the Ozzie Gladwin, presented by Parklane Superspar, intensified with the news that 2014 Dusi Canoe Marathon title hopefuls Andy Birkett and Sbonelo Zondi have confirmed their entry for the important one-day assignment on 10 November 2013.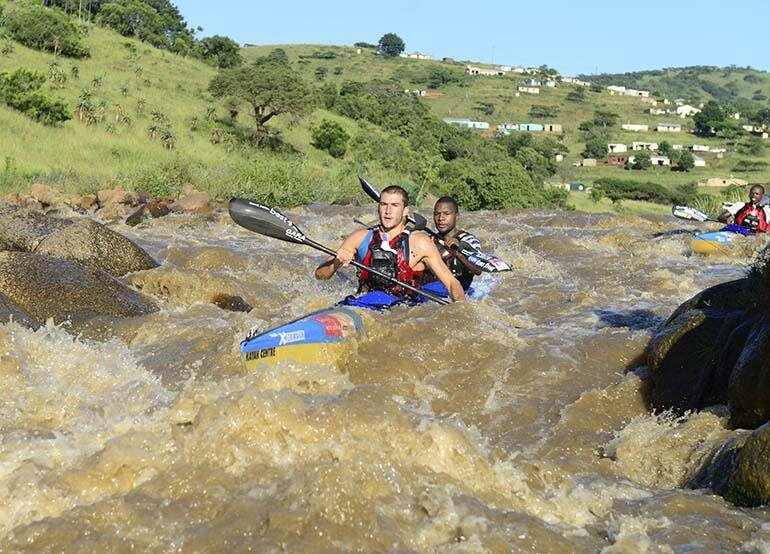 The duo got their Dusi build-up campaign off to the perfect start recently when they claimed a cobweb-clearing victory in the Natal Canoe Club (NCC) Development Race from Camps Drift to Bishopstowe, the perfect momentum building result that they will be looking to build upon on the water of the Upper uMngeni river next weekend.
The pair, widely recognized as two of the country's top Dusi superstars, claimed a hugely impressive victory in their first ever outing together in March 2013 when they soared to a K2 record shattering win in the Non Stop Dusi – the Dusi in a day – and have since confirmed they will form a formidable duo at next year's iconic three day river journey from Pietermaritzburg to Durban.
With early season form a somewhat more valuable commodity this time around than in previous years due to the 'untested' nature of many of the top crews set to tackle next year's Dusi, the pair place a premium on getting more racing experience under their collective belt.
"Being four months before Dusi, Ozzie Gladwin is obviously still very early in the season and a lot can happen between in that time, so the result isn't too important for Sbonelo (Zondi) and I from a Dusi point of view," said three times Dusi victor Birkett.
"It is more about just trying to spend as much time in the boat together, as I would imagine it is for most of the guys at the moment because almost all of the combinations for next year's Dusi.
"Having said that, all these build-up races all help build things up for us and both the experience we gain from paddling in as many of these races as possible and the confidence we start to develop if we are able to string a couple of decent results together, could all help in the long run," said Birkett.
"Our main goal is to win Dusi and so these other races aren't that important on their own but, together, some good results will help!" added Zondi.
Ozzie Gladwin also presents a golden opportunity for many of KZN's top river experts to grind away a few coats of rust that may have developed over the off-season, something Birkett and Zondi will certainly be hoping to achieve next weekend.
"Andy (Birkett) was off completely for three or so weeks and me for two so the NCC Development race was pretty tough for both of us," explained Zondi. "We just got into the boat at the start and went for it having not paddled together for a few weeks so we were quite rusty.
"We also haven't done any running training with the boat recently so NCC Development race was quite a shock to the system and Ozzie Gladwin will be another good chance to practise our portaging.
With their full focus being on Dusi 2014 Birkett and Zondi will hope to further entrench their understanding of one another in the boat at Ozzie Gladwin whilst still enjoying the race itself.
"Experience at this stage is invaluable so that's definitely the focus for Ozzie for us!" explained Birkett. "Ozzie is also such a nice race though, I really enjoyed it last year and it will be great to take part in it again this year.
"It has a great vibe to it, there are lots of boats on the water and it is a really nice section of river that you don't get to paddle on in many of the other upper uMngeni races," he said.
"It's a fun race," added Zondi. "We'll also be able to test our speed on the dam, our running on the portage and then, just as we've gotten our heart rate up from the run, test our river paddling after that, so it's got a bit of everything."
The 2013 Ozzie Gladwin Canoe Marathon, presented by Parklane Superspar, takes place on Sunday 10 November. More info can be found at www.ozziegladwin.co.za and entries can be submitted at http://ozziegladwin.co.za/entryform.html