Words: Kyle Gilham | Photo: Anthony Grote
Pietermaritzburg – South Africa's rivers were a hive of activity over the weekend as hundreds of paddlers looked to clock up valuable Dusi Canoe Marathon training mileage as well as qualification and seeding points.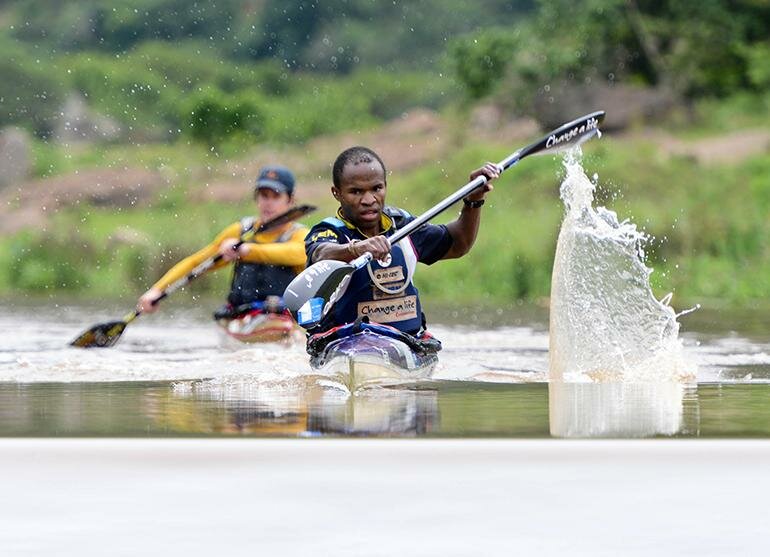 Gauteng's paddlers enjoyed a golden opportunity to prepare for the iconic three day event in their own backyard when they tackled the blisteringly hot EuroSteel Rumble on Saturday 11 and Sunday 12 January which saw KZN development stars Kwanda Mhlope and Zonele Nzuza claim their first major result of the pre-Dusi season.
Mhlope and Nzuza overcame the heat, low water levels and the challenge of second placed Thomas Ngidi and Sbonelo Zondi (EuroSteel) whilst Dusi title hopefuls Lance Kime (Best 4 Healthcare/EuroSteel) and Thulani Mbanjwa (Build it) were left to settle with crossing the finish line in their sinking K2 in third place.
Previously Mhlope, who had the paddling world abuzz when he and 2012 Dusi partner Kime claimed an out-of-the-blue day two podium place, and Nzuza, a 2013 Dusi top 10 finisher, just haven't clicked however they will take great confidence from this result and will be hoping this will be the start of their road to challenging for a Dusi top five from 13-15 February.
With her Dusi partner Jen Theron based in KZN's Midlands, adventure racing regular and paddling newcomer Jane Swarbreck claimed the women's title with her sister, Kate.
Meanwhile, a little closer to the Dusi route, Albert Falls Dam played host to the second of the weekend's Dusi seeding race, the Hi-Q Challenge, on Sunday 12 January.
With some of the sport's top paddlers having opted to head North for the weekend, it was the ever-consistent Lucas Mthalane and his Computershare Change a Life Academy partner Mmeli Cele who, like Mhlope and Nzuza, strung together their first meaningful performance of the season and, with that, giving themselves an important morale boost.
Mthalane, despite having had to regularly settle with being overshadowed by the likes of Valley of a Thousand Hills hero Thulani Mbanjwa and now Dusi darling Sbonelo Zondi, has been one of the most consistent and top performing development paddlers in the country over the past five years and his wealth of experience, together with his now heightened confidence level, will be crucial factors in his and Cele's Dusi gold medal hopes.
With fellow development stars Banesti Nkhoesa and Thembinkosi Ngcobo claiming second place it was then a flurry of youth that descended upon the finish line as the now under-23 Wilson twins, Travis and Tyler, fellow under-23 stars Murray Haw and Andrew Houston and under-18 talents Damon Stamp and Mthobisi Cele who made positions three through five their own.
The women's race was another with a strong youth presence as the trio of under-23 and younger crews claimed the podium positions. Haw sisters, Bianca and Tamika, crossed the line first, Jordan Peek and Brittany Petersen second and Camilla Pennefather and Cana Peek third.
Top Dusi contender Abby Adie, with her partner Anna Adamova still being in the Czech Republic, opted to tackle the event on her own and was the first women's single across the line.
The next Dusi Canoe Marathon seeding event, the Campbells Farm to Dusi Bridge race, takes place on Sunday 26 January over the second half of the route paddlers will face during stage one of the Dusi.
The Dusi Canoe Marathon 2014 starts in Pietermaritzburg on Thursday 13 February and ends in Durban on Saturday 15 February 2014. More information can be found at www.dusi.co.za