Words: Kyle Gilham | Photos: Darren Goddard
As the South African cross country and downhill mountain biking fraternity gear up for this weekend's African Continental Champs in Cape Town, news of Kargo Pro MTB team being accepted as a UCI MTB team by cycling's international federation – a first for the South African cycling scene – has cyclists nationwide abuzz with excitement.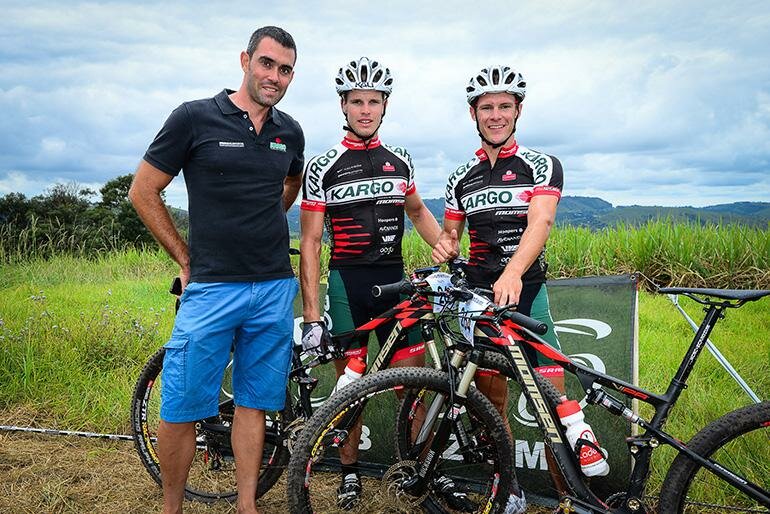 Phase one of team manager Shaun Peschl's dream was realized on Tuesday when he received official confirmation from the UCI that his "team will be registered as a 2014 UCI MTB Team", paving the way for the outfit to start their international journey and, hopefully, follow a similar pathway of success to that of South African road cycling phenomenon Team MTN Qhubeka, presented by Samsung.
"We are thrilled by the news that we can now officially call ourselves a UCI mountain bike team for 2014," said an ecstatic Peschl. "The timing could not have been better with African Champs less than twenty-four hours away and I'm sure all our guys will now be even more motivated to do well in Cape Town than ever before.
"Looking at how far Doug Ryder has gone with his MTN Qhubeka team on the road – he has truly been an inspiration for us and we hope to have the same impact on the South African MTB scene," he added.
The UCI's acceptance of the Kargo setup will see the 'Proudly South African' outfit now turn their full attention towards their short term goals whilst always bearing in mind their ultimate motivator – the Olympics.
"We really are very proud of the fact that almost all of our setup is South African. All our riders are from SA, our title sponsor – Kargo – is a South African company and even the bikes we ride – Momsen Bikes – are from here!" explained Peschl.
"We had a really good pre-season and our season began nicely a couple of weeks ago. Now it's all about fighting for every UCI point available.
"Short term goals for us are to be as consistent as possible locally, to achieve good results at the UCI World Cups and the 2014 Commonwealth Games and to have at least five of our riders compete at the 2014 World Champs whilst our long term dream is definitely all about the Olympics," he added.
For team ace Rourke Croeser, the news represents a major step in the right direction not only for the Kargo Pro MTB team but for the sport of mountain biking throughout South Africa as a whole.
"It really is just great for cycling, and particularly mountain biking, in South Africa," said Croeser. "Hopefully this also starts a trend here in SA and that other teams start taking competing internationally seriously as well.
"The more UCI teams we have in SA can only be good for MTB in the country!"
With a positive result in Cape Town heightening his Commonwealth Games prospects, Croeser will be hoping he can give it his all this weekend whilst the likes of under-23 Travis Walker and the rest of the team will too be looking for solid performances.
"Trav (Walker) and I got here on Wednesday and the bikes arrived all safe and sound, so that was a relief," said Croeser.
"We managed to do a few laps of the course yesterday and the organisers really have done a superb job given the limited space they have available to them.
"It's quite a tight, snappy course with lots of sudden, fast acceleration followed by sections that force you back down to zero – it's a very stop/start type of course with just one longish climb but overall I think it's a good one."
With uncertainty over what weather to expect over the next few days, Croeser isn't fazed by the possibility of rain and is looking forward to the different challenge a wet track poses.
"There is talk of rain on Friday which would obviously make things pretty interesting on Saturday's race day. I don't mind at all though, the worse the conditions the more it probably suits me actually because I enjoy a muddy, technical track."
All the cross country events of the 2014 African Continental Mountain Bike Championships take place at Willowbridge Shopping Centre on Saturday 25 January with the downhill action unfolding at Contermanskloof on Sunday 26 January.
More event info can be found at www.cyclingsa.com and Kargo Pro MTB team info can be found at www.peschlracing.co.za