Words & Photos: Zoon Cronje
No one can remember when, or if, anybody ever managed to win two consecutive races in the MTN National MTB Series.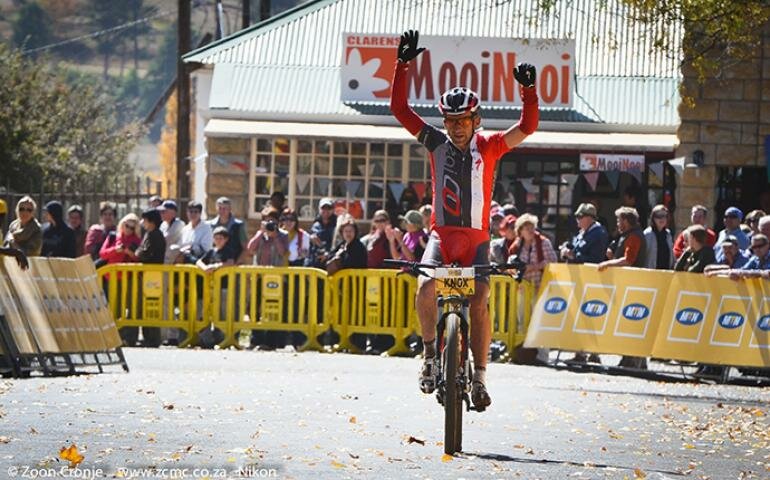 However, on Saturday (11 May), when Knox competes in the MTN Gravel Travel (in and around Wellington) he intends to do his utmost to change this statistic.
Should he win, he would have made South African mountain-biking history.  Not only will he then have won two races in the MTN National MTB Series on two consecutive weekends, but he will also become the first rider to successfully defend two titles that he had won in the preceding year. In 2012, Knox was victorious at MTN Clarens, as well as at MTN Gravel Travel in Wellington, but the important difference was that the races were only a week apart.
Knox's victory during the past weekend at the MTN Clarens was textbook stuff.
True to his status as a seasoned professional, Knox played the waiting game.  He did not give his rivals, Nico Bell and Gawie Combrinck (both Westvaal/Bell Cycles) and Stefan Sahm (Team Bulls) any indication of what he was planning to do. When Knox finally attacked on the last serious climb, about 20 kilometres from the finish, no one was able to keep up with him. "It is always special to defend a title. It is exciting to race at MTN Clarens because the organisers keep on changing the route. This was the fifth time that I have raced at MTN Clarens and every time there were one or more surprises. I suppose it is their way of continuing to level the playing field," Knox said afterwards.
Bell said after the race that he purposely started off conservatively. "I have been battling a virus over the past 14 days. I only realised that something was wrong when my heart beat sky-rocketed and I cramped quite badly during the MTN Tulbagh event. During the Mzansi Tour it became even worse and I had to withdraw after stage three." Bell told reporters. "The doctor whom I consulted advised me to take a complete break from cycling for at least two weeks. So I had no expectations for MTN Clarens. I was thinking along the lines of just riding to support my teammate, Gawie Combrinck. But I surprised even myself." Bell added.
Bell commented after the race that he felt like a new person. "When I managed to stay in the front with Gawie, Max (Knox) and Stefan Sahm (Germany), I realised that I was in with a chance to win. Unfortunately for me, Max rode the near perfect race, doing exactly the right things at the right moment. This enabled him to open up a small gap on the last climb. I was hoping to catch up with him on the tricky descent, but I could not."
Sahm, who eventually finished third, was full of praise for the route. "I cannot remember when last I rode on single track for so many kilometres. It was fantastic, and the scenery along the route was amazing. I thoroughly enjoyed myself," said the three-time winner of the Absa Cape Epic. By finishing third, Sahm has become the new leader of the UCI World Series. Bell could be second overall and Knox is also among the top-five riders of the series.
Germany's Steffen Thum certainly deserves a special mention. The saddle of his mountain bike broke off and he had no other option but to continue pedalling in a standing position for approximately 10 km.  He was then able to duct tape his water bottle onto his seat post to serve as a saddle for another 20 km, before he could fix it properly. Despite this set back, he still managed to finish 6th.
Knox, the defending MTN Ultra champion, and Charles Keey (Cannondale/Blend Properties) are neck and neck at the moment. They have each won two races in the series so far.
Apart from winning at MTN Clarens, Knox was also victorious at MTN Barberton, whereas Keey won at MTN Sabie and MTN Tulbagh. Both riders also came third once, Knox in Sabie and Keey in Barberton.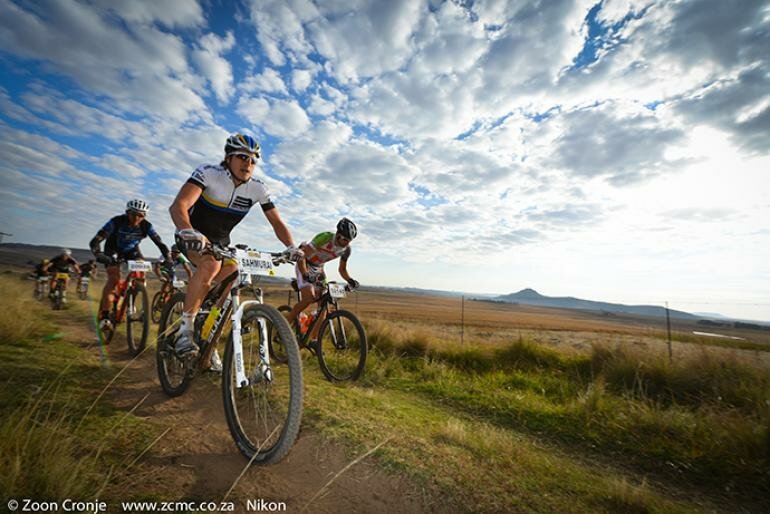 Keey did not race at MTN Clarens because he was competing in the joBerg2c. On Saturday (11 May) they will resume their battle at the MTN Gravel Travel ultra-race that is scheduled to take place in and around Wellington. On Saturday it may well turn out to be a case of 'two dogs fighting for a bone and the third racing away with it'. Bell is certainly next in line to win a big one.  Thanks to being the only rider to have completed all the events in the series so far, he is currently in the lead on the series standings.  He could well upset Keey and Knox this coming weekend and retain his top spot. At both Clarens and Sabie he was just seconds behind the winner.
On Saturday, it could be a case of third time lucky for Bell. Knox already predicted earlier that Bell could eventually be the overall winner.  'Nico is a much better rider than what people give him credit for," were the words used by Knox in an interview.
MTN Marathon
Patrick Belton (Jeep) won the MTN Marathon in Clarens by outsprinting Jan Withaar and Andrew McLean (Cycle Lab Toyota). The U23-rider's winning time for the race over 75 km was 2 hours 52 minutes and 24 seconds. Withaar was second and McLean third.
Belton describes his victory as follows. "It was super cold when we started. Luckily the first half of the race was mostly flat and I was able to warm up before the real racing began. I knew that the real climbing would start after about 50 km and that was where I had planned to make my move.
"Andrew McLean attacked at about 45 km. I decided to go with him because I knew that the climbing wouldn't be too far off. We got caught again. I bided my time and attacked on the climb as I had originally planned. The bunch split up and Andrew, Jan and I were left alone out in the front. Unfortunately I had to stop three times to fix my bike's chain, which kept falling off and jamming.  This enabled Jan and Andrew to get away by themselves.
"I was determined to catch up with them again and, to be able to do so, I had to take some scary risks on the super technical, rocky single-track section after the climb. Luckily my gamble paid off.  I first managed to catch up with and pass Andrew, then I joined up with Jan.  Later, Andrew caught up with us again. Jan and I managed to open up a small gap on Andrew on the last single-track section. At that stage I knew that there was bound to be a sprint between Jan and me. I timed my final assault to the line to perfection, coming around Jan at exactly the right moment to take my first victory in the MTN Marathon Series."
In the absence of Ariane Kleinhans (RE:CM), Sam Sanders managed to win the Women's Marathon, followed by Theresa Ralph, Candice Neethling and Robyn de Groot. The four of them dominated during the first three races of the MTN Marathon Series.
National Nissan Half Marathon Series
With his victory in Clarens, Dylan Rebello (Jeep) completed a hat-trick of victories. He was also victorious at Barberton and Sabie. His winning time at Clarens was 1 hour 50 minutes and 53 seconds. Carlo Marzoppi was second in 1:54:30 and Neil Robinson third in 1:54:37.
Results
Men's UCI MTN Ultra Marathon 100 km results
1. Max Knox (RSA) 04:18'17''
2. Nico Bell (RSA) + 0'32''
3. Stefan Sahm (GER) +1'51''
4.Gawie Combrinck (RSA)
5. Matthys Beukes (RSA)
6. Steffen Thum (GER)
7. Tom Ettlich (GER)
8. Guylin van den Berg (RSA)
9. Timothy Hammond (RSA)
10. Ben Melt Swanepoel (RSA)
Women's Marathon results
1. Samantha Sanders (RSA) 03:14'51''
2. Christine Jansen van Rensburg (RSA) + 2'17''
3. Amy McDougall (RSA) +6'14''
4. Kendall Ryan (USA)
5. Ashleigh Parker-Moffatt (RSA)
Jersey leaders after MTN Clarens driven by Nissan
MTN Ultra Marathon
Leaders Jersey - Nico Bell (Westvaal Columbia)
KOM Jersey - Darren Lill
MTN Marathon
Leaders Jersey - Ariane Kleinhans (RE:CM)
QOM Jersey - Robyn de Groot (To Let)
U23 Men - Declan Sidey (ASG)
U23 Women - Kendall Ryan (TEAM Jeep)
Nissan Half - Marathon
Leader Jersey - Raymond Wagener
Ladies Leader - Marie Christin Kempf (KARGO)