Words & Photo: Hayley Venter
Cape Town (South Africa) – There are just over three weeks to go until the window period for this year's Red Bull King of the Air event opens on January, 25 and the full list of competitors selected to take part in the competition have been announced.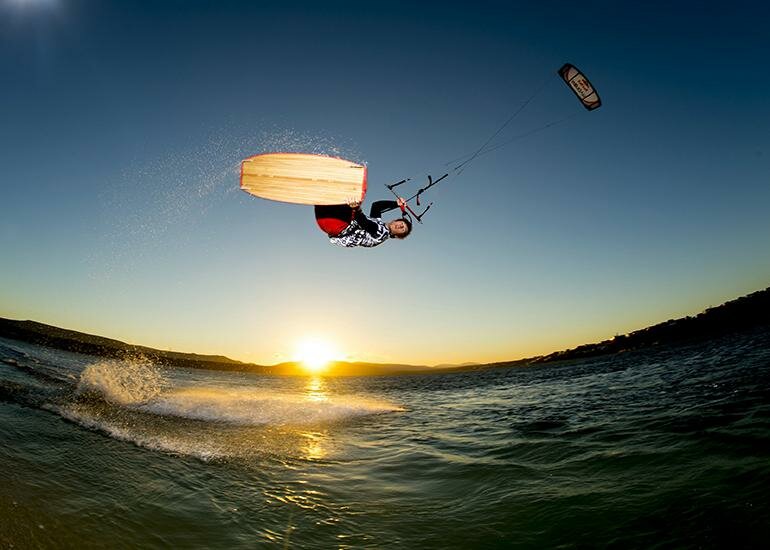 Joining the likes of defending champion Jesse Richman (USA) and Ruben Lenten (NED) is 5-time kiteboarding World Champion, Aaron Hadlow (GBR). Hadlow was unable to compete in the 2013 edition of the competition due to injury and is hungry to challenge for the title: "I've been riding in Cape Town for 12 consecutive seasons and have always loved the strong winds. Big Air is not my focus but it's a discipline I still love and enjoy. I wasn't ready to compete this time last year because of my knee injury but now I'm fit and feeling strong and ready to ride."
When asked who he had the strongest chance of coming out on top, his answer was rather diplomatic: "The best thing about this event is that at least half of the field are odds on to win this event - anyone could take home the win. There is no clear rider that stands above the rest because you never know what might get pulled out the bag on the day. The win is also very dependent on the conditions on the day- different riders may excel in different wind strengths."
There are 24 confirmed participants in the lineup for the competition. Hadlow joins 3 other wildcards: current PKRA world champion Alex Pastor, Reno Romeu and Linus Erdman along with the top 12 from the 2013 edition who received automatic entry into this year's competition. The remaining 8 participants, selected from online entries at www.redbullkingoftheair.co.za, join them to round up the lineup.
The Cape's famous 'Cape Doctor – a south-easterly wind – ensures for perfect kiting conditions during South Africa's summer months and Big Bay in Blouberg, where the event takes place, is a prime location will make for some pretty gnarly airs and big moves when the right wind conditions arrive.
In order to ensure the best wind conditions possible for Red Bull King of the Air to take place, the event window period extends from 25 January 2014 to 9 February 2014. Make sure you keep up with all the news at www.redbullkingoftheair.com or follow the hashtag #redbullkingoftheair on your favourite social channels.