Posted: September 19, 2013
Words: Sam Bradley | Photos: Courtesy of Swiss Tourism & © Lucerne Tourism
My shirt is drenched in sweat and mud, and I have a nasty graze running down my left shin. My palms are sweaty and my heart is racing at a healthy pace. Somewhere far below me I can see the outline of Roger, my crazy guide for the day, bunny-hopping rapidly out of sight.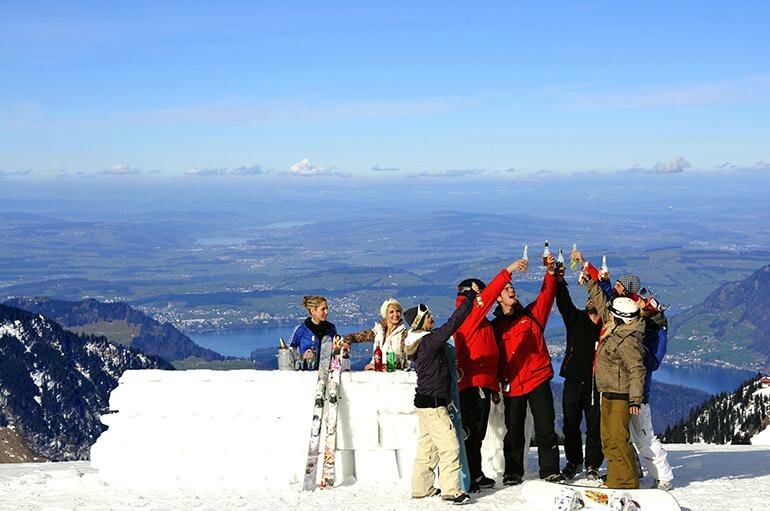 We're on our third mountain bike dash down an extremely steep mountain and he's showing no sign of tiring. Not wanting to be left behind, I wearily climb onto the bike and set off after him.
With already a few tumbles to my name, I don't need to tarnish my reputation further by getting lost as well. Mind you, there are worse places in the world to get lost. I'm high up in the mountains somewhere in the Swiss Alps, surrounded by leafy greenery and blue skies. I can hear bells ringing from some cows out grazing (yes, they really do tie bells round the cows necks here, something I'd always thought was a myth). Below me, there are emerald lakes shimmering in the distance, as picturesque as if they glided straight out of a fairy tale.
With a population of only 76,000, there's enough space in Lucerne for everyone to find a pursuit they enjoy. One day is spent rock-climbing and abseiling with Roger at Endelberg (a short drive outside Lucerne), the next visiting monasteries and some of the famous cheese factories in the area. Lunch is always somewhere with a spectacular view, such as Klewenalp, and even a quick summer downpour couldn't spoil the scenery when we were there. Add in the attraction of cruises and water sports on the lake, as well as the option of all year-round skiing (Mount Titlis is the only such site in Switzerland), and it's easy to see why Lucerne is a fitness enthusiast's playground. However, despite all its magnificent beauty, to only focus on the outdoor pursuits available would do Switzerland an injustice, and more particularly the area of Lucerne, a grave injustice.
When initially considering the town, I struggled to sum up its character. Most places seem to have a settled image; a reputation or a defining landmark they are known for. Think of Colorado and one's first thoughts are of snow and skiing. Mention Pamplona and bulls charging down quaint alleyways inevitably spring to mind. Paris has the Eiffel Tower, and New York the Statue of Liberty. Lucerne is the opposite, seemingly in a constant state of adaptation and change.
On my arrival, the Red Bull flying contest was in full swing, with adrenaline-filled youths hurling themselves and their contraptions into the lake, all in the quest for a few extra metres of distance - and the adoration of an equally beer-filled crowd of cheering fans. Two days later and the mood in the city was completely different; the Lucerne Festival was in progress, famous as one of the world's most renowned celebrations of classical music.
Likewise, another famous event not to be missed is the Lucerne Carnival. Expect five days of strange characters dressed up in weird and wonderful masks and costumes, all accompanied by a joyful ensemble of musical instruments. The parties carry on late into the night, as everyone dances away the winter cold and welcomes the arrival of spring. Other events include the Horn Sledge Race, the Fumetto Comedy event, the annual Cheese Festival, as well as countless jazz evenings. Classy and classical, or offbeat and funky? You be the judge. One thing that is for certain is that you won't be bored during your stay in Lucerne.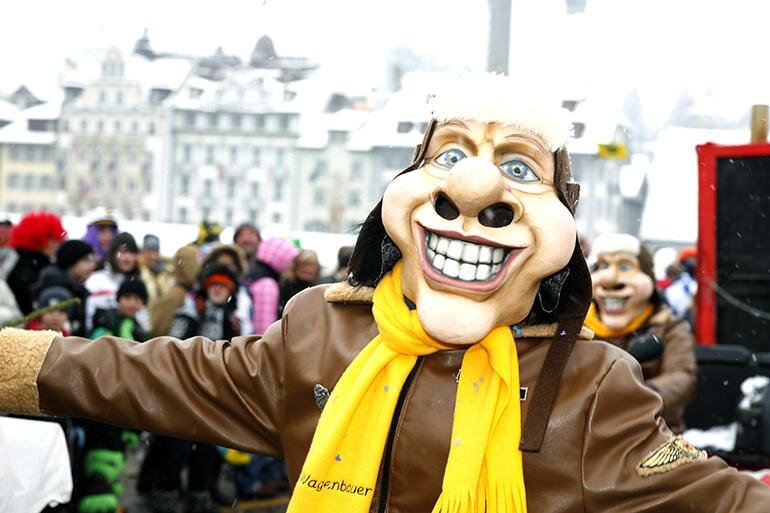 When walking the streets of Lucerne, the contrasts only became more evident. Castles and churches whisper of a fascinating history, all the while surrounded by modern restaurants and concert halls. The most photographed site in Lucerne is the Chapel Bridge, which has the distinction of being the oldest wooden-covered bridge in Europe. It's also famous for containing interior paintings from 500 years ago, which chronicle the history of the city. Other olden day sites worth viewing include the Old Town, as well as the Dying Lion of Lucerne. Complementing these historic settings are a string of modern hotels perched along the lakefront, all offering exquisite Swiss cuisine and beautiful views over the water.
Just when I felt like I was discovering my way round the town and learning some of its fascinating history, the time came to make my departure. While making my sad goodbyes, and secretly vowing never to go on a bike ride with Roger again, I came to the realisation that being a city of contrasts - far from being a weakness - is actually Lucerne's greatest strength.
In fact, it doesn't matter if the town doesn't have a fixed identity that's its known for. If my family were to visit the city, each member would return home enthusiastically describing a different aspect of the city; from the architecture to the food, and the outdoor activities to the natural beauty of the area. In fact, Lucerne's greatest strength is being able to ignite the passions and stir the interests of each and every visitor who is lucky enough to pass through its squares, eat in its restaurants, and be seduced by its charms.
dinFO:
What you need to know:
Currency: 1 Swiss franc = R10,70 (at the time of publication).
Food: You'll be spoilt for choice with more than 170 restaurants to choose from. Expect to pay at least 30 Swiss francs for a decent meal, with some of the fancier restaurants charging up to 150 Swiss francs per meal.
Accommodation: There are about 60 hotels in the town of Lucerne, ranging from 70 to 600 Swiss francs per person, per night. Most of the hotels have lake views. For budget seekers, Backpacker Lucerne has rooms from 53 Swiss francs per person, per night.
Attractions: Lucerne's tourism website has detailed information of upcoming attraction and events in the region.
Getting there: Emirates flies from Johannesburg, Durban, and Cape Town to Zurich (stopover in Dubai) with prices ranging from R7,600 to R15,000. SAA flies from Durban and Johannesburg to Zurich, and Swiss International Airlines flies from Cape Town and Johannesburg to Zurich.
For more information on Lucerne, visit www.lucerne.com