Words: Nick Tatham | Photo: Anthony Grote
An emphatic victory in a key Dusi Canoe Marathon seeding race on the weekend has catapulted Andy Birkett (Eurosteel) and Sbonelo Zondi (Eurosteel) into clear race favourites as they ran and paddled to victory over Lance Kime (Best4 Healthcare/Eurosteel) and Thulani Mbanjwa (Build It) and in the process squashed doubts over the ankle niggle that has plagued Birkett recently.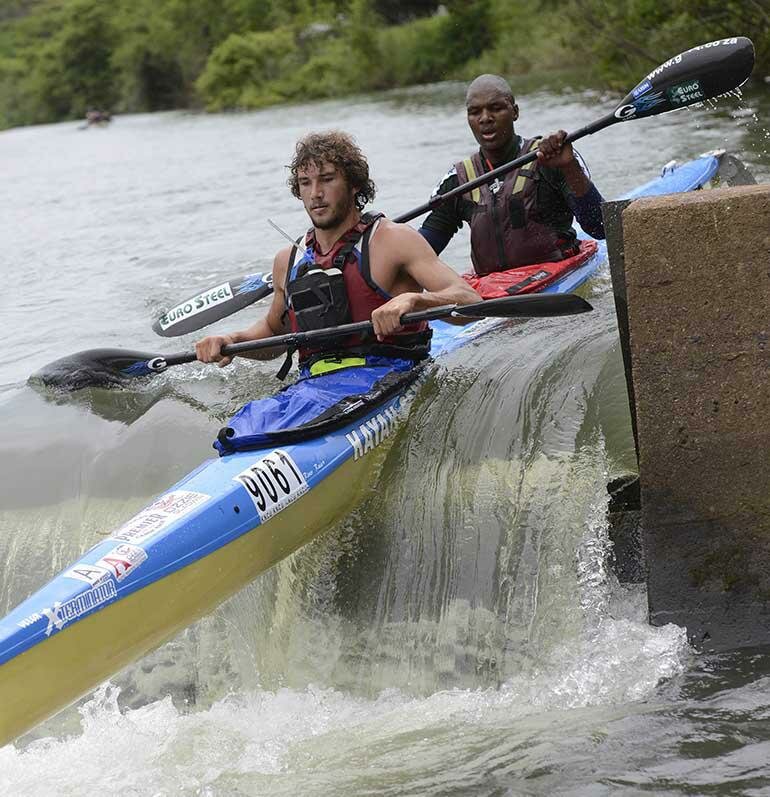 The Campbell's Farm to Dusi Bridge race on Sunday covers the second half of the first stage of the Dusi, including several tough portages, and is seen as a great judge of where crews stand in the build up to the Dusi with the race just over two weeks away. For the current Under 23 World marathon champion the Campbell's to Dusi Bridge is always a great litmus test for the crews.
"It is always a nice race to do because we often see all the top crews there," Birkett explained. "So many crews do the race because it basically follows the day one route of the Dusi and I think most of the top crews were there on Sunday."
It was an important hit-out for Birkett and Zondi as it was an opportunity for Birkett to get some mileage in his ankle that has been causing him a few problems of late. The three-time winner of the Dusi was happy with how his ankle held out and is confident that it is going to get stronger as the iconic three-day race edges ever closer.
"I have been strapping my ankle for training and for racing recently and I am really happy to say that is all fine after Sunday," a relieved Birkett said. "It had been causing me a few problems recently but the running was fine on Sunday and that is really encouraging for me and Sbonelo with only a few weeks to go until Dusi!"
The 2013 Non-Stop Dusi champions seem to be coming into some form going into their final preparations before they line up at Camps Drift on Thursday, 13 February and having a tussle with Kime and Mbanjwa on Sunday would have given them a great indication as to where they are in their planning. A 47 second win was what they ended with which would have given the duo fresh confidence.
"I was really chuffed with our result because there were some strong crews there with Hank (McGregor) and Jasper (Mocké) one of the only top crews missing.
"It was great to race against Lance and Banji and that really gave us something to judge where our preparation is at. We are really confident at the moment and for me having Sbonelo in the back of the boat is such an honour.
"Sbonelo's paddling has improved so much and his running is incredibly strong which meant that getting my ankle sorted was really important but we have a great relationship and that is a huge positive for us," he added confidently.
Birkett is in fine form after he registered his first ever N3TC Drak Challenge victory over the previous weekend and is looking to the next few events as a way to fine tune everything ahead of Dusi.
The women's race at Campbell's to Dusi Bridge was a hugely interesting one with Dusi Princess Robyn Kime (Best4 Healthcare/Kayak Centre) and partner Abbey Ulansky (Best4/Kayak Centre) proving to be far too strong for the chasing crews with N3TC Drak Challenge winner Abby Adie (Best4 Healthcare/Kayak Centre) and her Czech partner Anna Adamova finishing down the field in fifth.
It has been a tough week for Adie who fell ill after her victory at the South African K1 River Championships in Underberg a week prior and with Adamova only recently arriving it puts a bit more pressure on the crew that claimed an emphatic win at the 2013 Hansa Fish River Canoe Marathon.
The Dash and Crash happened on Saturday with Lance Kime and Thulani Mbanjwa claiming the men's race and Jen Theron (Knysna Racing/PVM) and Jane Swarbreck winning the women's section.
Summary of race - Campbell's to Dusi Bridge
Overall:
1. Andy Birkett/Sbonelo Zondi 1:36.09
2. Lance Kime/Thulani Mbanjwa 1:36.56
3. Lucas Mthalane/Mmeli Cele 1:38.41
4. Andrew Houston 1:42.56
5. Damon Stamp/Mthobisi Cele 1:43.09
6. Ben Biggs/Carl Folscher 1:43.15
7. David Wood/Kelvin Trautman 1:43.32
8. Banesti Nkhoesa/Thembinkosi Ngcobo 1:44.29
9. Simon van Gysen/Craig Turton 1:45.07
10. Piers Cruickshanks/Siseko Ntondini 1:45.58
Women:
1. Robyn Kime/Abbey Ulansky 1:48.50
2. Laura O'Donoghue/Hilary Bruss 2:00.46
3. Debbie Germiquet/Carmen Donald 2:00.42
The Dusi Canoe Marathon 2014 starts in Pietermaritzburg on Thursday 13 February and ends in Durban on Saturday 15 February 2014. More information can be found at www.dusi.co.za