Words: Sam Bradley | Photos & Video: parapax.com tandem paragliding
"For once you have tasted flight you will walk the earth with your eyes turned skywards, for there you have been and there you will long to return." Leonardo da Vinci made this quote and seeing as he invented a whole lot of really cool things, I figured he probably knew what he was talking about. My plan was to put his claim to the test.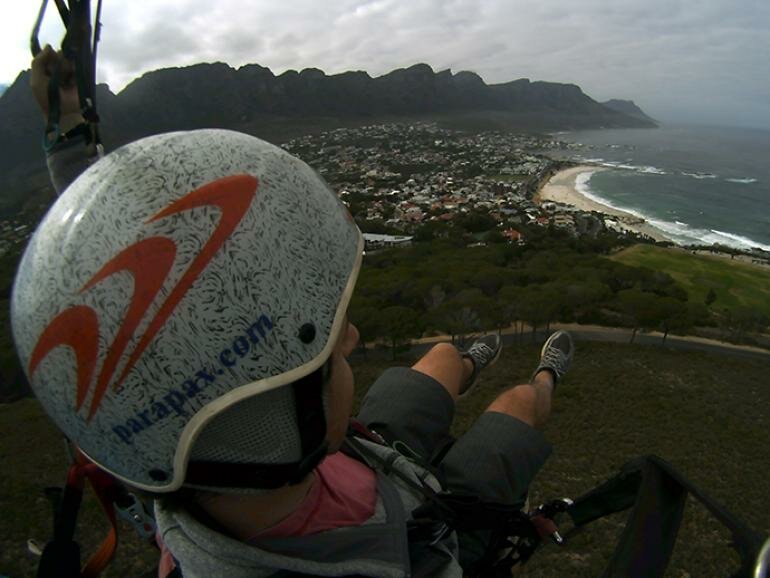 Photo credit: parapax.com tandem paragliding
To see if flying really was all this and more, I went adventuring to Cape Town. The itinerary involved taking a swoop through the air with Stef Juncker, owner and manager of the oldest and largest tandem paragliding company in Africa, parapax.com tandem paragliding. A quick look at Stef's biography did little to ease my nerves. A hypnotist, an escape artist, and most worryingly a professional clown all seemed like a recipe for disaster when hundreds of metres above the ground. However, Stef is also one of the top commercial paragliding pilots in the world, so I was to be in safe hands.
A scenic flight over Table Mountain would have been a good option, but to ensure a complete immersion in the paragliding culture, I met Stef in the small town of Porterville. The reason for meeting here was because Stef was competing in the SA Winelands Open - a cross-country paragliding competition that attracts the top 80 pilots from all over the world. Due to strong thermal conditions, Porterville is the ideal place for high and long cross-country flights. Driving to Porterville (about 140 km from Cape Town) I could well believe it. It's dry, dusty, and baking hot. I even spotted one solitary horse grazing as I arrived (in this case the cliché about being a one-horse town illustrates Porterville better than any description I could think of). The idea was that Stef and I would take a quick tandem flight in the morning, before the competitors took over the skies in the afternoon.
 
True to his resume, Stef is a character and a half (some may remember him as a hypnotist at the Catalina Theatre), and I spent the car ride up Dasklip Pass learning of crazy adventures he's experienced all over the world. Despite our best intentions to get away for an early flight, the launch site of Pampoenfontein was already a hive of activity with paragliding pilots all preparing for the afternoon competition.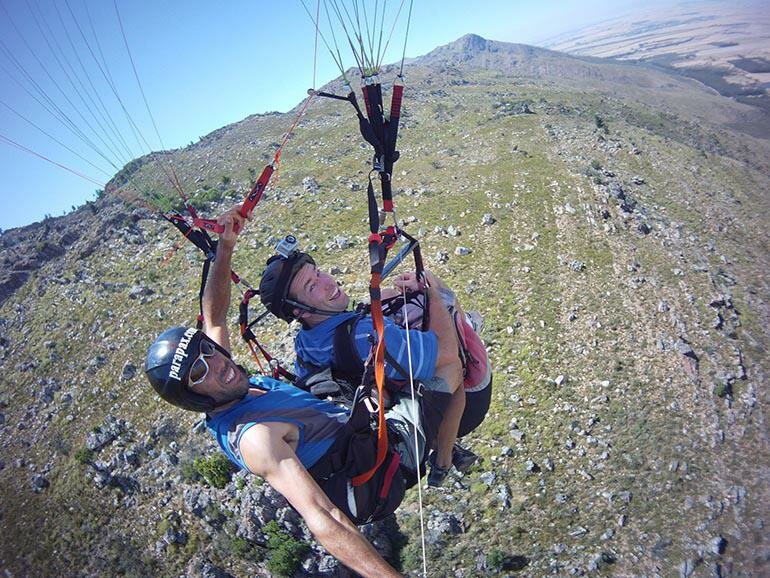 Photo credit: parapax.com tandem paragliding
Thankfully, Stef wasn't the sort to get stage fright and before long we were all strapped in and ready to go. Stef got our wing into the air (a giant 33-metre fabric used for tandem flights) and we both ran straight towards the edge of the mountain, with only wheat fields in the far distance below. At the (seemingly) last moment, we launched upwards and soon we were circling high above the ground with only a few birds for company. Despite clutching desperately to my harness/chair (the expression 'flying by the seat of my pants' definitely applying), it was a breathtaking experience. With only the wind for sound and the most astounding view below us, it was easy to appreciate the beauty of flight. Maybe crazy old Leo was onto something after all.
All too soon, it was time to land and we touched down on solid earth once again. It's definitely not a sport for the faint-hearted, but if you're in the mood for adventure, I can't recommend a more adrenaline-filled way to spend a morning. Just remember Leonardo's warning - flying really is addictive!
dinFO
For more information on Porterville paragliding, visit www.flyporterville.info
What you need to know
Parapax does tandem paragliding flights daily. Flights depart from Signal Hill and Lion's Head and offer excellent views of Table Mountain and Cape Town. Flights are R950 and you can book on the website www.parapax.com. Anyone with medical conditions should speak to the pilot and confirm that their safety will not be at risk.
Paragliding is a pretty-expensive hobby, as a qualification course (consisting of 36 solo flights) normally costs about R7,500. Paragliding equipment is also not cheap, with a full set of new equipment (wing, harness, helmet, books, flight suit, and radio) ranging from R15,000 to R45,000.