Join the AR Club's Summer Series on a convenient week-night adventure for fun! What could be better than running around a beautiful park in the evening? And as you'll be so busy looking for the checkpoints, you'll hardly notice your huffing and puffing. Searching for checkpoints is a wonderful distraction and perfect for navigation practice.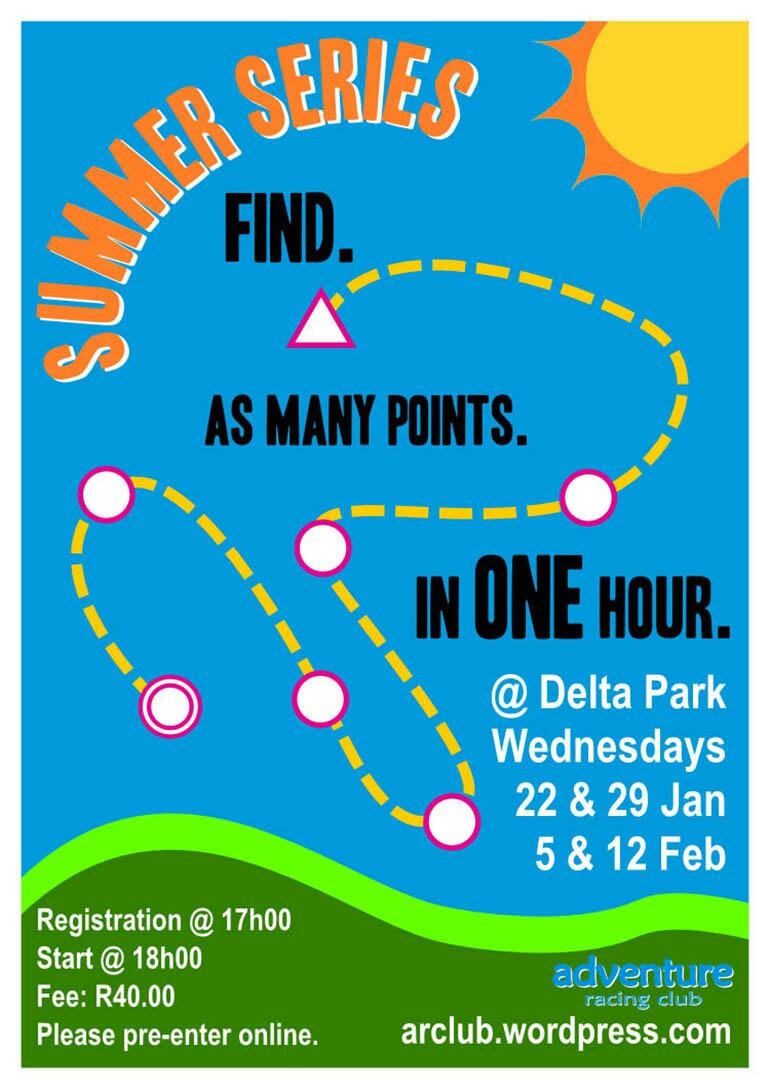 What?
At the start you'll receive a map. Many, many checkpoints are marked on the map. You have ONE HOUR to find as many as possible. On each checkpoint flag you'll find a letter of the alphabet. Use the punch attached to the flag to punch the correct corresponding letter on your answer card. Make your way to the finish within the one-hour period.
When?
Wednesday evenings.
Wednesday, 22 January 2014
Wednesday, 29 January 2014
Wednesday, 5 February 2014
Wednesday, 12 February 2014
Registration from 17h00. Start at 18h00. Cut-off at 19h00.
Where
All four events take place at Delta Park. Use the entrance and parking off Pitcairn Road (intersection with Penelope Avenue). The events all take place within Delta Park and the courses do not go not outside of the park's fence nor on the surrounding roads.
Who?
Anyone and everyone is invited. Young, old, fit and unfit, walkers and runners. There's no defined course or distance as you choose your own route so this event really is suited to everyone. Perfect for folks to do with their children too. Participate on your own or in a pair.
Entries
Entry fee is R40.00 per person (pre-entry). Pre-enter onorienteeringonline.net (register as a user first – see below).
Pre-enter for Wednesday, 22 January 2014
Pre-enter for Wednesday, 29 January 2014
Pre-enter for Wednesday, 5 February 2014
Pre-enter for Wednesday, 12 February 2014
Payment due on the day. Pre-entries close at noon on the Tuesday before each event. This pre-entry process helps us to know how many people are coming and thus how many maps to print.
R50 for on-the-day entries *
* Sure, we'll have a few extra maps on hand but if you don't pre-register you stand the risk of rocking up and there being no more maps for you.
Contacts
Direct any questions to:
Lisa: 082 936 2509