Posted: November 28, 2014
Shongweni – The colourful characters amidst the massive field set to take on this year's STIHL Sharks Trail Adventure are major contributors to the day's unique festive atmosphere however few could be more enthusiastic and energetic than last year's 18km trail run runner-up Owen Bengo.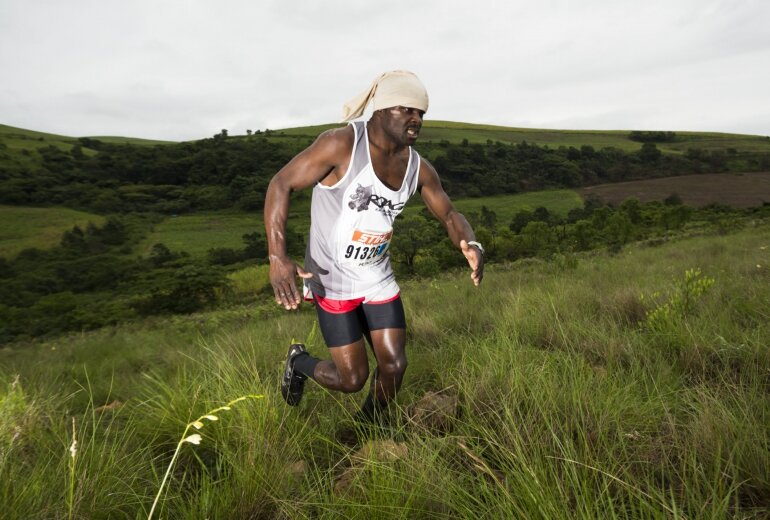 Anthony Grote/ Gameplan Media
Bengo was pipped to the post by Andrew Erasmus is 2013's showdown and the exuberant 36 year-old Malawian is adamant his return this year will see him go one better on Sunday 7 December at Summerveld Estate in Shongweni.
"I have unfinished business with the Sharks Trail Adventure, that's for sure!" Bengo chuckles.
"I got ahead of the leader on the last hill last year and then just as I was about to cross the finish line, the other guy (Erasmus) came from nowhere and passed me.
"I'm not going to let that happen again this year. This year I'm going to win!" he oozes with typical East African flair and enthusiasm.
Bengo arrived in South Africa in 2008 in search of work and having not been a runner previously.
"In 2010 my employer and his family were going on holiday to Australia and so they asked me to run with their dog for the three weeks that they were overseas.
"The agreement was that if I did so then they would by me a pair of running shoes, which they did when they got back.
"Soon after that I entered my first race, where I came 18th and that was extremely pleasing for me!
Since his running debut, the charismatic Bengo has left his mark on multiple events through KwaZulu-Natal however the bubbly character is determined stand on the top step of the podium at this year's Sharks Trail Adventure.
"I have been in the top three ever since my first race and I really want to win the Sharks Trail Adventure this year!
"It is such an awesome race; everybody is there so it's a huge field, the Sharks players are there and last year the big Nelson Mandela picture was really special.
"It's such a great race and I don't only go there to run but to enjoy the whole day," says Bengo.
The picturesque Summerveld Estate is the venue for the start and finish of the race with participants tasked with the numerous twists and turns, climbs and descents of the Shongweni region, something Bengo feels isn't necessarily a strength of his but something he is well prepared for.
"I have been training hard at home in Pietermaritzburg for the past couple of months and running a lot of events.
"I'm not too good on the hills but I did the King of Phezulu race in Botha's Hill a couple of weeks ago and that race's hills are tough, very tough. Three times tougher than those at the Sharks Trail Adventure so I definitely think I'm well prepared," exudes Bengo who is without a sponsor and hopes his regular good results will aid in his endeavours.
The event offers runners the option of either the 18km or 9km races by foot or, for the cycling enthusiasts looking for one final hit-out for the year, there are the 40km Half Marathon, 20km Intermediate, 10km Family Ride and the Sharkie Kids Ride mountain biking events.
The 2014 STIHL Sharks Trail Adventure takes place at Summerveld Estate, Shongweni on Sunday 7 December. Entries can be submitted via www.roag.co.za and more information is available at www.sharkstrailadventure.co.za