Words & Photos: Kevin Sawyer, www.kevinsawyer.co.za
A group of adventurous mates and I recently hiked the Primitive Wilderness Trail, located within the boundaries of the Hluhluwe-iMfolozi Park, a wilderness area that covers some 30,000 hectares of the park's 66,000 hectares. This trail is aimed at outdoor enthusiasts who want to combine a true wilderness experience with backpacking through the bush and sleeping out under the stars - and this is exactly what it delivers.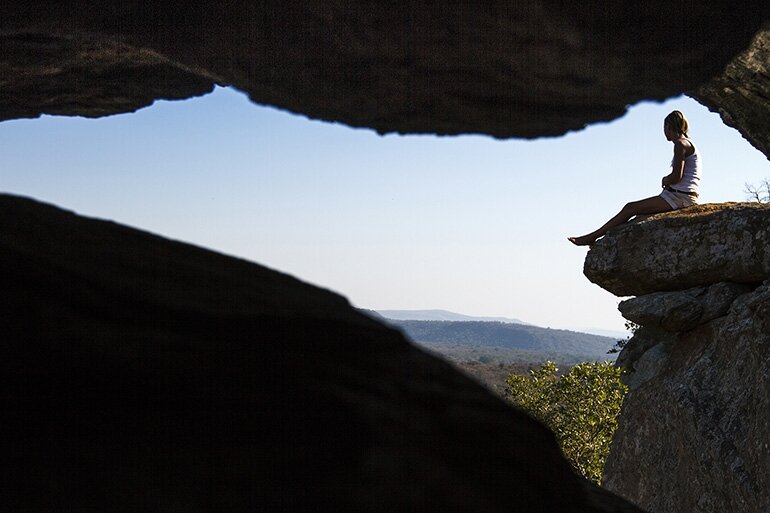 Photo credit: Kevin Sawyer, www.kevinsawyer.co.za
We had two field rangers accompanying us on the hike, which was done over five days. Although there is no set trail to follow, the field rangers used their in-depth knowledge of the area and judgment to determine the best 'route' that would provide the most valuable experience possible for us trailists. There were no time constraints or pressure, so once we had gathered our equipment and food each morning, we leisurely set off into the wilderness for an approximately 7-9 km hike, following animal paths and the river. As we hiked, the field guides shared their vast knowledge and experiences about the surrounding areas and animals in the reserve with us, and the kilometres eased by quickly and easily.
Although the chances of seeing the Big Five in iMfolozi are good, this is not the main aim of a trail. The focus is to introduce trailists to the concept of exploring and education of the wilderness area and everything within it, rather than tracking and sighting animals. The area is incredibly beautiful, with an abundance of interesting fauna and flora and breathtaking views from high cliffs, which are cut through by the White Umfolozi River.
All four nights were spent out in the bush, camping under the glittering stars and next to a small fire. Each day, a different campsite was carefully chosen by the field guides, as camping in the wilderness area follows an extremely strict minimum-impact and no-trace ethic.
After a full day out in the reserve, there were certain responsibilities that came with living in the bush. Each of us would collect a few pieces of firewood for the fire that night, which was not just to keep us warm as the light faded and temperature dropped but to keep the many animals that came out at night away. On our first night in the bush, while camping alongside the river on a big rocky ridge, we could see hyenas moving slowly across the opposite river bank. We would also help set up the camp while the field guides prepared a fire and cooked our evening meal.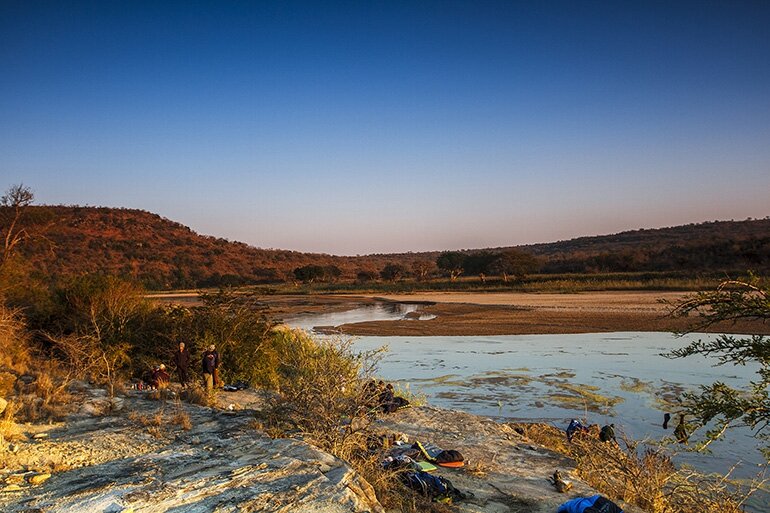 Photo credit: Kevin Sawyer, www.kevinsawyer.co.za
Sitting round a roaring fire and eating our dinner, we could hear the sounds of the bush come alive. Out in the open and with total darkness surrounding us, it sometimes felt like we were being watched and that's when my imagination took over and shadows became hungry predators just waiting to pounce. The fire definitely helped to calm the nerves and so did the entertaining stories the field guides shared with us about their bush experiences. Soon, animated conversation and laughter took over the camp and I would forget that we were surrounded by wild animals, vulnerable and needed to stay alert.
However, the nerves returned when everyone went to bed and my turn for the night shift was about to begin. Hourly shifts throughout the night were appointed to each member on the trail, to keep watch over the camp and maintain a small fire that would deter any animals approaching or getting too close. The shifts also served to enable us to embrace silence and solitude, qualities that are difficult to experience in today's world.
The highlight of the trail for me was definitely our first morning. One of my friends had heard a commotion in the bush across the river during his shift the night before, so after our morning cup of coffee we all crossed the river to find out what had happened. To our great surprise, we discovered a half-eaten female kudu carcass not too far from our campsite. This created a lot of excitement amongst us as we also wanted to share in this feast, provided by one of Africa's top predators. There was enough meat on the carcass to cut two large fillets, which we cleaned and packed in bags for dinner that evening.
If you love the bush and don't mind basic living, then this trail is a must do. Not only is it food for the soul, it reinforces just how important it is to preserve the wilderness so that future generations can also experience the wonders of nature.
More information
For more information on the trail, visit: www.kznwildlife.com
Tips:
• Pack light (you never use all the clothing items you think you will), but pack warm, especially in winter and never underestimate the cold.
• A good sleeping bag is a must.
• Pack extra socks, good foot care is important. Crossing the river is a daily activity and wet socks are not cool.
• A good torch or head torch is essential for your night shift.
• If you don't like your legs getting scratched up, take long pants or Gators.
• Always have space in your bag for snacks.
Items in my bag:
• First Ascent base layer full length thermals
• K-way water-resistant hiking pants
• Salomon X mid-layer jacket
• Salomon outer shell journey jacket (tech)
• Salomon beanie
• Buff
• Salomon Speedcross 3 trail shoes
• Falke double-layer hiking socks
• LED Lenser headlamp (220 lumens)
• K-way self-inflating sleeping mattress
• Sleeping bag (-7 to +15 degrees)
• Gas cooker with coffee steamer pot (essential for my personal survival)
Camera gear used:
• Canon Eos 7D
• Canon 16-35 mm f2.8 II USM
• Manfrotto Lightweight Carbon Fibre 3-section tripod
• Various ND graduated filters
Best time to go:
In my opinion, July/August (during winter), when the bush is not overgrown and dense. I also prefer the cold weather.