Posted: November 28, 2014
Words: Take Note Reputation Management
Even though 2015 approaches and the world is far more sensitive to gender equality than it was just over 30 years ago when Game Lodges first started to emerge as viable tourist enterprises in South Africa, guiding still largely remains the domain of males. The stereotypical khaki clad male with epaulettes, spinning stories of adventure, while sitting around the fire in the Boma, after the evening Game Drive. Well this is no longer the case and there are many examples of females that have chosen guiding as a career and have achieved significant success.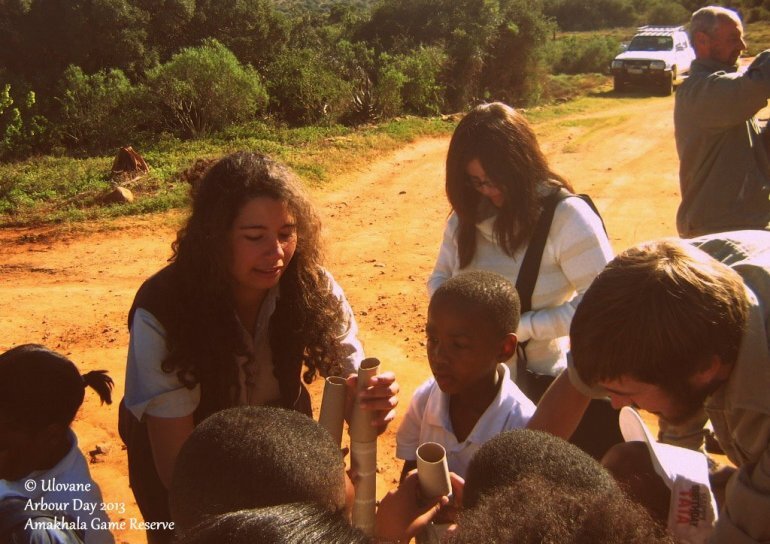 Courtesy of: Take Note Reputation Management
A good example is Tamara Hoskins-Abrahall (T.H-A). Although she was already associated with wildlife as the camp manager for a Private Camp in the Northern Serengeti, Tamara decided to move from lodge operations into guiding. After some research and recommendations from friends and colleagues, Tamara chose Ulovane Environmental Training, set in the heart of the Amakhala Game Reserve in the Eastern Cape. "Ulovane did not highlight any gender biased issues, as some of the other establishments did on their websites," says Tamara, "in fact there was no mention that a certain gender would be better suited to any course they offered, but that EVERYONE who was dedicated enough would succeed." 
Tamara completed the Field Guide Level 1, Trails Guide Level 1, Marine Guide Level 1 and track and sign courses. We asked Tamara to share some of her experiences with us:
Q: Can you describe the toughest moments at Ulovane and how you endured them.
T.H-A: "Trails Guide would have been one of the toughest moments for me, as well as the most enjoyable. I love walking in the bush, but it was the realisation of the responsibility that you have when you are not in the safe confines of a vehicle, but rather on foot pushing boundaries with the wildlife. Not only is it your responsibility to your guest, but to the wildlife. It was difficult tuning back into my primary senses, which we no longer use in our everyday lives and maintaining that alertness for hours on end. I had also never fired a firearm before, so that was a difficult obstacle for me, as well as very emotional because its significance is enormous, as is the responsibility. Again, I learnt a lot from it, particularly how far I can push myself and more particularly when to say, no, I can't but it is ok."
Q: Was there a defining moment for you at Ulovane and if so can you describe it.
T.H-A: "There were many defining moments for me, but if I had to choose one, it would have been "me" time (24 hours alone in the bush). We were all allowed to choose any spot on the reserve and camp there for 24 hours alone, with the bare minimum. During those 24 hours I experienced every emotion, from fear to despair, to peace and certain amount of comedy. Most importantly, it showed what I was capable of, where I needed to improve and what skills I had obtained from Ulovane. Then the significant realisation and confirmation of my dedication and will to pursue a career in the bush. Another moment was when we darted Black rhino and I got to hug it... I don't think many people get to do that in their lifetime, but Ulovane gave me the chance to do that."
Q: What are you most passionate about and why?
T.H-A: "Teaching. I love to share what I know with people both tourists and fellow guides. I particularly enjoy teaching younger kids things about the wildlife that they have on their doorsteps. I am passionate about birding, botany, wild flowers and medicinal uses. A reward for me is sitting in the bush and watching people who are unfamiliar with their surroundings adapt and change, then to see them acknowledge something ordinary change into something extraordinary!
Tamara's favourite animal is the elephant as she admires their family values, their respect for one another and their resourcefulness. "I am still in awe as to how such an enormous animal can blend right back into its surroundings and even at times disappear for months on end. In the present day with all the poaching happening around Africa, Elephants have yet to be seen to give up their struggle to survive," says Tamara.
Tamara has recently started up her own guiding company in Tanzania with the intention to encourage and promote Woman Guides.
Another example of a change of career and then success is Melissa Verschoor (MV). Melissa, a qualified veterinarian nurse, who was managing a pet shop. She enjoyed the responsibility of managing the business, but missed the outdoors and this prompted her to seek an alternative. She applied to a number of training establishments but liked the personal response that she received from Ulovane.
Q: Was there a defining moment for you at Ulovane and if so can you describe it.
MV: "One of my most memorable moments at Ulovane was during the marine course. We had a house on the beach where the roof was a veranda looking over the dunes. Schalk (owner/trainer) shouted Dolphins! I jumped into my wetsuit and ran to the sea with one of the other students. He was going to stand on the beach and point out where the dolphins were. After quite some time, I got through the break and looked up to my buddy for directions as to where the dolphins were, but he couldn't see them anymore. I was very disappointed and preparing to swim back, when all of a sudden I heard the clicking sound that dolphins make.
When I looked down the dolphins were swimming all around me and watching me. I got the opportunity to swim with them for a couple of minutes then they moved off and I swam back to the beach.
This was just one of many amazing moments during the course at Ulovane, there were so many more. The sleep outs on the reserve, following elephants on foot, watching lions mating and many, many, many more beautiful memories!"
Q: Are there career opportunities for females in the wildlife industry?
MV: "I think it is not a matter of gender in the guiding industry, but a passion for wildlife and the area you are guiding in. It is also the ability to translate this passion to your guests to make them understand the wonder of nature. If we can convince our guests to participate in preserving nature so that the beauty of it will be preserved for future generations. Passion is the most important factor in this industry. Without passion for what you do, you will never be able to give a good guided experience."
Q: What is your favourite animal and why?
MV: "Nudibranch, there are so many different species out there I think half of them aren't even discovered."
Melissa's passion is marine life: "You are always told through the media how badly it is going with large animals like Rhinos and Tigers, but we are not kept informed on the status of life in the sea." This is why Melissa enjoys sharing the ocean with her guests and educating them in terms of how we should look after our oceans. Melissa is currently living her dream, working in Madagascar as a marine guide and lodge manager. 
"Some of the qualities that are required to make an exceptional guide, include, dedication, passion, tolerance and commitment" says Schalk Pretorius, Ulovane Owner/Trainer. "While the focus of our courses is to qualify guides for a career in tourism, we are open to people from all walks of life from around the world.  In some cases attendance at Ulovane has proven to be life changing for the participant," says Candice Pretorius who head up the Marketing and Recruitment at Ulovane.