Words & Photos: Chris Hitchcock
Leaders in the cycling industry will tell you that South Africans spend more money per capita on cycling than any other nation on earth. Yes, we South Africans have a love affair with our bikes and the outdoors.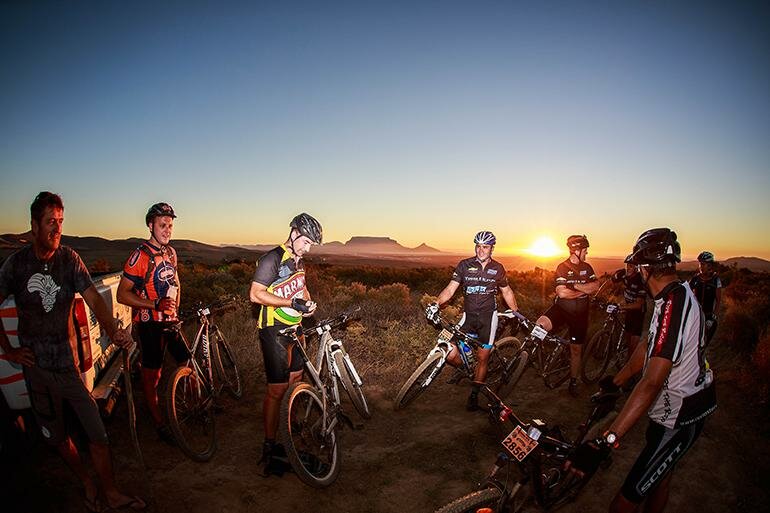 Photo credit: Chris Hitchcock
More and more we are hearing the maxim that cycling, and more specifically mountain biking, is the new golf. Deals are being done, it is said, on the side of a mountain in clouds of dust and streams of sweat, rather than from behind the comfort of a cold beer at the 19th hole.
The recent acquisition of Cycle Lab, the largest chain of cycling stores in the country, by the More Golf group, in what is touted as one of the largest deals in the South African retail sports sector in years, would certainly bear witness to this claim.
Mountain biking, it seems, is gaining legitimacy in the boardroom. Luckily, that doesn't make it unaffordable to the average Joe. Sure, a top end mountain bike can set you back silly money, in some cases more than a small car, but it doesn't have to. For R10K you can get kitted out with a decent enough bike and have enough left over for other necessary kit that will see you right for a good few years. Nobody is going to laugh at you or ridicule your bike. Mountain bikers are friendly, welcoming folk.
After the capital outlay of a bike and protective clothing, it is savings all the way. Compare the average trail fee for mountain biking of between R30 and R40 per day, with the average green fees at one of the 25 golf courses in Cape Town of R369 per round and you will start scoring straight away.
Let's be honest about this. If you had to make a choice between golf or mountain biking based purely on the financial aspects, then mountain biking would win every time. You can pay R575 for one round of golf at a top Cape Town golf club, or for the same money get a one-year subscription to the Tygerberg Mountain Bike Club. That subscription allows free, year-round access to all of the club's amazing single-track trails that are spread over prime farmland in the Tygerberg region of Cape Town.
The Tygerberg Mountain Bike Club was established in the mid 1990s by a bunch of like-minded individuals who were desperate to have somewhere to ride. Riding bicycles on mountain trails was in its infancy in those dark old days and quality single track was very scarce. These riders banded together in an effort to secure some land to build on and as a collective voice, they convinced landowners to open up their hills and then they used their combined labour and finances to build trails on them. These guys were true trailblazers, leading the way for all of us who now ride the trails. And not only that, they did it by using their own labour and money.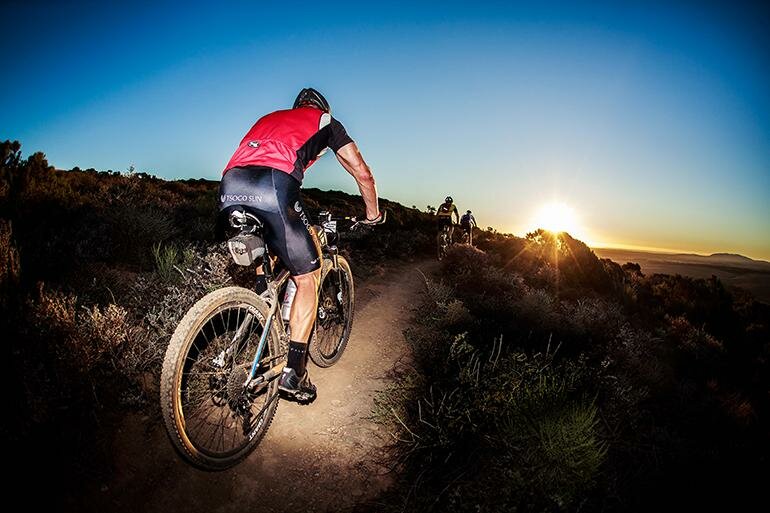 Photo credit: Chris Hitchcock
Fast forward to 2014 and the club now has upward of 3,500 members, a permanently employed trail manager and it is well on its way to achieving its goal of building and maintaining 120km of the most pristine single track you will find in South Africa. There are trails for every level of rider, from rank beginner to experienced trail warrior, with the club offering regular 'newbie' rides and once-a-week, organised night rides (with amazing boerie rolls). The club's trails are used by the Cape Epic as the prologue stage for their annual eight-day extravaganza of mountain biking, and some of the land owners are now enthusiastic bikers themselves.
So what better way to spend a Saturday morning than riding the 'Stairway To Heaven' at Meerendal Wine Farm, spotting buzzards and caracal in the wild from the top of 'Dorstberg' and then wandering around the farmer's market before hitting the restaurant for a well-earned coffee and brunch. You can do it with your family or with your friends, but the point is that thanks to the efforts of those early trail visionaries, you can do it and we should all be very grateful to them.
As my dear old Dad would say, "You can't beat that with a big stick."
More information:
For more information on Tygerberg Mountain Bike Club, visit www.tygerbergmtb.co.za