Posted: September 19, 2013
Words: Jose Jardim & Scott Niccolls ǀ Photos: Scott Niccolls
Spectators filled the Big Top Arena at Carnival City on 21 September 2013 for EFC 23, which promised to be one of the best events to date. With not one but two championship titles on the line, everyone knew they were in for an action-packed evening.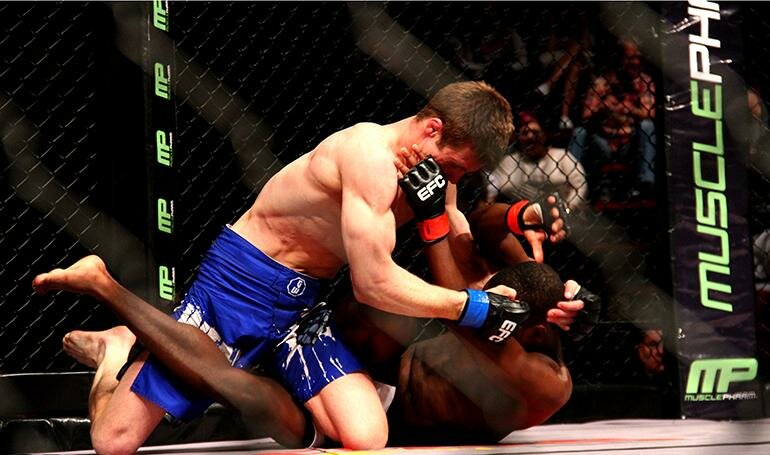 Fight 1: FEATHERWEIGHT - Kanyeba Anicet vs. Nelson Feiteira
Nelson went for the takedown early on, but failed. His second attempt was successful and the fight went to ground. With Nelson holding onto Kanyeba's leg, he managed to flip his opponent, while receiving hits, to lock a submission in the first round.
Result: Nelson Feiteira wins with an ankle lock submission.
Fight 2: BANTAMWEIGHT - Pierre Botha vs. Baldwin Mdlalose
Pierre attempted a takedown early in the fight, only to succeed on his second attempt. With Baldwin's corner telling him to protect his ribs, Pierre went for another takedown, but only managed to grab one leg. Baldwin unleashed a super kick, but missed and as a result, the fight went to ground. Although Baldwin finally managed to get Pierre in an arm lock, Pierre refused to give up, showing great courage, and managed to submit to clinch the win.
Results: Pierre Botha wins by arm triangle submission.
Fight 3: MIDDLEWEIGHT - Dricus du Plessis vs. Bruno Mukulu
A huge body kick by Dricus opened the account for the first hit of the fight. He then followed it up with a leg kick, but it was counter punched by Bruno, resulting in the fight going to ground. While grappling, Bruno's corner was shouting for a submission, but Dricus managed to resist and executed his submission, leaving Bruno with no option but to tap out in the end.
Result: Dricus du Plessis by Rear naked choke submission.
Fight 4: FEATHERWEIGHT - Peter Nyide vs. Hanru Botha
A successful takedown by Hanru saw the fight get off to an exciting start. After flying through various grappling positions, neither fighter was able to take the advantage in the first round. The second round kicked off with Hanru once again landing the takedown, but Peter used his power to get up. However, he lacked endurance and fell back to the ground, pulling Hanru down with him. Hanru's fans could be heard shouting for the ref to make the fighters stand up, but the bell went, signalling the end of the round. The third round started with Peter landing a hard right, which forced Hanru to grapple and reset his position on the ground, but he showed great hexagon control.
Result: Hanru Botha wins by a split decision.
Fight 5: BANTAMWEIGHT - Francois Groenewald vs. Craig Ninow
The bout began with both fighters exchanging punches and kicks in a stand-up battle. Craig landed a punishing punch to take the fight to the ground. The first round ended with Francois using his weight to try and tire out Craig. In the second round, the fight immediately went to ground. Francois landed a few elbows, however, both fighters countered well. Craig resorted to using his power to pick the fight up, only to have Francois land a beautiful but devastating sweep and take the fight to ground. The third round saw a well-placed uppercut by Craig, but Francois grabbed Craig's head and they went to ground once more. Francois then used his body weight to get behind Craig to execute his submission.
Results: Francois Groenewald wins by rear naked choke submission.
Fight 6: HEAVYWEIGHT - Roloef Scheepers vs. Brendon Groenewald
Roloef looking confident and landed body kicks early, followed by a colossal superman punch. Brendon countered by landing some straight solid punches and a successful takedown. While grappling, Brendon landed huge body shots to Roloef's gut and head. Brendon then managed to position himself behind his inexperienced opponent, to forward his submission.
Results: Brendon Groenewald wins by rear naked choke submission.
Fight 7: LIGHTWEIGHT - Johan van Staden vs. Sibusiso Mdoko
Johan connected an uppercut and after a bit of stand up, he landed the takedown. Going into half guard, he kneed Sibusiso's body, but Sibusiso managed to get on top and land powerful ground and pound punches to Johan's body and face. The second round started off with Sibusiso throwing a big body punch to force the fight to ground, but Johan was unable to regain control. In the third round, Johan landed the takedown, but was still unable to gain control of the fight. Sensing victory, Sibusiso released all his power to get behind and perform a sneaky submission.
Results: Sibusiso Mdoko wins by rear naked choke submission.
Fight 8: LIGHTWEIGHT - Alexander Cheboub vs. Khalil Akleker
Both fighters exchanged blows, but Khalil got the takedown. Alexander showed great submission defence, as an arm bar submission looked certain for Khalil. With Alexander in the full guard position, he dished out some nasty punches to the face and body of Khalil. The second round saw Alexander almost land a spinning back kick. The fight went to ground and the ref had to ask for a standing restart. Once that happened, Alexander landed a massive kick, taking control in half guard. In the third round, Cheboub was looking very confident. After a successful takedown, Alexander proved to be too much when he out worked his opponent.
WINNER: Alexander Cheboub wins by split decision.
Fight 9: HEAVEYWEIGHT - Wilhelm Strauss vs. Vandam Mbuyi
Wilhelm looked eager to get the fight started when he entered the hexagon, and with a face of stone, he was looking to win by K.O. As Wilhelm released a powerful leg kick, Vandam landed an even more powerful punch that rocked Wilhelm and looked like his nose had been broken. Vandam finished the fight with a massive right hand to Wilhelm's head, effectively knocking him to the canvas to end this titanic bout.
Results: Vandam Mbuyi wins by K.O.
Fight 10: WELTERWEIGHT - Martin van Staden vs. Henry Fadipe
Anticipation reached an all time high as this fight had been cancelled at EFC 22. Both fighters were finally getting the opportunity to go head-to-head. The bout got under way with Martin looking to control, due to his boxing background and in-your-face stand up. Henry, the underdog, landed a hard right that left Martin grappling his opponent to execute the takedown. Once the fight went to ground, Henry's great ground and pound resulted in him being able to isolate Martin's leg, to perform the submission. It was all over for Martin, who was shouting out in pain while tapping out from the ankle lock from Henry.
Results: Henry Fadipe wins by ankle lock submission.
Fight 11: FEATHERWEIGHT - Boyd Allen vs. Wesley Hawkey
Wesley took control early by taking the fight to his opponent and landing a clean shot to the chin. Boyd countered well and then charged Wesley for the takedown, and succeeded; this is where his main attribute lies. The fight ended against the cage with Boyd getting in the half guard position and not allowing Hawkey any freedom. A well thought-out submission move from Boyd ended this short bout in the first round
Results: Boyd Allen wins by guillotine submission.
Fight 12: WELTERWEIGHT (Championship title fight) - Michiel Opperman vs. Dino Bagattin
The first round started with both fighters feeling each other out. Michiel then went for the takedown, but did not succeed, leaving both fighters in a stand up grapple mode. Michiel kept close, to make sure that Dino was unable to unleash his power. Dino was happy to let Opperman get to his feet and start a stand up bout, but even when he was on top, he was unable to take advantage. In the second round, Dino landed huge elbows, cutting Opperman's face. In round three, a drop by Michiel levelled Dino. But a kick on the ground by Dino forced the ref to call time out for Michiel. Dino controlled the fourth, landing solid jabs to the champ's chin. Dino showed great hexagon control and was out grinding Michiel in full guard control. The fifth and final round started off with Dino gaining control on the floor and showing great counter submission moves against Michiel's ground work. Throughout the fight, Dino did well to out work and out grind Michiel.
Results: Dino Bagattin wins by a split decision.
Fight 13: HEAVYWEIGHT (Championship title fight) - Andrew van Zyl vs. Sors Grobbelaar
Both fighters traded equally in the first round. With Andrew pushing Sors to the cage and going down early, he got into the full guard position very quickly. Andrew tried to work Sors early on with head shots. The second round started with Sors landing hard combos to Andrew's iron jaw, forcing the Heavyweight Champ to take the fight against the cage and bringing Sors down. Once on top, the champ showed why he's the best by combining solid hammer fists to finish Sors off.
Results: Andrew van Zyl wins by tap out due to strikes.
dinFO:
Look out for EFC 24, which takes place on 10 October 2013 for a big night of exciting fights. There will be a big grudge fight between Ruan Potts and Ricky Misholas, as well as two title fights; one between Jeremy Smith (the Middleweight title holder) and Garreth Mclellan, and the second between Demarte Pena (the Featherweight title) and Alain Ilunga. This is a night not to miss, so get your tickets now.
For more information on EFC, visit www.efcafrica.com
Follow this link for the gallery: http://www.doitnow.co.za/content/efc-africa-23-2013-gallery