Posted: December 12, 2013
Words: M & C Saachi Sport and Entertainment
The hotly anticipated EFC AFRICA 26 weigh-in took place at the Coca-Cola Dome this afternoon, featuring all 26 athletes competing in 2013's final event tomorrow night. Heavyweight champion Andrew van Zyl made his intentions abundantly clear with a pulsating stare down at challenger Ruan Potts. All athletes sported black armbands in honour of the late Nelson Mandela, Africa's greatest warrior of all.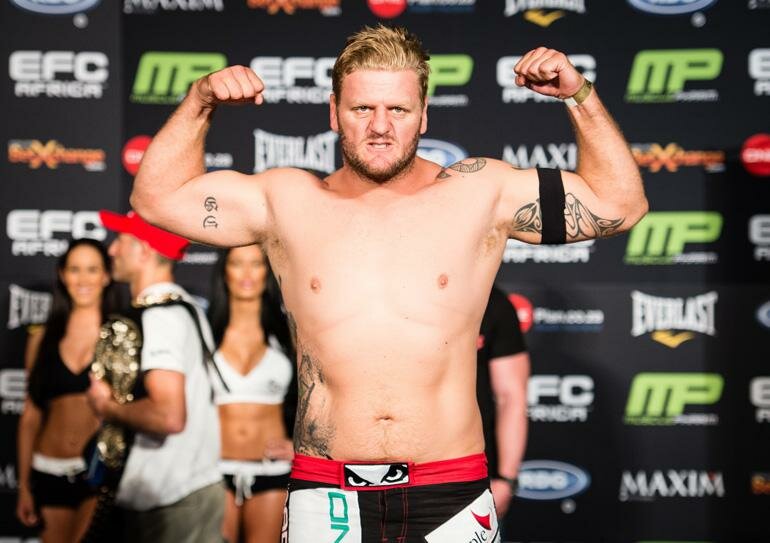 Returning to the iconic Coca-Cola Dome venue for the first time in two years, fight fans cheered as each athlete hit the scale, and looked on as pockets of drama played out.
Anticipation hit fever pitch during the wait for the heavyweight champion and challenger to emerge, the crowd pumped further by the promo video played before.
"If Ruan doesn't knock me out I'm going to drag him into the deep water, and drown him there," stated the champion.
"I'm fitter than him, I'm faster than him, I'm stronger than him, and I'm taking my belt," the challenger replied.
Themba Gorimbo, appearing in tomorrow night's fourth bout, was fired up. He roared at the crowd before near sprinting his way to his opponent and their face off. Crowd favourite Sibusiso Mdoku stepped onto the scale wearing his signature shades before he and opponent Pietie Coxen clashed heads in a clear forewarning of a storm to come.
The highly anticipated bantamweight bout between local legend Matt Buirksi and Durban's bad boy Abdul Hassan, cutting to the lightest division for the first time, was another favorite with both big men hitting their mark superbly.
Nigeria's Irishman, Henry Fadipe, born in Lagos but raised in Dublin, hit the crowd with a curveball when he took to the stage wearing a red devil mask, which he only removed to give opponent Michiel Opperman an icy stare when they finally faced each other.
Two athletes did not make weight. Johan van Staden registered a whopping 2.35kg's over the 70kg lightweight limit. He has suffered a purse deduction which transfers to his opponent's camp. Alain Ilunga was 350kg heavy, an amount that was waived by his opponent Peter Nyide.
EFC AFRICA 26 Weigh-in results were as follows:
Bout 1 : Bantamweight bout
Baldwin Mdlalose 60.85kg
Cedric Doyle 61.00kg
Bout 2 : Featherweight bout
Nelson Feiteira 65.50kg
Mbulelo Swekile 65.60kg
Bout 3 : Welterweight bout
Chimmy van Winkle 76.95kg
Themba Gorimbo 74.90kg
Bout 4 : Lightweight bout
Pietie Coxen 70.00kg
Sibusiso Mdoku 69.85kg
Bout 5 : Featherweight bout
Kanyeba Anicet 66.00kg
Hanru Botha 65.80kg
Bout 6 : Lightweight bout
Johan van Staden 72.35kg
Ague Kabesa 70.00kg
Bout 7 : Catch middleweight bout (80kg)
Wade Henderson 79.70kg
Bruno Mukulu 79.05kg
Bout 8 : Bantamweight bout
Donnovan Wilken 61.00kg
Francois Groenewald 60.85kg
Bout 9 : Featherweight bout
Peter Nyide 65.70kg
Alain Ilunga 66.35kg
Bout 10 : Bantamweight bout
Abdul Hassan 60.50kg
Matthew Buirski 60.90kg
Bout 11 : Middleweight bout
Jason Culverwell 83.00kg
Liam Cleland 83.55kg
Bout 12 : Welterweight bout
Henry Fadipe 77.00kg
Michiel Opperman 76.90kg
Bout 13: Heavyweight championship bout
Ruan Potts 111.30kg
Andrew van Zyl 118.10kg
EFC AFRICA Heavyweight Championship
ANDREW VAN ZYL VS. RUAN POTTS
MICHIEL OPPERMAN vs. HENRY FADIPE
LIAM CLELAND vs. JASON CULVERWELL
MATTHEW BUIRSKI vs. ABDUL HASSAN
ALAIN ILUNGA vs. PETER NYIDE
FRANCOIS GROENEWALD vs. DONNOVAN WILKEN
BRUNO MUKULU vs. WADE HENDERSON
IGEU KABESA vs. JOHAN VAN STADEN
HANRU BOTHA vs. KANYEBA ANICET
SIBUSISO MDOKU vs. PIETIE COXEN
THEMBA GORIMBO vs. CHIMMY VAN WINKLE
MBULELO SWEKILE VS. NELSON FEITEIRA
CEDRIC DOYLE vs. BALDWIN MDLALOSE
About EFC AFRICA
EFC AFRICA returns to the Coca-Cola Dome, Johannesburg, for EFC AFRICA 26, presented by MusclePharm, on Thursday 12 December. Tickets on sale now at computicket.com. Stream the entire event live, in HD, at efcafrica.tv
Broadcast information and full fight card available at efcafrica.com
About EFC AFRICA™ – The Extreme Fighting Championship™
Headquartered in Johannesburg, South Africa, EFC AFRICA™ now produces 10 live Mixed Martial Arts (MMA) events annually, all hosted on the African continent. With over 100 athletes exclusively contracted to the organisation from across Africa (Angola, DRC, Nigeria, Egypt, South Africa and more), EFC AFRICA is the continent's leading MMA organisation and showcases the greatest warriors on the continent.
EFC AFRICA™ events are broadcast to over 110 countries across the globe in multiple languages. The live broadcast is available to over 130 million homes across Africa on SUPERSPORT, the continent's largest sport network, as well as in the USA, Canada and the Caribbean on FIGHT NOW! TV, America's only 24-hour combat sports and entertainment channel. Live broadcasts of every event are also available throughout the Middle East and North Africa on Abu Dhabi TV and across Romania on free to air broadcaster Transilvania L!VE.
The best bouts from every EFC AFRICA™ event fill up action-packed television episodes broadcast to 50 million homes in the USA on the CSI SPORTS network, throughout Europe and the Middle East on EXTREME SPORTS CHANNEL and across Canada on FIGHT NETWORK as well as in Africa on SUPERSPORT.