Words & Photos: Xen & Adri Ludick
When it comes to amazing wilderness areas, Africa is blessed to have numerous scattered across her continent. We recently had the opportunity to visit two extraordinary places in Botswana, the Moremi Game Reserve and Chobe National Park. This was our first trip to the area and everything we had read about lived up to our expectations and confirmed what all the articles had reported on.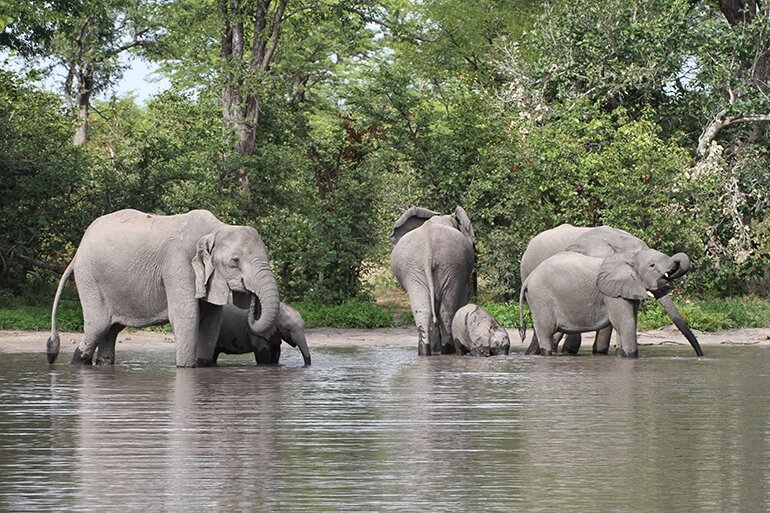 Photo credit: Xen & Adri Ludick
Moremi Game Reserve is situated in the central and eastern areas of the Okavango. Although not one of the largest parks, Moremi is a stunning montage of lily-covered wetlands, sparkling floodplains, open grassland and dappled forests. This all makes for one of Africa's finest wildlife areas and attracts nearly 500 species of bird (from water birds to forest dwellers), many migratory and some endangered. Both black and white rhino have been reintroduced, making the reserve a 'Big Five' destination.
We started our trip to the Moremi Game Reserve at the Audi Tented Camp just outside Maun, in Botswana. After a good night's sleep, we set off early the next morning for South Gate, situated at the southern entrance to Moremi, with the intention of overnighting at Third Bridge. Prior to the start of our trip, we'd heard about the flooding and stories of deep water channels and were advised to take the route via the Kudu Flats and Xakanaxa to Third Bridge. However, Audi Tented Camp's staff told us it was safe to travel via the First and Second Bridge. We were so happy that we took this route because we saw herds of elephant, giraffes, zebras and impalas grazing contentedly as we passed by.
Not really knowing what to expect at Third Bridge, we had booked campsite 6. Next time we will definitely ask for either stand 2 or 8, as our campsite was right at the entrance and a popular meeting place for the game rangers to stop and have a chat over their very early morning coffee.
The next day we did the Mboma Island loop. This road takes you past the varying landscapes of savanna, swamp and mopane vegetation, and is where we saw buffalo, zebra, giraffe, impala, elephant, and warthogs, as well as birds such as egrets, herons, ibis, ducks, and geese. The road was very overgrown, with many sharp bends, and as we were going around a tight bend we almost ran into an elephant. Not happy about the interruption, we had to beat a hasty retreat to get away from the ear-flapping, storming young elephant. I was relieved when we were in the open again and had left the elephant behind. There was still more excitement in store for us that evening when we saw an African wild cat at the ablutions, but it scuttled passed us and into the surrounding bush.
The next day we travelled over Third Bridge, crossing a plain filled with many animals and birds, to Fourth Bridge. From there, we took the dry route to Xakanaxa, which is located in one of the most beautiful areas of the Okavango Delta. Here, the mopane forests meet a patchwork of deep waterways and shallow flooded areas; it's unforgettably beautiful, packed with game and the area's birdlife is varied.
Although the winding road through the forest was tiring, a large herd of elephants with a few small ones made it all worthwhile. However, the Xakanaxa Campsite didn't impress us as it was very open, but with more views over the swamps, while the shaded campsites at Third Bridge were more to our liking. Every night we heard lions and hyenas, and then on our last evening we heard a lion roar not 100 m away from us and 'the earth moved'.
On our way back to South Gate the next morning, we came upon six magnificent lions lounging in the road and enjoying the sun. They were so lazy that we had to travel through the veld to avoid them.
We refuelled in Maun before travelling back to the Khwai Community Campsite. This was the cleanest camp, with the friendliest staff, we have encountered so far in all our travels. We spent two relaxing days under the weeping willow trees reading, going on game drives and just enjoying nature. We visited the Khwai 'shopping centre', which stocks the bare necessities, wood and a small selection of alcohol. Although we enjoyed the shade of campsite 5, next time we will ask for campsite 3, as it overlooks the Khwai River and Bridge, or campsites 8, 9 or 10, which look out over the Khwai River and open plains.
We proceeded to Mogotlho Camp, in the Khwai Community Trust area, but to get there we had to negotiate a water channel. This was our first attempt at such a crossing, so I walked across first to determine the depth. Cautiously, Xen drove the Patrol through without any problems; another new experience to tick off our list. Arriving at the camp we discovered there were no ablutions, but you could select any of the available campsites. We were lucky to find campsite 2 unoccupied, which in our minds is one of the best sites as it overlooks the Khwai swamp area and a beautiful plain.
Not long after we'd settled under a tree, some elephants came grazing around us. At one stage, one elephant was not more than 20 m away from us; we'd never been so close to elephants without a fence. They were calm and beautiful to watch as they silently moved passed us, over the plain and into the swamps to quench their thirst.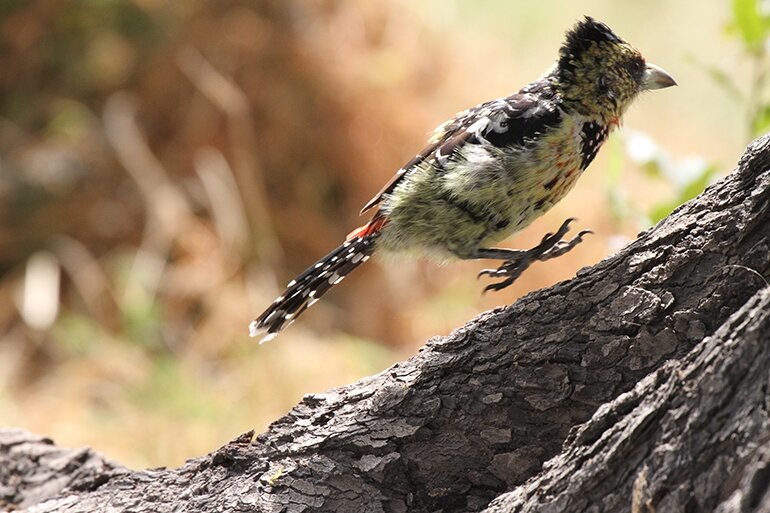 Photo credit: Xen & Adri Ludick
At night, we were treated to a symphony of the roar of lions, laughing hyenas and barking impalas. Even though we would've liked to stay longer, the road north and another adventure were calling.
Our next destination was Linyanti via Savuti. Nestled in the furthest corner of the Chobe National Park, Linyanti is described as the hidden gem of the Chobe. It is very secluded and uncrowded, yet its beauty is beyond words. This remote area consists of swamp, grasslands reminiscent of the Serengeti and vast tracts of sandy plains. The Savuti Linyanti is also the site of the annual zebra migration.
The road to Mababe Gate was terrible, however the stunning views from Leopard Rock and Twin Hills, close to Savuti, and the buffalo, giraffe, zebras, impalas, steenbok and two spotted hyenas we saw more than made up for the bad road.
After Savuti we had to negotiate a sand ridge road, which consisted of very thick sand. It took us about five hours to reach Linyanti Campsite, and what a wonderful surprise it was! We stayed at campsite 1, which overlooks the Linyanti River, swamps and far into the distance. To the west was Nkasa Rupara National Park (formerly Mamili) and to the north Namibia. At night, the hippos would come out of the river and graze a mere 10 m away from us. With nightjars serenading us at night and the hauntingly beautiful cry of fish eagles resonating throughout the day, this was paradise.
From Linyanti we travelled northeast towards Kasane via the Nogatsaa area. Kasane is situated on the banks of the Chobe River in the far north east of Botswana, close to Africa's 'Four Corners' junction - Botswana, Namibia, Zambia and Zimbabwe all meet up there. The area mainly consists of mopane trees, clay soil and an abundance of elephant pools. At one pool, we saw a group of elephants drinking water together and couldn't believe the amount of small baby elephants playing amongst them.
After stocking up on fuel and food, we travelled to Senyati Safari Camp, about 7 km outside Kazungula on the Nata Road. The camp is famous for its waterhole, as it attracts hundreds of elephant each day during the dry season, and each campsite has its own ablution block and open kitchen. From the comfort of our campsite, we delighted in the antics of several groups of elephants that came to drink water and roll in the mud pools.
Sadly, this portion of our travels came to an end, but the Nxai Pans and Kubu Island were calling… Until the next time, safe travels.