The Kgalagadi Transfrontier Park is a fusing of two parks, namely South Africa's Kalahari Gemsbok National Park and Botswana's Gemsbok National Park. The vastness of the Kgalagadi makes this one of the select few conservation areas of such magnitude left on the globe.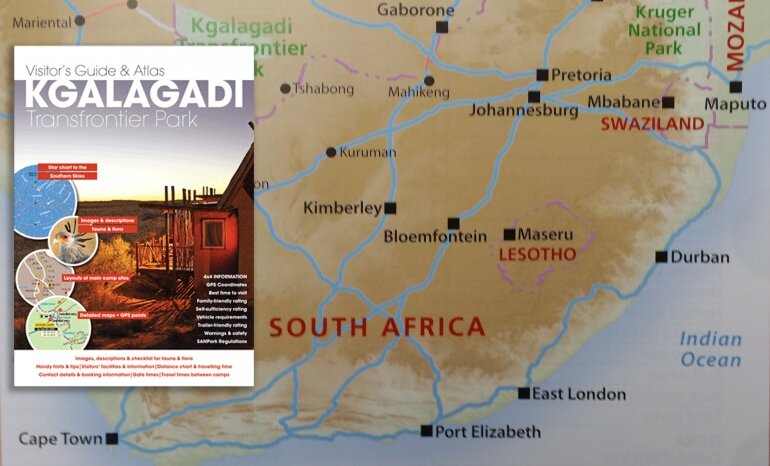 The park is characterised by high orange-red sand dunes rippling like a burnished sea. No permanent rivers have forged across this ancient landscape for thousands of years. The courses of two dry river beds, the Auob and Nossob, are testament to this.
The Visitor's Guide to Kgalagadi Transfrontier Park features an opening checklist and overview map, as well as a main map giving detailed information on the layouts of the main campsites, handy hints and tips, visitor's facilities and information, distance chart and travelling times, contact details and booking information, gate times and travel times between the various camps. There is interesting information about waterholes, points of interest and picnic sites. Included are positions of viewpoints, where fuel is available and where the best places are for taking great photographs. Images and descriptions of mammals, reptiles, birds and flora are detailed at the end.
There is also a great star gazing map of the Southern Skies – the clean air and lack of light and pollution makes it ideal for star gazing.
Content summary:
– Full-colour photographs
– Camp, museum and waterhole information in detail
– Accommodation options available
– Contact details
– Climate chart
– Overview map of the region
– Layout of main camp sites
– Over 100 images and descriptions of fauna and flora
– Checklist of fauna and flora
– Handy hints and tips
– Facilities and info
– Distance chart and travelling times
– Gate times
– 4WD specific information
– GPS points
– Best times to visit
– Family friendly rating
– Trailer-friendly rating
– SANParks regulations
This is a must have for any traveller who wishes to visit the Kgalagadi Transfrontier Park an amazing and beautiful part of our world.


COMPETITION
Three lucky readers can win a copy of MapStudio's Visitor's Guide & Atlas Kgalagadi Transfrontier Park, a handy checklist to discover the fauna and flora of this wonderful place and all you need to make the most out of your visit to the Kgalagadi. To enter, answer this easy question:
Q: Does this guide include 4WD specific information?
Email your answer to . The competition closes at midnight on Wednesday, 29 July and the winners will be drawn from all the correct entries received. Only one entry per person. DO IT NOW's competition rules apply.


More information
The book costs R60 and is available in stores nationwide and can also be purchased online from www.mapstudio.co.za or by calling 0860 10 50 50.