Posted: September 23, 2015
Bushmans Kloof Wilderness Reserve & Wellness Retreat will once again be presenting its popular three-night Family Fun package during the December school holidays. The ultimate natural playground at the foothills of the majestic Cederberg, here families will have plenty of time to bond with Mother Nature whilst exploring the reserve and taking part in an exciting round of activities and adventures.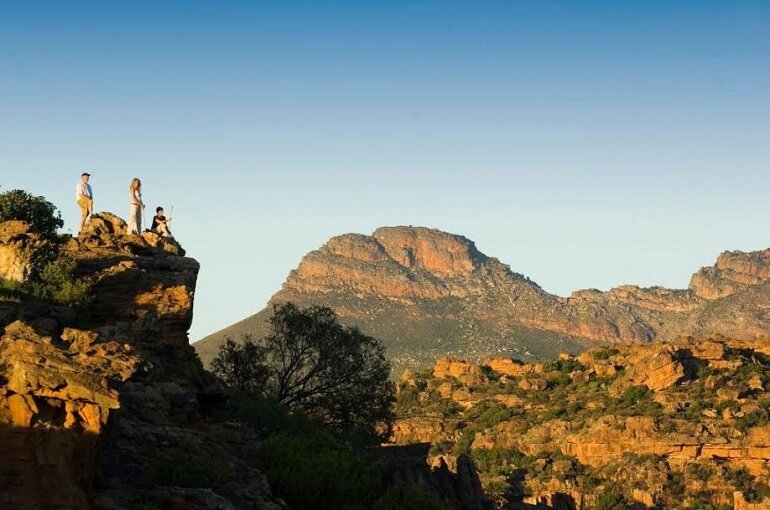 Located just 270km from Cape Town, this luxury ecological oasis offers a distinctive wilderness experience among wide open plains, ancient sandstone formations and crystal clear waterfalls. Family Fun events are geared for all generations to discover the wonders of the wilderness during fun excursions out in the reserve. These include nature drives and guided rock art walks, as well as hiking, fishing and biking. A children's programme supervised by trained guides includes a seemingly never-ending range of outdoor activities for young adventurers. Exciting kids' night walks, treasure hunts, spoor tracking and rock painting activities are sure to unleash their 'inner ranger', with table tennis, cricket and archery to keep even the most energetic happily engaged. Youngsters will enjoy early suppers with their new friends in a fun environment, while Mum and Dad up may spend some quality time together over a leisurely dinner at the Relais & Châteaux lodge's unique dining venues. A highlight of the programme, on the second night brave explorers have the option to camp out in the reserve before returning to the lodge where a special prize-giving and photo session ends off their stay on a memorable note.
Koro Lodge, a private villa on the reserve welcomes children of all ages all year round as the ideal family vacation. Koro sleeps up to four adults and four children and offers flexible accommodation options. Located some 2km from the main lodge, a stay at this stylish and comfortable converted farmhouse includes the services of a private chef, hostess and a guide with game viewing vehicle, and programmes can be tailored to suit each stay.
Bushmans Kloof Family Fun dates 2015
Thur 10 – Sun 13 Dec 2015
Sun 13 – Wed 16 Dec 2015
Adults pay R10 150 per person sharing for 3 nights; 6 – 12 Years R5865 per child for 3 nights; 3 – 5 Years R4925 per child for 3 nights, and kids under 2 stay for free. All meals and lodge activities are included in the rate.
Koro Lodge
Summer rates (1 September to 19 December 2015) at Koro Lodge are from R18 475 per villa per night for 3 nights, for up to four adults and four children sharing – including all meals, drinks and activities.
More information
For more information, visit www.bushmanskloof.co.za website
More about Bushmans Kloof Wilderness Reserve & Wellness Retreat
Bushmans Kloof is a luxurious ecological oasis of 18 533 acres (7500 hectare), situated at the foothills of the breathtaking Cederberg mountains. Here majestic views, staggering rock formations, open plains, invigorating outdoor activities, 16 luxurious rooms and suites, award-winning Cape cuisine and a wellness experience deeply rooted in Nature, all combine to create an unforgettable, luxury wilderness adventure. Koro Lodge, the private villa, provides a fully independently catered for experience for families and friends travelling together, which includes the services of a guide with game viewing vehicle, and a dedicated chef and hostess.
Less than three hours' drive from Cape Town, Bushmans Kloof is unequivocally recognised as a conservation success story, and was awarded the Relais & Châteaux Environment Trophy (2007), in recognition of its exceptional environmental and conservation projects. In 2009, it was the Global Winner of Wildlife Conservations Programs in the prestigious Condé Nast Traveler World Savers Awards, and in 2013 Bushmans Kloof was voted one of the World's Best Ecolodges by National Geographic Traveler magazine.
Malaria and predator free, Bushmans Kloof is a sanctuary for many indigenous plants, animals and birds, including the endangered Cape mountain zebra. It is also home to over 130 Bushman rock art sites, is recognized as one of South Africa's Natural Heritage Sites, and is part of the Cape Floral Kingdom. It bases its entire business ethos on preserving the precious natural environment, while providing guests with the ultimate African wilderness experience in the beautiful surroundings of the Cederberg Wilderness Area, which forms part of the Cape Floral Region – a recognized World Heritage site.
A mere 270km from Cape Town, the 5-star Relais & Châteaux lodge, voted Best Hotel in the World 2009 (Travel + Leisure), is renowned for its warm, caring service and exceptional hospitality. In 2010 it was listed on the coveted Condé Nast Traveler USA, as one of the Top 50 Resorts in Africa in the World's Best Awards, and for the past three years (2010 – 2012), was included in the Condé Nast Traveller UK Gold List for Best Hotels for Food in Africa, Middle East and the Indian Ocean.