At sunrise every summer, a crowd of runners assemble on Long Street in Cape Town for for the start of a 50-kilometre race that will see them huffing-and-puffing up (and down) the three peaks surrounding the Cape Town City Bowl. Devil's Peak, Maclear's Beacon on Table Mountain and Lion's Head are their targets as they take on the 19th Three Peaks Challenge in Association with K-Way.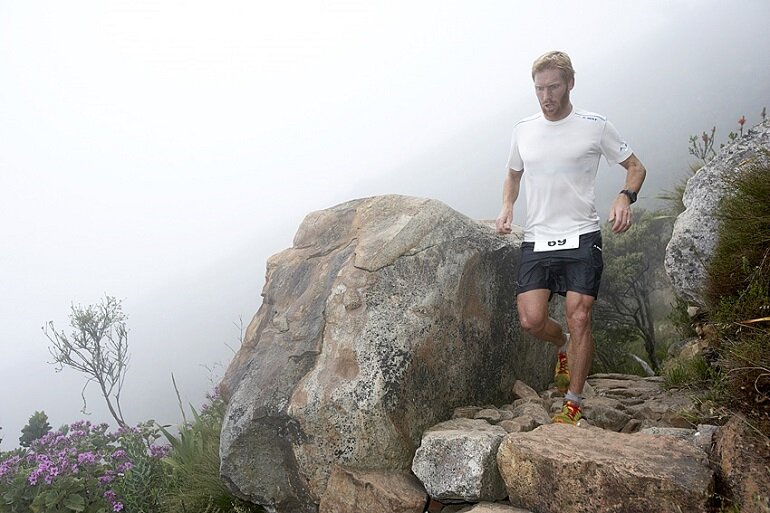 Photo credit: Shawn Benjamin Photography
The Challenge was revived by Don Hartley in 1997 to commemorate CW Schneeberger's achievement 100 years earlier and thus the annual tradition of the Three Peaks Challenge began.
"Three Peaks is a tradition that is incredibly close to my heart," says race organiser Gavin Snell. He's the only person to have completed all 19 editions of this event.
"It is a wonderful mental and physical challenge, but, more than that, is a great story with its rich history, tradition and people."
Participants that stand out include Brian Key, who will be running for the 13th time. At 76 years young, Key placed in the Top 30 last year with a credible time of 7:55:59. He turns 77 only two weeks after this year's race.
"After a number of years of effort to find a member of the Schneeberger family, we're delighted that Shaun Schneeberger, a great-grandson of the pioneer CW Schneeberger, will be taking part this year," says Snell.
On the competitive side of the event the race welcomes back last year's winner Martin Kleynhans and three-time winner and former record holder Andrew Hagen. Hagen is one of only two men - the other being AJ Calitz - to have run under five hours. Nic De Beer is in the starting line-up. Recovered from injuries, de Beer has indicated that he is using the event as part of his comeback to the trail-running scene.
Undisputed women's favourite is Katya Soggott. She has won the last three consecutive events with unbelievably consistent winning times of 6:15:27, 6:15:02 (women's record) and 6:15:44!
"There is something very special about the day and many people who enter thinking that they just want to do one to tick it off on their bucket list find themselves coming back for more," says Snell.
"Besides taking place on the iconic Table Mountain, it is an interesting blend of city and mountain and has a camaraderie that can only be experienced by those who are fortunate enough to take part."
The Three Peaks Challenge in Association with K-Way starts at 05h00 from 108 Long Street and runners first ascend Devil's Peak before returning to Greenmarket Square. Next, participants climb Platteklip Gorge to get to Maclear's Beacon (1086-metres above sea level), which is the highest point on Table Mountain. Runners then return to Greenmarket Square and make for their last Peak, Lion's Head. The clock stops when they return to the Square for the third and final time to complete the 50-kilometre course.
EVENT SUMMARY
· Name: The Three Peaks Challenge in Association with K-Way
· Date: Saturday, 7 November 2015
· Start: Long Street, Cape Town at 05h00
· Finish: 19h00
· Time Limit: 14 hours
· Distance: 50km
· The Three Peaks: Devil's Peak, Maclear's Beacon (via Platteklip Gorge) and Lion's Head
· Number of participants: 150 (limited entry)
· Records: Men: 4:50:21 (AJ Calitz) and Women: 6:15:02 (Katya Soggott)
· Runners to watch: Men: Martin Kleynhans (winner 2015), Andrew Hagen (three-time winner and a former record holder plus he has run a sub-5 - one of two men to do so). Also Nic De Beer.
· Women: Katya Soggott is the most likely contender; but a newcomer could have what to takes to beat her.
· This is the 19th running of this event.
· Website: www.threepeakschallenge.co.za