South Africa beat a game Kenya 12-0 after leading 7-0 at half-time Thursday in women's Pool A of the Greenfields Africa Hockey Championships and in the late game the SA men put 11 goals past a gutsy Namibia without reply after leading 5-0 at the changeover.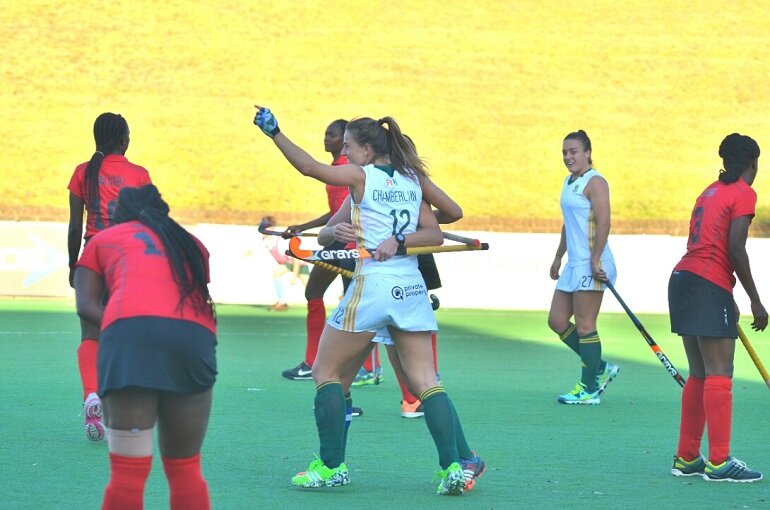 Photo credit: Marcel Sigg
The SA men will tackle Kenya in Saturday's 4.30pm semi-final with Egypt up against Ghana in the 2pm semi-final. Sunday's final is at 4.30pm.
The SA women's format is a round-robin event with no final, but Sunday's match against Ghana at 11.30am will be a final in a sense as Ghana will have to win to book a ticket to the Rio 2016 Olympics. SA need a draw at minimum, given that their goal difference is considerably better.
Before Sunday, the SA women face Tanzania Friday 7pm.
The SA women netted through penalty corner exponent Lilian du Plessis (3), another PC off the stick of Celia Evans, plus field goals from Bernie Coston (3), Dirkie Chamberlain (2) and a fine first-half hat-trick in a five-minute time-frame by Candice Manuel.
The SA men scored through drag-flick kings Matt Guise-Brown (2) and Daniel Bell (PC and FG), a Rhett Halkett effort from the penalty spot and further beautifully crafted field goals by Richard Pautz (2), Julian Hykes (2), Pierre de Voux and Brandon Panther.
The Kenya women had to win to keep their Rio dream alive. Aided by a team that were at last willing to take the game to them, SA benefited from the lesser numbers that as a rule have been packed in SA's attacking third during their matches.
The SA women scored a number of well-worked goals and some relatively easy conversions in what was their best performance to date.
The SA men had to work hard against rank underdogs Namibia and it was a good workout ahead of the weekend's knockout stage.
The stage is set for some epic weekend hockey action.
Other results - Women: Namibia 2 Zimbabwe 1. Men: Nigeria 10 Tanzania 0; Ghana 4 Zimbabwe 2.
Friday fixtures - Women: Zimbabwe vs Nigeria (12h00); Ghana vs Kenya (14h15); South Africa vs Tanzania (19h00). Men: Botswana vs Tanzania (16h30).