Words: Lisa de Speville ǀ Photos: Bruce Viaene
In the days after Expedition Africa, Cape Town adventure racer Steve Burnett, who was following the race from home, wrote: "For a while I've really thought that adventure racing would be the next big thing. That all the roadies who bought mountain bikes, the runners who now do trail events, and the triathletes who flock to Xterra are eventually going to look to adventure racing as the next challenge. It seems obvious to me because adventure racing combines outdoors, sport, teamwork, and strategy to make up the ultimate event."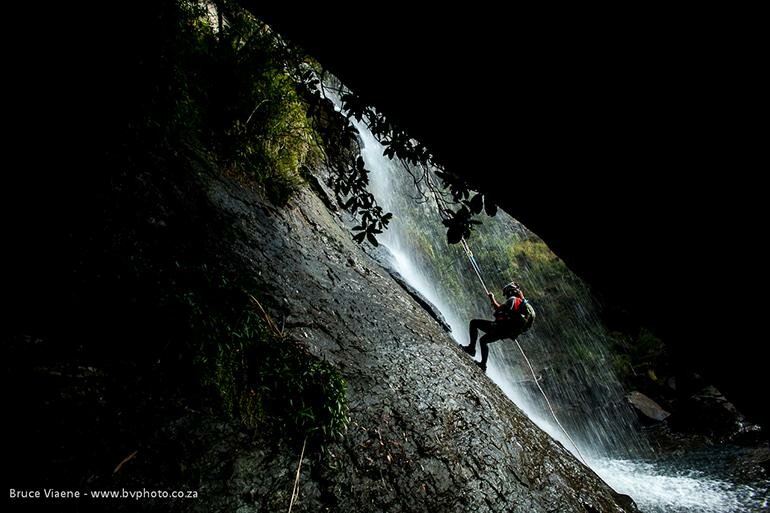 Expedition adventure racing (AR), to be precise, is totally THE ultimate event. And the annual Expedition Africa - a 500-odd kilometre race held during the first week of May in northern and central Drakensberg – has reignited the flame of expedition racing locally and focuses the international spotlight on our country at the bottom of the African continent.
This third edition of Expedition Africa, which took place from 3 to 12 May 2013, was longer, harder, and considerably more challenging than previous editions. Participation too was greater, with 11 international teams, 17 South African teams and three SA-foreign combination teams. It's the first time that 31 four-person, mixed-gender teams have lined up at the start of an expedition race in South Africa's 14 years of adventure racing. While the community is jumping for joy, you're probably asking, "Why so few?"
Expedition-style adventure racing is a far cry from the muddy, obstacle-themed, single-digit distance events that reign supreme in the frequency and attendance stakes. For this kind of adventure, participants can't just hook up with equally-unfit mates days before and then rock up on race day in pink tutus and painted faces. Pulling together four equally-motivated, fit and adventurous people, with similar ambitions takes a bit more effort. At Expedition Africa, your teammates are by your side every minute of the race, 24 hours a day. Race days flow into each other, so racers track the passage of time by kilometres covered, checkpoints visited, legs completed and people encountered until they get to the end. Eat, sleep, and keep moving. And it's not easy out there.
The Berg
When a race heads for the Drakensberg, there are two things you can automatically assume about the race course:
1) You'll be going up, up, up and down, down, down.
2) You'll spend a large chunk of the race running/hiking. In this mountainous environment, teams can assume that they'll spend a large percentage of the total race time on foot (think blisters, painful feet and sore, stiff legs). Race winner Haglӧfs Silva spent 49 hours of their total 99h31 race time on foot, even though trekking made up only 30% of the total race distance.
The race start, from the Orion Mont-aux-Sources Hotel, saw the teams running into the Royal Natal National Park, along well-known hiking trails and up to the Sentinal Car Park. From there, it was up the Chain Ladders to the top of Tugela Falls. And that was only the first 20-odd kilometres of the 75-kilometre stage, and an elevation gain of around 1,500 metres. Participants, especially those living at the coast, took the most strain, with many battling altitude-related ailments like headaches, nausea, and even vomiting. With three passes to choose from - Icidi, Ifidi and Rockeries - it was anyone's bet as to who would emerge first at the Mnweni Cultural Centre, the base for Transition 1.
The night before the start, the teams scoured the internet for information on these passes and while Rockeries is the one most recommended, the locals mostly went for Ifidi, while the foreigners opted for Rockeries. Teams Cyanosis, Merrell Adventure Addicts and Red Ants helped each other down Ifidi using ropes to get down the sheer drops. "Ifidi in the end was still a good choice. It was ... slow. It took us two hours to cover two kilometres. We guess the other guys [taking Rockeries] had 9 kilometres more to do so in the end it evened out," explained Cobus van Zyl from Red Ants. He reasoned that their legs were more rested, as Ifidi was shorter and slower going with all the rock hopping. This route paid off and the South Africans went ahead of race favourites, Haglӧfs Silva from Sweden, ranked third in the AR World Series.
This first leg set the stage for the rest of the race, where long legs and cold nights amplified difficulty. The 75-kilometre paddle (Leg 3) from Woodstock Dam to Spioenkop Dam – with the Tugela River in-between – was no river holiday. With a good pace of 6 km/h on the dams and 8 km/h on the river, progress was hard earned. By the end of this stage, Haglӧfs Silva was in the lead and it took them 12.5 hours to complete the stage.
The 89-kilometre cycle stage (Leg 4) from Spioenkop Dam to the midway camp - an old military base near Dragon's Peak Campsite - was mostly straight forward and saw teams welcomed in for a 6-hour compulsory stop.
Here they were given a hot meal, salad, and dessert, with hot showers and beds available. Team navigators unfortunately spent most of this rest time preparing their maps for the next hike and cycle sections.
This next hike (Leg 5) was the undoing of many. From the start, the teams knew the discipline and distance breakdown for the entire race and after seeing the first leg distance of 75 kilometres, this second hike of 56 kilometres was somewhat dismissed. But, it had a sting! It took race leaders Haglӧfs Silva 21 hours to complete. Only the first couple of teams visited this remote mountain checkpoint, CP26, as Race Director, Stephan Muller, pulled it off the course when he saw on the online tracking just how long it was taking the fastest and strongest teams to work through this section, thus allowing the remaining teams to navigate a slightly shorter and easier route.
The next 163-kilometre cycle (Leg 6) through Winterton and up Bezuidenhout's Pass to the Sterkfontein Dam held no surprises and teams covered this leg without incident. Haglӧfs Silva were by now at least 4 hours ahead of Raidlight (France), Tecnu Adventure (USA/Canada) and Cyanosis (South Africa) as they got on the water for the second-last leg (Leg 7), a 12-kilometre paddle across the dam, on Thursday afternoon.
Haglӧfs Silva were already well into the final hike (Leg 8, 29 kilometres) when the last team, Pure Adventures, reached the midway camp – 48 hours after the leaders. The very funny story of this team's (mis)adventures can be read on the adventure racing website. This innocuous final hike, at only 25 kilometres, turned out to be the biggest sting in the tail of them all. Haglӧfs Silva was expected to finish before midnight (Thursday), four days into the race. Those following their track online sat captivated as the team drew circles on their computer screens. In thick fog and cliffed out, the team couldn't find a route off the escarpment. They would throw stones off the top of the cliffs, listening to hear how far it fell, to assess route options. And a magnetic anomaly along the cliff face didn't improve their situation either. "You couldn't see anything. It was just white when we looked over the edge. I would never do that if it was daylight. I would never look over the cliff like that," explained Haglӧf Silva's Mattias Nystrӧm at the finish. Their track will go down in race history.
This stage, which was expected to take leading teams around five hours to complete, took the top-ranked international team an unbelievable 18 hours! Similarly, Haglӧfs Silva's nearest competitors - Raidlight and Tecnu Adventure Racing - were having a tough time of it too. Fortunately, Haglӧfs Silva, who led the race from the second leg, maintained their position to win the race 99 hours and 31 minutes after the start. Tecnu and Raidlight finished in second and third respectively, with the South African team, Cyanosis, in fourth.
After the finish, Haglӧfs Silva's captain and navigator Bjorn Rydvall gave his impression of this event. "There's a big difference between a World Series race and a World Championship race," he said. "I would say these sections are more like World Championship. They were really challenging; both demanding navigation, but also technical skills."
After completing the 163-kilometre cycle to Sterkfontein Dam, Team Energy's Trevor Ball, who has been racing since the sport started in South Africa 14 years ago, summed up this edition of Expedition Africa in six, eloquent words when he said, "Adventure racing has come of age."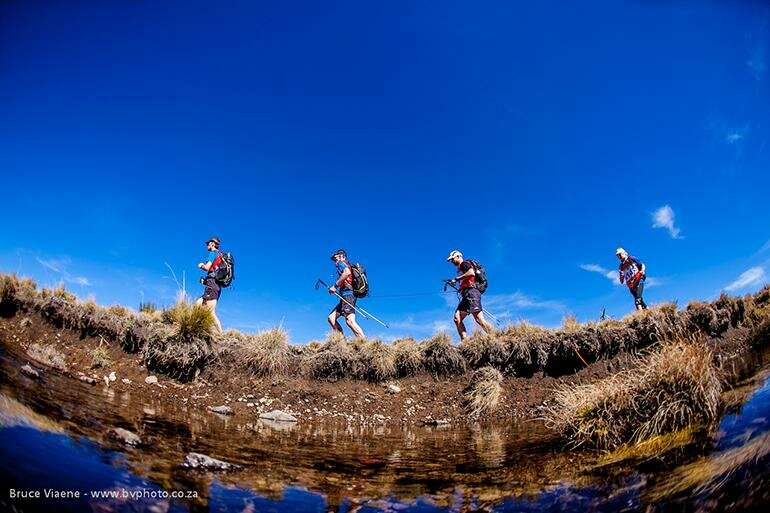 A hard, hard race
An adventure race of this calibre is not without tears. Tears of frustration, disappointment, pain, but mostly, tears of accomplishment. And satisfaction. And achievement. And pride. From participants and waiting family members.
An emotional Kelly Hess (Team Olympus) finally reached the finish on very, very painful feet. "It's the hardest thing I've ever done in my life by a long shot," she said. "I was extremely happy to be out there and loving every minute of it and thinking about what I could do differently to prepare better and then there were moments that were just ..." she shook her head. "It's the toughest thing I've ever fought through."
Team Castle Lite's Adrian Saffy is a well-known and respected racer, with many notches in his belt for races completed. "This race," he said, face tired and puffy at the finish after more than 120 hours of being out there, "I can't imagine anything being tougher on your mind. The conditions were epic, the legs were epic. We hooked up with such awesome people, had fun out there. And the amazing thing is – it doesn't matter if you're from France, Spain or Puerto Rico, if you do an event like this, you become a brotherhood. It's awesome to be part of this brotherhood."
What is expedition adventure racing?
Adventure racing is the name of a sport, like hockey and rugby are names of sports. However, this term is being diluted and confused by the emergence of short, off-road events with marked routes that call themselves adventure races.
Adventure racing started with multi-day, non-stop events that covered hundreds of kilometres and not the sprint (20-30 km) and short-distance (50-80 km) events that are commonplace now. Winning teams complete these races usually in three-and-a-half to five days, with backmarkers taking six to eight days, depending on time limitations.
It's a team endeavour, where four-person, mixed-gender teams complete the entire race distance together. Most expedition events are unassisted as teams do not bring along support crew, as happens with supported events. Instead, race organisers transport crates, bike boxes, and kayaks between transitions. Teams pack sufficient food, clothing, and gear into these crates for the duration of the race and anticipated conditions.
It's a multi-discipline sport, where running/trekking, mountain biking, various paddle disciplines (river, lake, sea, white water) and rope activities are alternated throughout the event. Map and compass navigation hold everything together, with teams having to navigate between checkpoints (CPs) and transitions. Sleep is usually minimal, and teams can choose when and where they want to sleep, outside of dark zones and compulsory stops, which are not always included in events.
Within the sport of adventure racing, there is a range of event distances – much like running – but expedition-length adventure races are the heart and spirit of the sport and it's from this that the sport began.
Your first races teach you good lessons. Everything else – skills, fitness, competence, ability and gear – improves after you get involved in the sport, not before.
About the AR World Series
The Adventure Racing World Series (ARWS) is made up of a number of events from around the world. This year there are eight events on the calendar, including Expedition Africa, plus the annual AR World Championship event that is hosted by the Costa Rica Adventure Race in the first week of December. Teams participating in ARWS events receive rankings based on their four best results over the previous two years of AR World Series events.
Is adventure racing expensive?
With staged races (run and MTB), self-sufficient runs and even one-day events coming in at anything from R4,000 to R18,000 (per person), the 2013 entry fee of R20,000 for a four-person team makes adventure racing, these days, one of the cheaper events to enter. Sure, there's more gear, but it can be borrowed from friends and slowly accumulated over time.
Reminiscing with Team Energy's Ugene Nel over an old photograph from an expedition race back in 2001, we commented on our gear back in the day. Road race T-shirts, a second-hand bicycle borrowed from a cycle shop, an old-school running 'parachute top' for a wind shell (borrowed too), a towelling-lined DryMac-like jacket for a rain/waterproof jacket, a laughable polystyrene bike helmet and a regular, hollow-fibre camping sleeping bag made up my race kit. Nel says, "I raced with tennis takkies, rugby socks and a wool jersey - technical garments were pretty much unknown or not affordable then. We'd never heard of dry bags, so when our plastic boat took on water and capsized on Pongola Dam, our kit was wet for the rest of the race - including the sleeping bag."
dinFO
• Event (Kinetic Gear): www.kineticgear.co.za
• Facebook: www.facebook.com/kineticgear
• AR World Series: www.arworldseries.com/
• www.AR.co.za: Race reports from the race and teams,
as well as links to photographs, videos and reports on SleepMonsters.com: www.ar.co.za/category/reports/expedition-africa/
• To read the very funny story about Pure Adventures (mis)adventures, visit www.AR.co.za. www.ar.co.za/2013/05/expafrica-pure-adventures-big-adventure/)