Words: Hanret Snyman ǀ Photos: Various
This is the remarkable journey of Jolandie Rust. Around Africa. On her motorbike. On her own. On Sunday, 24 November 2013, Jolandie Rust again stood at the stone marker in Cape Agulhas indicating the dividing line between the Indian and Atlantic Oceans. For her this marker signifies a coming together. A meeting. That sacred moment when years of visualisation and reality intertwine. Her slight 5'5" frame belied the gigantic emotional upsurge few humans experience because they dared to go where others thought it wouldn't be possible.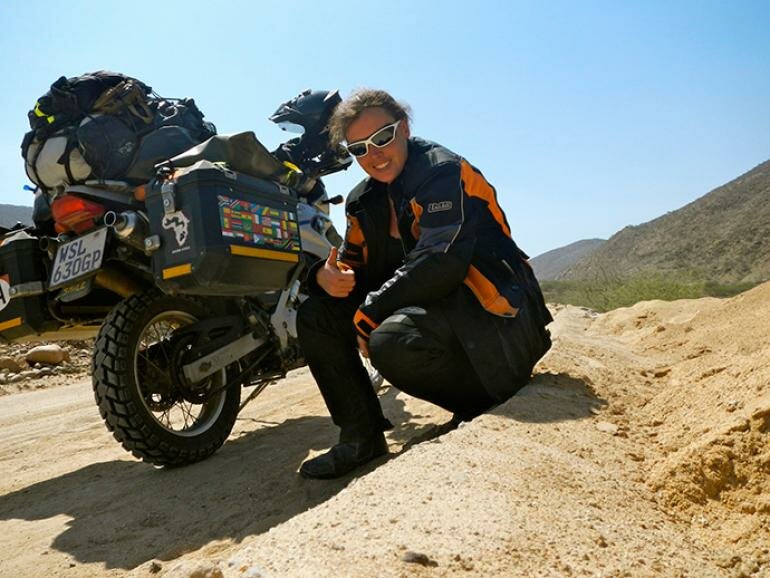 Photo credit: Jolandie Rust
Behind Jolandie stretched over 40,000 kilometres, the indelible memories of 25 African countries, and the culmination of six long years that turned the dream of becoming the first woman to circumnavigate the African continent into a reality.
Jolandie is quiet and reserved. Almost introverted. This 29 year old, who calls Melville, Johannesburg, home, has an easy smile and infectious laugh. Her green eyes hide tales of pain and heartache, but they light up at the mention of the open road, of an adventure.
Her first two-wheeler was a pink BMX she got as a Christmas present at the age of four. For the young Jolandie this would be the key to exploring and achieving the seemingly impossible. Throughout her teens she could be seen criss-crossing the streets of her home town, Kempton Park, on her bicycle.
In 2004, taking time off from working on a kibbutz in Israel, Jolandie and a friend cycled through the Occupied Territories from Nazareth to Arad. Experiencing the harshness of the semi-desert and the sweltering heat, negotiating their way through military posts and dealing with Arabs chasing them on donkeys, gave Jolandie a taste of real adventure.
Back in South Africa, she struggled to settle down. The hum-drum of a 9 to 5 routine did just not resonate with the spirit of adventure that had been awakened. The untimely death of someone dear to her in 2007 made her painfully aware of how fragile and precious life is, of how short a life could be. It emphasised the importance to take control of her life and shape and form her own happiness.
It was then that a dream began to take shape. A dream to become the first woman to circumnavigate Africa on her own. Africa, the world's second largest continent, but also one of the poorest, has always fascinated Jolandie. She is passionate about Africa and her people. She felt that by embarking on a journey no other woman has undertaken on her own, she could inspire people across the continent. She could show them that all you needed was a dream, a desire to realise that dream, and to take responsibility to fulfil that dream.
"Get out of the pool of fear and swim in the ocean of possibility." - Jolandie Rust
With little money and a bicycle as the only means of transport, Jolandie set off in 2008 to cycle from Johannesburg to Cape Town, to raise awareness and attract sponsorship for her trip around Africa. She was the second woman to do so, but did it in the fastest time.
Whilst awareness about Jolandie's crazy dream was increasing, sponsorship wasn't forthcoming. In 2009 she set off from Johannesburg again. This time she became the first woman to pedal her way around South Africa. On her own.
Money was trickling in. Mainly through a few well-wishers and friends. But determined to realise her dream, Jolandie left Camps Bay on 27 April 2011 to cycle around Africa on her own. She made it to Northern Angola where a group of four knife-wielding thugs took her bicycle and all her gear from her.
Dejected, Jolandie was forced to return home. Whilst the governor of the Angolan province, where her bicycle was stolen, had personally reimbursed her for her loss, the Angolan Minister of Local Government reached out to her and offered to arrange sponsorship to complete her journey by whatever means she chose. Jolandie jumped at the opportunity and planning started in all earnest to set off again. This time on a motorbike. The BMW 650GS Dakar was immediately christened Dax, meaning 'the truth that will conquer the world'. On 1 April 2012, Jolandie left Johannesburg and headed towards Cape Town once more.
She met up with a group of well-wishers and fellow bikers at Cape Agulhas on 7 April and launched her second attempt at becoming the first woman to circumnavigate Africa on her own.
The road up the West Coast was by now familiar territory. But crossing into Angola, misfortune struck. On the first night she spent in Ondjiva, her hosts were the target of an armed robbery. The police were aware that Jolandie was in town, but didn't expect to find her taped to a chair when they dropped by to welcome her. Unharmed, but unnerved, a plan formulated so that she would have a police escort every step of the way whilst in Angola. In spite of some challenging roads, Jolandie had a great time in this country that is dear to her heart and was treated like royalty by her sponsors.
Travelling through Congo and Gabon, she met up with a Czech rider on his way to Prague. It was the rainy season and the roads were rivers. And the Czech seemed to have a particular fondness to drop his BMW F800GS in muddiest spots.
Meanwhile, Jolandie was eagerly anticipating crossing the equator, a significant milestone on her journey. Whilst now on a reasonable tarmac road, there were road works to deal with, masses of people from the many little villages alongside the road, and hordes of dogs chasing her.
Crossing into Nigeria was a particular concern. She wasn't short on warnings about how dangerous this country was. However, much to her surprise, the police at the checkpoints just waved her through and wished her well. She remembers Owerri as the most chaotic town she had the unfortunate privilege of having to negotiate her way through, and in the pouring rain. Single lanes bursting with vehicles of all descriptions led traffic in and out of town, and rubbish dumps in the centre dividing the two lanes saw hundreds of little stalls and thousands of shoppers happily trading on the curb sides. All this chaos was controlled by a female police officer, baton in hand. Chancers who ignored her instructions were wacked on their vehicles or any protruding body part!
Photo credit: Jolandie Rust
In Côte d'Ivoire she was advised against going through Liberia and Sierra Leone as originally planned. This meant heading north to Bamako in Mali. Northern Mali was in turmoil following a military coup, but this didn't deter Jolandie from spending almost two weeks in the south. Visas, a perennial frustration, for Mauritania and Morocco needed to be sorted before she could take Dax to Dakar, the city she was named after, and the westernmost point on the main land.
Mauritania doesn't hold many happy memories for Jolandie. The Rosso border between Senegal and Mauritania lived up to its reputation as being one of the worst borders in Africa to cross. Relieved that she eventually made it across, together with hundreds of camels cruelly being beaten onto the ferry by their handlers, she settled into her hotel room. The guy who had helped her with her paperwork at the border offered to bring her something to eat. It was soon clear that he expected payment in return that didn't involve money. But Jolandie's extensive self-defence training came in handy.
Even though it was now Ramadan and food during the day not easy to come by, Jolandie safely made it to Rabat in Morocco. However, visa issues would again bring her journey to halt. With the border between Morocco and Algeria being closed for the past ten years, the only way to continue further east was to take a ferry to Europe and from there to Algeria or Tunisia. She was forced to return to South Africa to apply for a Schengen, Algerian, and Tunisian visa.
Back home, Jolandie went scouting for new touring routes with a friend in Mpumalanga. As her beloved Dax had to stay behind in Morocco, she was riding pillion when, at a farm gate, the BMW 1200GS came down on her ankle. Her right fibula snapped and the ligaments tore. This necessitated a six-month recovery.
In the next issue we follow Jolandie as she returns to the road in July 2013, to continue on her adventure from Morocco and all the way back to South Africa.
SO Don't miss part two of Jolandie's epic journey to become the first woman to solo circumnavigate Africa.
For more about Jolandie, visit http://jorust.com/ and www.facebook.com/jolandie.rust?fref=ts