Words by: Stuart Johnston Communications
And the winners in this final round of the SA Rotax Max Challenge Series will represent South Africa in Spain in late November.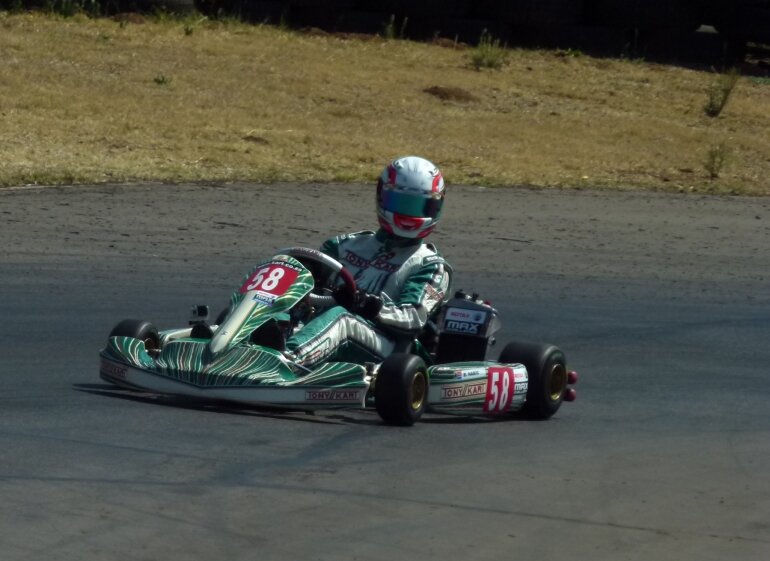 A hard and highly competitive karting season in 2014 culminates at the Zwartkops Kart raceway near Pretoria on Saturday, October 4, with the running of the fourth and final round in this year's SA Rotax Max Challenge.
The action-packed meeting kicks off at 8 am on Saturday, and with four races to be run in each of the championship classes in this Rotax-only meeting, the racing is expected to continue late into the afternoon.
And there's a lot more at stake than just SA titles. The winners of this 2014 series in four of the classes will represent South Africa at the Rotax Grand Finals in Valencia, Spain, at the end of November, and with over 60 countries participating, this is now globally acknowledged as the World Championship of karting.
The season has seen some of the most competitive racing here in many a year, especially in the top-flight DD2 class, where there have been as many as 28 entrants fighting it out for this most exacting of karting classes.
Open to drivers of 15-years and older, the DD2 class sees drivers compete with twin-speed gearbox machines, and is seen as a vital stepping stone to a top flight motorsport career.
Heading up the lists of championship contenders here is Benjamin Habig from KZN. A relative newcomer to karting, Benjamin is the son of multiple SA Rally Champ Jan Habig, and he's proving a chip off the old block. He goes into the fourth and final round of the national series in Rotax racing with a healthy 19-point lead over Gauteng's Bradley Liebenberg, who won the African Open Championship at Zwartkops last month in DD2 (although this is subject to an MSA appeal hearing).
Liebenberg is ahead of Vereeniging's Arnold Neveling by just two points (although it is not certain whether Neveling will be able to compete on Octiober 4), and Gauteng's Eugene Brittz is just one point behind. The vastly experienced Brittz is a good bet to take the title, as is Ryan Frost, while KZN's Luca Canderle has an outside chance of repeating the success he had in winning last year's African Open meeting in this class.
In the DD2 Masters series, it is no surprise that Cristiano Morgado, multiple World Champion in this class for drivers older than 32 years, is the favourite. Morgado has a massive points lead in this year's championship, but as Cris has already won his berth in the Grand Finals in Spain (by dint of his recent African Open victory), there will be a dog-fight to see who finishes runner up, as in this case this will ensure a place in the World Championships in Spain. Just two points separate Erwin Sterne, Richard van Heerde and Rene Baumann, and none of these can afford the slightest slip on October 4.
In Senior Max, the non-gearbox class for drivers older than 16, Cape Town's Luke Herring has also been dominant this year, after many near National title misses in the past. He has a 37-point lead over Eugene Denyssen, followed a few points in arrears by Jonathan Aberdein (son of famous saloon car racer Chris) and Julian van der Watt, these youngsters all being from Cape Town.
Richard Upton from KZN and Wesley Vosloo from Gauteng are also in with a shout if disaster should befall the front-runners.
In the Junior Max category, for drivers aged 12 to 16, Cape Town's Kohen Bam is just one point ahead of KZN's Jordan Sherratt, with fellow KZN driver Clinton Bezuidenhout holding down third place, just seven points adrift. These youngsters are the odds-on title favourites, with Cape Town's Delano Fowler, Bloemfontein's Stuart White and Cape Town's Henry Bam (brother of Kohen) in with an outside shout.
The winner of the Maxterino series for drivers between eight and 13 years old will win a ticket to spectate at the Grand Finals in Spain, and the series is justifiably ultra-competitive this season. With a field of close to 20 young karters learning how to control slides and carry corner speed at such a tender age, this is seen as a vital feeding ground for our champions of the future.
Charl Visser is ahead on point, from JP Hamann, and Jason Coetzee, and all three of these drivers are from Cape Town, where there has been an encouraging resurgence in karting of late. Gauteng's Kwanda Makoena and Dillon van Vuuren – also from Gauteng, along with KZN's Tristan Losch, make up the top-six title contenders.
The Rotax Max Challenge Series sees drivers score their best 10 out of the 13 National championship races run over the season, over four rounds held in Cape Town, Eastern Cape, KZN and this final round in Gauteng. They can also count a portion of their regional race meeting results towards the championship.
Thus, while there are four races to be run in each class in this final of finals on October 4, scoring the championship is not straight-forward as each driver can drop his worst three results of the Nationals in 2014, this system being in place to compensate for any mechanical misfortune, accident, illness or injury a driver may incur in the season.
But it will all be worth it for the winners. They get a place in the Grand Finals in Spain, which includes a (all brand new) free kart, free engine, free tyres, free tools and a free kart trolley for the five-day event, which has been run since 1999 in venues all over the world.
And apart from Cristiano Morgado, who will be aiming for an unprecedented fourth straight title in the DD2 Masters class this year (he already qualifies as an African Open winner), South Africans have a proud history of World Champions in the Rotax series. These include the winner of the inaugural Grand Finals Gavin Cronje, Claudio Piaza-Musso, Mark Cronje, Wesleigh Orr and Leeroy Poulter. Encouragingly, many of these drivers are now top figures in our local senior motorsport championships today, notably Mark Cronje and Leeroy Poulter, who are currently battling for the 2014 South African Rally Championship, while Gavin Cronje is a top contender in Production Car racing this season.
Racing kicks off after qualifying in the morning, and admission for spectators is a very reasonable R30.