Words by: PERIDOT COMMUNICATIONS
The 2014 Kimberley Diamond Cup Skateboarding World Championships presented by Kumba Iron Ore concluded in dramatic fashion on Sunday. It was an all-out battle in the Street Championship semi-finals with Nyjah Huston ousted in the first round by the Netherlands' Nassim Guammaz. Guammaz lost to Brazilian Kevin Hoefler in the third round.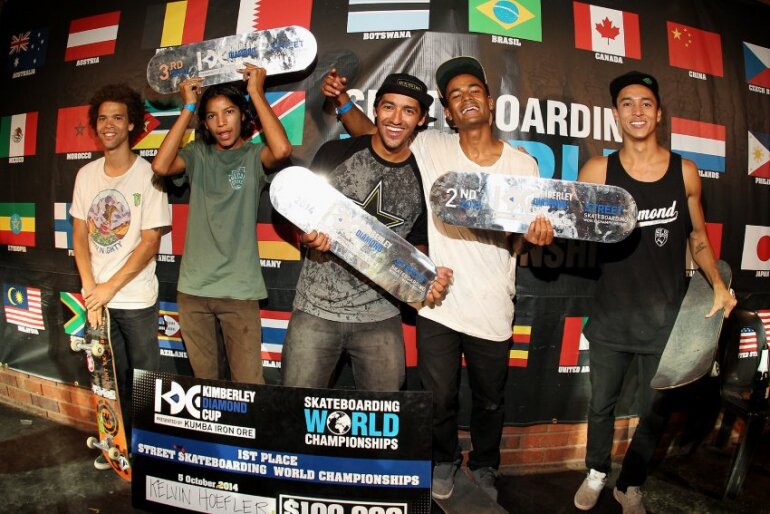 Hoefler then went to battle with South African born Aussie Tommy Fynn in the finals. In a nailbiting heat which had the crowd on their feet, Hoefler put on an exceptional display to edge Fynn out and take the world title and the top prize of US$100 000 (over R1-million).
"I can't find the words. This is so great!" said Hoefler. "The first time I came to South Africa I made it to the final 12 and I promised myself that I will make it onto the podium this year. I never expected to win and am very happy and excited. This was amazing."
The top 12 skaters in the finals represented seven countries and expectations were high that the American like Huston, Louie Lopez, Matt Berger, Tyson Bowerbank and Jereme Knibbs would dominate. But it was the international roster of talent that owned the day with Hoefler and Fynn topping Americans Lopez and Huston. It was heartbreak for South African skater Dlamini Dlamini when he broke his board in his first round against Canadian Micky Papa, which scuppered his chances of advancing to the next round.
13-year-old American Alana Smith also made history when she joined the men to compete as the sole female skater in the Big Air "Best Trick" contest. Smith attempted a backflip over the gap several times before finally nailing it with just minutes to go in the session. Smith became the first female skateboarder to complete a backflip over the mini mega gap.
Chart-topping American rapper Lil Jon stayed for the finals after performing for a sold-out crowd at the Kumba Skate Plaza ion Saturday. He watched all the action of the finals from the street course, where he cheered on the pros and sprayed champagne on the winners during the awards ceremony.
Sunday also featured the South African Championships and South African Youth Championships (ages 16 and under). Sixteen-year old Brandon Valjalo from Johannesburg skated his heart out and both titles.
"The extent of the international participation in this event has made history around the world," said Tim McFerran, CEO of World Skateboarding Grand Prix. "We had an incredible level of talent displayed here with so many countries represented. It will certainly go down in the record books as one of the best contests of all time."
According to MEC John Block of the Northern Cape Department of Economic Development and Tourism, the Kimberley Diamond Cup has definitely confirmed its position as a global brand. "We have seen participants from 37 different countries travelling to the Northern Cape to be part of this extraordinary experience. The event has shown significant growth and we're immensely proud of what we have achieved here. We were especially pleased to have added components that gave female skateboarders the chance to showcase their skills as the provincial government feels particularly strongly about promoting gender equality and creating opportunities for women to take their rightful place in society," mentions Block.
Pro Street Finals Results & Cash Prizes
1. Kelvin Hoefler - $100,000
2. Tommy Fynn - $40,000
3. Louie Lopez - $15,000
4. Nassim Guammaz - $15,000
5. Nyjah Huston - $4,500
6. Micky Papa - $4,500
7. Tyson Bowerbank - $4,500
8. TJ Rogers - $4,500
9. Matt Berger - $3,000
10. Tom Knox - $3,000
11. Jereme Knibbs - $3,000
12. Dlamini Dlamini - $3,000
14th – 20th - $1,500
21st – 24th – $1,000
SA Street Finals
1. Brandon Valjalo
2. Alan Marola
3. Stefan Jacobs
4. Braxton Haine
5. Ofentse Ramakanye
6. Enwin Gealant
7. Warrick Delport
8. Byron Rhoda
9. Anthony De Mendonca
10. Andrew Nero
11. Mitchell Rice
12. Brandon Ramos
For full results of the 2014 Kimberley Diamond Cup, visit www.kimberleydiamondcup.com. Check out the official event photostream at www.Flickr.com/photos/kimberleydiamondcup.