Posted: December 15, 2014
World Title Showdown Lights Up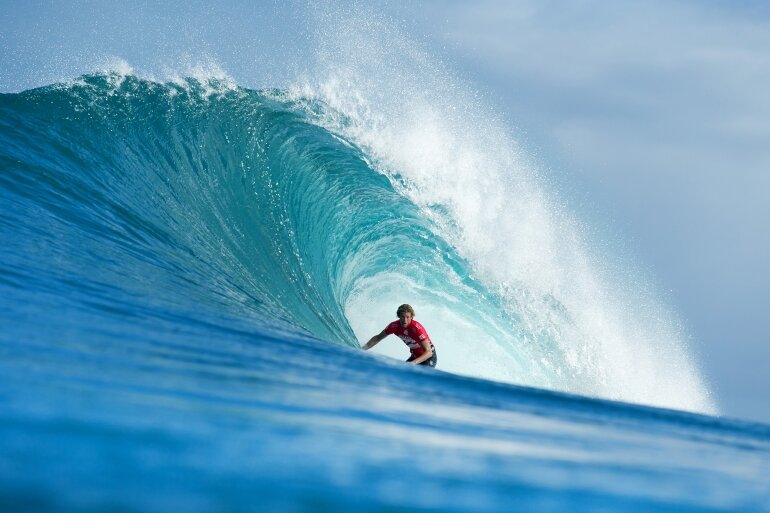 | | |
| --- | --- |
| Location:    | Banzai Pipeline, Oahu's North Shore, Hawaii |
| Holding period: | December 8 - 20, 2014 |
| Call: | Round 1, Men's and Women's Pipe Masters Invitational, ASP Heritage Series |
| Conditions: | Double-overhead barrels |
BANZAI PIPELINE, Oahu/Hawaii (Friday, December 12, 2014) - With all eyes now on the three ASP World Title contenders, Pipeline local John John Florence (HAW) made his intentions of winning the Billabong Pipe Masters in Memory of Andy Irons clear after a dominant Round 1 performance. His lethal attack on the double-overhead barrels was both relaxed and polished.
Florence had an outside shot at the World Title until the penultimate event of the 2014 Samsung Galaxy ASP World Championship Tour in Portugal. With that pressure off, he stamped out a brilliant heat today, topping the day's scores with a two-wave total of 18.16 (8.93 and 9.23) over Australian pair Matt Wilkinson and Mitch Coleborn, who were both left in a combination situation. Florence moves directly through to Round 3.
The early morning conditions were flawless: zero wind and hollow, split-peak barrels at Backdoor and Pipeline.
"Oh, its amazing," said Florence. "It's my favorite time of the year. It's the last event of the season. It's been a really long year and to finish it off at home is the best feeling in the world. 
"It's really peaky out there now but when you get in the spot there's crazy good rights coming in."
The three-man world title battle between Kelly Slater (USA), Mick Fanning (AUS) and ratings leader Gabriel Medina (BRA) got underway today with each of the contenders surfing in Round 1.
Slater encountered his first bump in the road after a strong showing by Vans Triple Crown series leader Dusty Payne (HAW) and a final buzzer beater barrel by Adam Melling (AUS). Slater will need to survive elimination Round 2 to stay in the title race after being defeated by Melling 15.90 to 15.80.
"I just really wanted to get barreled today, it looked so fun out there," said Melling. "All the guys were getting pretty good tubes this morning. I just wanted to have a free surf and half way through the heat I hadn't had anything and I was pretty bummed. But after I got that first one in the last five minutes I got the ball rolling and got lucky - I had a 5 minute heat." 
"The heat could have gone either way'" said Slater. "I'm just getting the rust and dust off a little bit. I had 36 days out of the water and I've had 4 days back, so I'm stoked to be in the water.
"I was hoping Reef (McIntosh) would take out Medina in Round 1 but he couldn't get a start. Now I'm hoping for him to not put a good heat together! It's all good. You want to win Pipe, you've got to beat the best guys, and I've just got to start doing that in Round 2. I need to just slow myself down and focus on the present time."
Compared with Slater's Round 1 match-up, Fanning and Medina encountered relatively low scoring heats. Fanning's was wave starved, with the exception of an amazing tube that Aritz Aranburu (ESP) nailed for a near-perfect 9.27. Fanning was lucky that the Spaniard wasn't able to find a second score and the two-time reigning World Champion moves through to Round 3, keeping his title hopes alive.
"I was stoked (to get through) because that was a tight heat," said Fanning. "I want to see Aritz's (Aranburu) wave, it looked so nice from behind, but I'm just happy to get through.
"I guess for me, the way I look at it is that Gabe (Medina) is gonna get through a few rounds so I'm thinking about the final. My whole goal is to try to win this event. It's been on the bucket list for a while and hopefully I can just play it smart and get through." 
Medina's heat lacked barrel-riding opportunities, and the Brazilian hunted the lineup for points alongside Dion Atkinson (AUS) and Men's Pipe Masters Invitational winner Reef McIntosh (HAW). Medina was the only surfer able to find a solid second score, and earns the springboard directly to Round 3, advancing on in his hunt for the world surfing crown.
"It's really fun out there and I love to surf Pipe," Medina said. "I'm looking forward to surfing good and to getting barreled and having fun out there. That was a good way to start it. I feel good. I love waves like this, just barrels, and some Backdoor and Pipe - I love to get barreled both ways and I feel comfortable. I have a good board under my feet and I'm looking for a good result."
Following the completion of Round 1 four of the world's best female surfers took on perfect Pipe. Reigning six-time ASP Women's World Champion Stephanie Gilmore (AUS), two-time ASP Women's World Champion Carissa Moore (HAW), Australian powerhouse Tyler Wright (AUS) and international icon Bethany Hamilton (HAW) took to the water for the Women's Pipe Masters Invitational.
Gilmore, Moore and Wright previously faced off at the Target Maui Pro in a battle both for the event win and, for Gilmore and Wright, the 2014 World Title. Gilmore won the Title, while Moore won the event with Wright finishing runner-up.
 
Today the three women alongside Hamilton showcased their skills in the heaving barrels. Wright and Moore were the most active of the bunch, with Wright earning a the highest score of the heat, a 6.17. Gilmore suffered a broken board, while Hamilton held steady in third place. Moore, fresh from her win in Maui, held on to to the lead and won the heat with a two-wave heat of 11.00.
"That heat was super special," said Moore. "When the ASP told me they were going to have a women's Pipe event I was like 'of course I want to do it'. Just to have the opportunity out there to really look at a lineup with not many people out is really special. And then to share with Bethany (Hamilton), Tyler (Wright), and Steph (Gilmore), how much cooler could it get?
"It was awesome, it was all good vibes. We were all cheering for each other and Bethany and Tyler took some crazy ones. I was just more calculated and trying to find some smaller ones, I had a really great time and it was amazing to see all the girls taking the step to bigger and more challenging waves.
"I'm really looking forward to 2015. I just really want to improve and challenge myself. I didn't have the greatest of performances in Fiji this year so I'd love to go back and more comfortable there. There's a lot of things that I'm really looking forward to." 
Gary Elkerton (AUS), Tom Carroll (AUS), Derek Ho (HAW) and Sunny Garcia (HAW) took part in the third and final ASP Heritage Series of the 2014 season, which celebrates the rich culture and history of professional surfing. 
Two-time ASP World Champion (1983, 1984) Carroll looked half of his 53 years today, taking two big-pitted barrels, that would have posed serious competition to anyone in Round 1 today. He earned a near-perfect 9.60 for a deep drop into the largest wave of the heat to secure the win over his opponents. Garcia and Ho managed to keep pace with some barrel rides of their own, but Carroll's early heroics were too much to overcome.
"2011 was the last time I surfed here and before that it was probably 8 years ago," said Carroll. "It's kind of like an old friend, it's pretty nice to go out there again." 
"Just looking down the wave I thought 'this is a gem, this wave' - it's just such a great place to be. The other guys out there are guys I've surfed with for a long, long time. It's just a great feeling to be out there and to be surfing with them. Tomorrow is gonna be on and I'm getting really excited now."
Billabong Pipe Masters Round 1 Results (1st to R3, 2nd and 3rd to R2):
Heat 1: Joel Parkinson (AUS) 13.83pts, Glenn Hall (IRL) 4.26pts, Julian Wilson (AUS) 1.23pts
Heat 2: Sebastian Zietz (HAW) 14.13pts, Raoni Monteiro (BRA) 4.77pts, Michel Bourez (PYF) 2.90pts
Heat 3: John John Florence (HAW) 18.16pts, Mitch Coleborn (AUS) 3.34pts, Matt Wilkinson (AUS) 2.23pts
Heat 4: Adam Melling (AUS) 15.90pts, Kelly Slater (USA) 15.80pts, Dusty Payne (HAW) 13.84pts
Heat 5: Mick Fanning (AUS) 12.16pts, Aritz Aranburu (ESP) 9.27pts, Makai McNamara (HAW) 2.20pts 
Heat 6: Gabriel Medina (BRA) 6.50pts, Reef McIntosh (HAW) 5.10pts, Dion Atkinson (AUS) 3.30pts
Heat 7: Jeremy Flores (FRA) 9.30pts, Jadson Andre (BRA) 3.90pts, Jordy Smith (ZAF) 2.07pts
Heat 8: Kolohe Andino (USA) 10.77pts, Fredrick Patacchia (HAW) 7.50pts, Travis Logie (ZAF) 0.00pts
Heat 9: Josh Kerr (AUS) 11.10pts, Brett Simpson (USA) 9.63pts, Kai Otton (AUS) 1.67pts
Heat 10 : Owen Wright (AUS) 17.50pts, Adrian Buchan (AUS) 15.07pts, Mitch Crews (AUS) 8.50pts
Heat 11: Alejo Muniz (BRA) 14.94pts, Filipe Toledo (BRA) 12.90pts, Nat Young (USA) 1.90pts
Heat 12: Bede Durbidge (AUS) 15.20pts, Miguel Pupo (BRA) 3.23pts, Tiago Pires (PRT) 1.63pts
Billabong Pipe Masters Round 2 Match-Ups (1st to R3, 2nd = 25th):
Heat 1: Kelly Slater (USA) vs. Reef McIntosh (HAW)
Heat 2: Michel Bourez (PYF) vs. Makai McNamara (HAW)
Heat 3: Jordy Smith (ZAF) vs. Dusty Payne (HAW)
Heat 4: Nat Young (USA) vs. Mitchel Coleborn (AUS)
Heat 5: Miguel Pupo (BRA) vs. Raoni Monteiro (BRA)
Heat 6: Filipe Toledo (BRA) vs. Glenn Hall (IRL)
Heat 7: Adrian Buchan (AUS) vs. Travis Logie (ZAF)
Heat 8: Kai Otton (AUS) vs. Brett Simpson (USA)
Heat 9 : Fredrick Patacchia (HAW) vs. Mitch Crews (AUS)
Heat 10: Jadson Andre (BRA) vs. Tiago Pires (PRT)
Heat 11: Julian Wilson (AUS) vs. Dion Atkinson (AUS)
Heat 12: Matt Wilkinson (AUS) vs. Aritz Aranburu (ESP)
Men's Pipe Masters Invitational Final Results:
1 - Reef McIntosh (HAW) 12.60pts
2 - Makai McNamara (HAW) 12.10pts
3 - Jamie O'Brien (HAW) 12.00pts
4 - Hank Gaskell (HAW) 8.63pts
Women's Pipe Masters Invitational Results:
1 - Carissa Moore (HAW) 11.00pts
2 - Tyler Wright (AUS) 8.67pts
3 - Bethany Hamilton (HAW) 6.83pts
4 - Stephanie Gilmore (AUS) 2.63pts 
ASP Heritage Series Results:
1 - Tom Carroll (AUS) 14.77pts
2 - Sunny Garcia (HAW) 8.34pts
3 - Derek Ho (HAW) 7.00pts
4 - Gary Elkerton (AUS) 2.67pts