Posted: December 15, 2014
Competition Called OFF inTurbulent and Disorganized Surf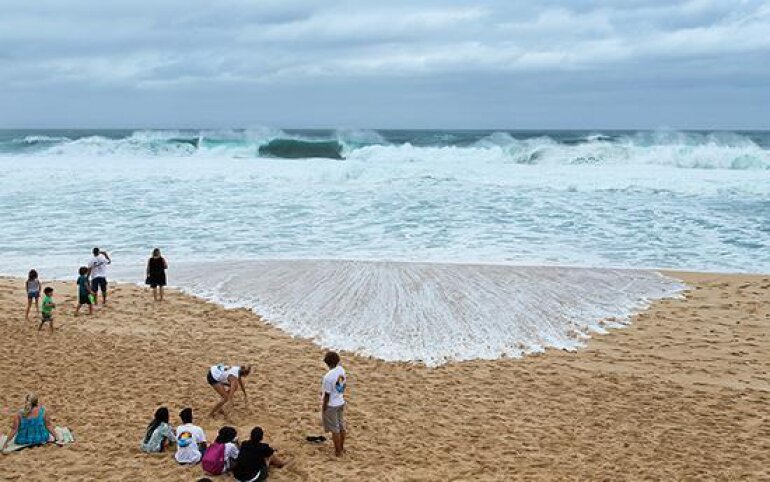 | | |
| --- | --- |
| Location:    | Banzai Pipeline, Oahu's North Shore, Hawaii |
| Holding period: | December 8 - 20, 2014 |
| Call: | Competition called OFF for the day |
| Conditions: | 15 foot faces, strong winds |
BANZAI PIPELINE, Oahu/Hawaii (Sunday, December 14, 2014) - Competition at the Billabong Pipe Masters in Memory of Andy Irons has been called OFF for the day in turbulent and disorganized surf with 15 foot faces and strong winds.
"Conditions have got worse since this morning," Kieren Perrow, ASP Commissioner, said. "The wind is really strong here now and the swell has got that North angle, which isn't great, so we are off for the day. We'll come back tomorrow and we're hoping for the wind to settle down. The good news is that the forecast towards the end of the week has improved and is looking promising." 
Event organizers will reconvene tomorrow morning to assess conditions and make the next call.
The three remaining World Title contenders Gabriel Medina (BRA), Mick Fanning (AUS), and Kelly Slater (USA) will all surf in elimination Round 3 when competition resumes. Medina will take on Vans Triple Crown of Surfing ratings leader Dusty Payne (HAW), Fanning faces Jeremy Flores (FRA) and Slater will match-up against Alejo Muniz (BRA).
Surfline, official forecaster for the Billabong Pipe Masters, are calling for:
The very solid WNW swell that filled in on Saturday will continue on Sunday: shifting more NW to NNW in direction and very gradually trending down through the afternoon. The swell will be fading on Monday as the direction shifts to the NNE/N and dropping off to leftovers by Tuesday. Strong trades prevail Sun-Mon, easing a bit on Tuesday. A small WNW swell is on track for Wednesday and Thursday morning, with a moderate WNW swell on track for Thursday afternoon and into Friday. Trades will also ease for the middle to second half of the upcoming week. 
The Billabong Pipe Masters in Memory of Andy Irons will be webcast LIVE at ASPWorldTour.com.
Billabong Pipe Masters Round 3 Match-Ups (1st to R4, 2nd = 13th):
Heat 1: John John Florence (HAW) vs. Adam Melling (AUS)
Heat 2: Owen Wright (AUS) vs. Fredrick Patacchia (HAW)
Heat 3: Michel Bourez (PYF) vs. Matt Wilkinson (AUS)
Heat 4: Josh Kerr (AUS) vs. Jadson Andre (BRA)
Heat 5: Miguel Pupo (BRA) vs. Filipe Toledo (BRA)
Heat 6: Gabriel Medina (BRA) vs. Dusty Payne (HAW) 
Heat 7: Kolohe Andino (HAW) vs. Julian Wilson (AUS)
Heat 8: Bede Durbidge (AUS) vs. Adrian Buchan (AUS)
Heat 9: Mick Fanning (AUS) vs. Jeremy Flores (FRA)
Heat 10: Joel Parkinson (AUS) vs. Sebastien Zietz (HAW)
Heat 11: Nat Young (USA) vs. Kai Otton (AUS)
Heat 12: Kelly Slater (USA) vs. Alejo Muniz (BRA)